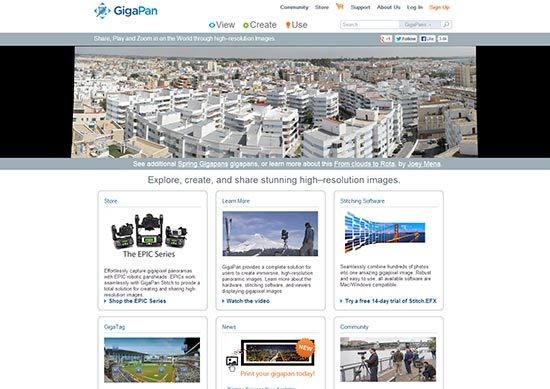 GigaPan's high-resolution images are now viewable on mobile devices, including iOS and Android. This includes all gigapan.com and embedded external website images, including GigaTag. "As the number of images on our website continues to grow into the hundreds of thousands, and GigaPan membership increases, it is imperative that our collection of amazing images are ubiquitous to access," said Josh Friedman, CEO of GigaPan. "Our updated viewer presents an opportunity to provide mobile access to these unique images, increasing and enhancing image views for a larger audience."
Gigapan Press Release
GigaPan High-Resolution Images Now Accessible on Mobile Devices

Updated Capabilities Enable Mobile Viewing for GigaPixel Images

Portland, Ore. – April 30, 2013 – GigaPan announced today that all GigaPan images are now viewable on mobile devices, including iOS and Android. This includes all gigapan.com and embedded external website images, including GigaTag. With a collection of over 100,000 high-resolution images on the GigaPan website, users will have an increased ability to view and explore gigapixel images.

A recent IDC study found that web access on mobile devices will surpass that of PCs by 2015, developing an urgent need for technologies to support users accessing the Internet on-the-go. As more visitors browse online through their smartphones or tablets, GigaPan viewers deliver interactive, high-definition images that reach a larger audience.

"As the number of images on our website continues to grow into the hundreds of thousands, and GigaPan membership increases, it is imperative that our collection of amazing images are ubiquitous to access," said Josh Friedman, CEO of GigaPan. "Our updated viewer presents an opportunity to provide mobile access to these unique images, increasing and enhancing image views for a larger audience."

The GigaPan viewer also allows users to enter fullscreen mode, which makes the experience of gigapixel imagery much more powerful. 

About GigaPan
Founded in 2008, GigaPan offers an innovative technology system, spanning hardware, software and cloud-­based viewing, tagging and sharing solutions. The company's solutions allow photographers, digital content designers and promoters to expand the limits of traditional photography. These interactive images and panoramas bring zoomable, multi­dimensional stories to life through a system of dynamic tools, which drive exploration and engagement for brands, events, research and education. Connect with GigaPan on Facebook and Twitter.
Your Comments