Hama "All in One" USB 3.0 SuperSpeed Multi Card Reader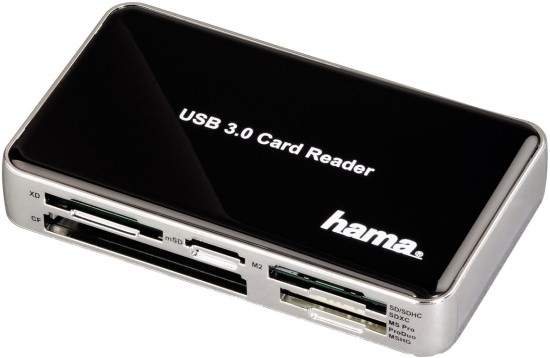 Hama has introduced a new USB 3.0 memory card reader/writer. This new hot-swappable all-in-one device can accommodate nearly all standard memory card types of practically any capacity, including xD-Picture cards, UDMA 7 compliant Compact Flash memory cards, UHS-I SDHC and SDXC media and XC series Memory Sticks. It even reads microSD and Memory Stick Micro M2 cards without any adapters. The price of the Hama "All in One" USB 3.0 SuperSpeed Multi Card Reader is €19.99. Like the also-new Hama "Combo" Photo Scanner, the new card reader will be on display at IFA 2011 in Berlin.
Hama Press Release
Turbo card reader
Digital cameras perform better and better and can now take high resolution photos and even record HD-quality video in record time. This involves an enormous amount of data however, and this data has to be transferred from the memory card to the computer eventually, which can really try your patience.
If you already have a computer with USB 3.0, Hama's new card reader is just what you need. Naming it "SuperSpeed" was no accident! Thanks to UDMA mode 7, the "All in One" model works ten times faster than models with the older 2.0 standard. With a UDMA-compatible CF card, the "All in One" card reader can reach a maximum transfer rate of 100 MB/s between the car and the PC.
The "All in One" can read all standard memory card types any capacities – even SDXC (UHS-l) and MemoryStick XC. You don't even need an adapter for microSD or M2 cards. The device supports "hot swapping", which allows you to transfer data directly from one card to another without temporarily saving the files to the computer first.
Item no. 39878 "All in One" USB 3.0 SuperSpeed Multi Card Reader
Your Comments