Hama Announces Mobile DataSafe On-The-Go Device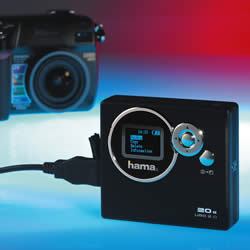 Hama have announced the Mobile DataSafe On-The-Go portable storage device. This is a product that was introduced at the CES show a couple of weeks ago, but which I missed in the flurry of press activity that surrounded the show.
Hama Press Release
Mobile DataSafe OTG with 20 GB hard drive by Hama
Mobile mini-master
"Just like a small portable PC" would be a good description of the new Mobile DataSafe On-The-Go (OTG) which Hama will introduce at this year's CeBIT. Housed in a case slightly bigger than a cigarette box, it manages the data of most connected removable media as a portable "commander". It imports images from digital cameras, adds tracks to MP3 players or copies files from a USB stick. This is made possible by the DataSafe's OTG interface. The device, which weighs only 134 grams, acts as a so-called master and can perform many tasks which could normally only be implemented via USB on a PC.
The DataSafe supports copying and deleting single files or entire folders, can backup the entire contents of terminal devices with USB type A connector and manages the entire file structure, both on the integrated 20 GB hard drive and on the connected devices. The Mobile DataSafe OTG in a shock resistant black aluminium case shows the file names, folder structure, current status and the time in a backlit display.
It has a normal USB 2.0 port for connecting to a PC.
The integrated 750 mAh Li-Ion battery supplies the device with power for 2-3 hours when in use with a digital camera. It can also be connected to the power supply using the supplied power unit.
Software included
A range of free full versions are included with the device. They include the ULEAD programs PhotoImpact XL SE, Photo Explorer 8.5 Basic SE and DVD MovieFactory 3 Suite for perfect post-processing and management of the files saved on a Windows PC and PC INSPECTOR smart recovery to recover lost images.
The Mobile DataSafe OTG, including a belt case, user guide, drivers for Win 98SE and power unit, will be available in stores from March.
Share this article