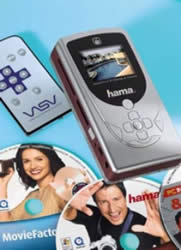 Now this looks interesting - Hama are introducing the Mobile MediaSafe VSV-20, an iPod Photo-like portable device that crucially has a built-in card reader.
Hama Press Release
Mobile MediaSafe VSV-20 - the portable all-rounder
Multi(media) Talent
The world of small technological wonders keeps getting more colourful. Mobile phones take pictures, PDAs send e-mails and USB sticks play music.
Hama will present a mobile device at CeBIT that not only reads and stores photos from memory cards, but also plays music and video files. The Mobile MediaSafe VSV-20 is the same size of a walkman, and combines a digital photo album, picture viewer, mp3 player, card reader, video player and an external 20 GB hard drive that can store up to 25,000 pictures. The data can be loaded from a computer or memory card using USB 2.0 and the MediaSafe 16 can process 16 different card formats.
Snapshots, music or films can be enjoyed from the integrated hard drive or directly from the memory card on the 2" TFT display, a connected TV screen or PC monitor.
The files and folders on the hard drive or memory cards can be quickly managed, copied, moved and deleted using the easy-to-follow control buttons.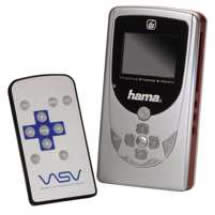 Thanks to the flexible process of storing memory cards on the hard drive and also from the hard drive to the memory card, the data can also be quickly and easily given to friends. No PC or plug required!
To ensure the sound quality of the Mobile MediaSafe while you're on the go, the provided 3.7V 1,800m Ah Li-Ion battery and any camcorder battery of the same type or design (i.e. Hama Item. no. 47232) can be used.
An infrared remote control, audio and video cable, stereo headphones, USB cable and power supply unit are also included in the delivery.
Share this article