HitFilm 2 Express and PhotoKey 6 Lite Free in January
January 20, 2014
|
Zoltan Arva-Toth
|
Comment
|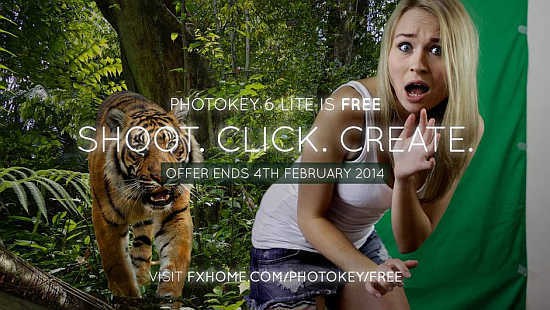 From today until 4th February, Fxhome's HitFilm 2 Express and PhotoKey 6 Lite programs are available to download at no cost. Usually priced at £119/$149, HitFilm 2 Express is billed as "the best way to discover the excitement of making your own movies." Features include 2D and 3D effects, layer compositing, video tracking, light flares, lightning simulation, colour grading and more. Worth £30/$49, PhotoKey 6 Lite is a great introduction for those who have not tried green screen photography before because they thought it was too difficult or complicated. Joshua Davies, Fxhome founder said: "PhotoKey 6 Lite is much more powerful than many similar offerings, even at this low level. We want users to see how easy green screen photography can be and how easy it is to shoot, click and create for free."
Fxhome Press Release
FXHOME's popular video and photo editing software packages free in January
HitFilm 2 Express and PhotoKey 6 Lite free to download for a limited period only
Norwich, 20 January 2014 – Always wanted to try your hand at video or photo editing?  Make sure you check out the great New Year offer from FXHOME – the software developer behind the popular HitFilm video editing and PhotoKey photo editing software packages.
From January 20th to 4th February 2014, HitFilm 2 Express will be available for download for free! Usually priced at £119/US$149, the software, once downloaded, has no expiry date. Users can download the software at http://hitfilm.com/express/free.
HitFilm 2 Express, which boasts a range of features and free training, is the best way to discover the excitement of making your own movies. Fast, powerful and easy to use, HitFilm 2 Express has everything you need to create your first filmic masterpiece. Experiment with incredible visual effects including 2D and 3D effects, layer compositing, video tracking, light flares, lightning simulation, colour grading and much more.    
The reason for this unmissable offer is that FXHOME is keen to make the software available to a younger demographic who have considered making films before, either on a serious level or just for fun and to share with friends, but who would not otherwise be able to afford the package. The software developer is also keen to attract those that have been interested in HitFilm but not yet taken the leap in investing. 
Joshua Davies, FXHOME founder and CEO, explained, "One of our main aims has always been to help out those just starting out in filmmaking and we also feel HitFilm would be a great educational tool in schools and colleges. This January offer gives new users an opportunity to get their hands on HitFilm 2 Express for absolutely nothing, and will show users that they can create a film in three easy steps – shoot, create and share."
The January offers also continue with a great discount for existing HitFilm customers wanting to upgrade or for new customers who want to go straight for the advanced program. There is 25% off the normal price of HitFilm 2 Ultimate (£224 instead of £299) or upgrades to HitFilm 2 Ultimate, available at HitFilm.com until the end of January.
Also on offer in January is PhotoKey 6 Lite. Worth £30/US$49 (and usually sold as an OEM product), digital photography enthusiasts will be able to download the software for free from 20th January to 4th February 2014. To download the software, go to http://fxhome.com/photokey/free. 
PhotoKey 6 Lite is a great introduction for those who have not tried green screen photography before because they thought it was too difficult or complicated. The software shows how simple a technique it is to master and will give them confidence to use it regularly. 
Davies commented, "PhotoKey 6 Lite is much more powerful than many similar offerings, even at this low level. We want users to see how easy green screen photography can be and how easy it is to shoot, click and create for free."
The sale continues with PhotoKey 6 Pro, with new customers able to purchase for £224 instead of £299 and existing customers able to upgrade with a 25% discount. Head over to fxhome.com to take advantage.
Your Comments