HP Announces Officejet 7410 and HP Officejet 7310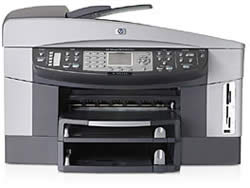 HP UK Press Release 05/10/04
The HP Officejet 7410 and 7310 All-in-Ones offer uncompromising speed, quality and reliability for the home or small office
London, October 5, 2004. HP today announced the latest products in its high speed All-in-One printer, fax, flatbed scanner and copier range, the HP Officejet 7410 and HP Officejet 7310. The HP Officejet 7410 and Officejet 7310 All-in-Ones are complete printing and imaging solutions, ideal for the busy full-time or part time office professional. Both models offer easy-to-use printing, faxing, scanning and copying in one device that increases productivity and readily fits into available office space.
Features available on both products include up to 4800 x 1200 optimised dpi colour when printing from a computer and 1200-input dpi. HP Photoret IV precision technology with 6-ink colour printing and copying is optional, enabling users to produce true-to-life colour photos and documents . Powerful, fast, black and colour faxing is standard on both new models with or without a PC, at 33.6 kbps.
The HP Officejet 7410 and Officejet 7310 All-in-One printer, fax, scanner and copiers provide professional photo quality colour and laser quality black text printing, plus superior faxing, copying and scanning with time saving features. Both models include superior paper handling and direct photo printing features, as well as built in wired or wireless networking for up to five users.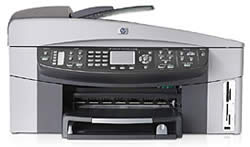 The HP Officejet 7410 and Officejet 7310 feature fast print and copy speeds of up to 30 pages per minute (ppm) in black, 20 ppm in colour and a 50-page Automatic Document Feeder (ADF) with two-sided printing, faxing and scanning functionality. A 250-sheet plain paper tray (400-sheet combined capacity) further enhances speed by enabling users to leave large print, fax, scan and copy jobs to complete unattended. Both models are available with optional small-size paper trays and duplexers.
The HP Officejets 7410 and Officejet 7310 both feature a 6.4 cm colour graphic display that enables users to view and edit pictures without having to switch on their PC. Photo card slots on both models enable printing direct from digital camera memory cards.
By using the optional HP bt300 Bluetooth wireless printer adapter (not included), users can conveniently print colour photos directly from a Bluetooth enabled camera phone, digital camera, PDA or other Bluetooth device.
High performance flatbed scanning is available on both the HP Officejet 7410 and 7310 with 2400 x 4800 dpi optical resolution, up to 19,200 dpi enhanced.
Professional black-and-white photo printing is available with the separate purchase of the HP No. 100 grey photo inkjet print cartridge.
Both these new HP Officejet All-in-One printer, fax, scanner and copiers feature advanced photo technology, including direct camera printing via PictBridge, which enables users to connect their camera directly to the All-in-One and print photos without using a computer.
Users can edit their photos with the HP Image Zone Photo and Imaging Software (included), altering their images - cropping, re-sizing, removing red-eye - and producing the photos they want.
With HP?s unique Photo Proof Sheet, users can choose their perfect shot from thumbnail images, saving time and money. All three models boast full borderless printing including 10 x 15 cm, 10 x 30 cm panorama size, A4 and double A4 (210 x 594 mm) on HP Premium Plus Photo Paper which lets the user print to the paper?s edge. In addition, these new models feature an automatic paper type sensor which adjusts settings to best suit the paper loaded.
For those who want to print images from a video, these new HP All-in-Ones allow video action printing. Any short video clip can be printed in frames and used to create a dynamic storyboard of high quality photo images.
HP?s unique Instant Share technology makes it easy for users to share photos via the web or e-mail without large attachments and without turning on the computer. Friends and family simply choose which photos to download. Remote printing also allows users to print files while on the go and pick the printed documents or photos up at the other end.
Supplies that complete HP?s printing system
HP recommends using only HP inks, inkjet print cartridges and print media, which have been specially formulated to work with these All-in-Ones, to achieve the best possible finish. These HP All-in-Ones are compatible with HP?s next generation of inkjet print cartridges, which offer increased print speed without compromising on the quality or fade resistance of the finished print out. This new range of inkjet print cartridges features new ink formulations and when used in conjunction with HP Premium Plus Photo Paper, allows users to print true borderless photos.
For ultimate creative control customers can also purchase other print cartridges from the range and swap them in so they have the right set of inks available for their print job. Inkjet print cartridges not in use can be stored in a print cartridge protector (supplied) to ensure the inks don?t dry out.
The HP Officejet 7310 All-in-One and the HP Officejet 7410 All-in-One come complete with the HP No. 339 black inkjet print cartridge for laser-quality sharp black text and professional results and the HP No. 344 tri-colour inkjet print cartridge to produce vivid colours for vibrant colour documents, charts and presentations. Both print cartridges come in different sizes for greater choice.
When printing photos on these All-in-Ones, users can combine the HP No. 343 / 344 tri-colour inkjet print cartridge, along with the HP No. 348 photo inkjet print cartridge for true-to-life photos with accurate skin tones and a wide range of colours. To print black and white photos, customers can swap these cartridges for the HP No. 100 grey photo inkjet print cartridge containing light grey, dark grey and photo black inks (available on the HP Officejets 7410 and 7310 only).
HP?s Premium Plus Photo Paper offers outstanding image quality, a professional weight of 280 g/m?, and a choice of high-gloss or satin-matt finish for the look and feel of a traditional photo. When used in combination with HP?s next generation inks, photo prints offer exceptional fade resistance, even surpassing that available with HP?s previous generation of inkjet print cartridges .
Availability and pricing
The HP Officejet 7410 and 7310 will be available at selected retailers from December 2004 with recommended street prices of ?499.99 and ?399.99 respectively.
About HP
HP is a technology solutions provider to consumers, businesses and institutions globally. The company?s offerings span IT infrastructure, personal computing and access devices, global services and imaging and printing. For the four fiscal quarters ended April 30, 2004, HP revenue totaled $76.8 billion. More information about HP is available at www.hp.com.