HP Photosmart M23 Announced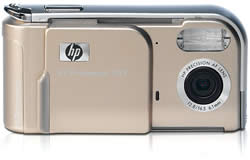 HP Photosmart M23 digital camera is announced today. The Photosmart M23 is a 4 megapixel digicam with a weather resistant all metal body, 1.5 inch LCD screen and 7x digital zoom (no optical zoom lens). The HP Photosmart M23 also features exclusive HP technologies like adaptive lighting. Pricing and availability of the M23 to be announced.
HP Press Release
HP Photosmart M23 Digital Camera with HP Instant Share
Overview
The affordable, four-megapixel, 7x digital zoom HP Photosmart M23 Digital Camera with HP Instant Share allows users to capture true-to-life digital photos. It features exclusive HP Real Life technologies, including adaptive lighting technology, in-camera red-eye removal, in-camera panorama assist and preview and HP Image Advice. The
HP Photosmart M23 supports picture taking in a variety of conditions and locations due to its weather-resistant, durable, all-metal bronze case that is small enough to fit in a pocket.
Key Features and Benefits
• Weather-resistant, all-metal bronze case for taking photos in a variety of conditions.
• Multi-zone auto focus provides sharp, clear photos by searching for focus in several areas of an image to capture the best shot.
• Exclusive HP Real Life technologies, developed in HP Labs, help take the guesswork out of digital photography and make it easy to produce great photos that are crisp, realistic and true-to-life. HP Real Life technologies include:
o Adaptive lighting technology to adjust high-contrast photos to bring faces out of shadows and details out of backgrounds.
o In-camera red-eye removal to remove red-eye while images are still in the camera.
o In-camera panorama preview to allow the user to align, capture and review a panorama image on the camera before downloading to a computer.
o HP Image Advice for tips on how to improve a specific photo the next time it is taken.
• HP Instant Share makes sharing, printing and saving digital photos easy. Users simply take a photo and select its destination right on the back of the camera – up to 34 destinations, including e-mail addresses, online albums, printers and more – by simply pushing a button.
o When the digital camera is later connected to a computer or the optional camera dock,(1) the selected photos are automatically printed and/or e-mailed without burdening the recipient with large file attachments.
o E-mail recipients see thumbnails of the images right in the body of their email message, as well as a link to the web page where they can very easily view, print and save the photos, upload them to online albums and more.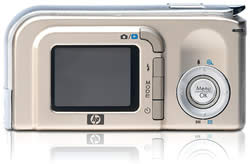 Additional Features
• Video clip capture with audio records memories in sound and motion.
• Optional HP Photosmart M-series dock(1) sends photos to a computer, recharges batteries and allows users to view photos on a TV, when connected to camera.
Other Technical Specifications
• 4-megapixel resolution
• 7x digital zoom
• Dimensions/Weight
o 3.78" (L) x1.13" (W) x 1.93" (H)
o .26 lbs without batteries
o .37 lbs with batteries
• 16 MB internal memory for storing photos
• 1.5-inch image, outdoor-viewable LCD
• SD/MMC card slot for storing additional photos
• Direct-printing capability to USB-enabled HP Photosmart or Deskjet printers
• NiMH rechargeable AA batteries, power cord and AC adapter included
• PictBridge support
• Exif 2.2 support
• Support/Connectivity
o USB connectivity (USB 2.0 compatible)
o USB interface supports Microsoft Windows® 98, Me, XP or 2000,
Intel® Pentium® II, Celeron®, or compatible CPU, Internet Explorer 5.01 SP2 or later
o USB compatible Mac OS 9.1, OS X 10.1.5 or higher, 233-MHz PowerPC.
• HP offers a comprehensive support package for the HP Photosmart M23 Digital Camera that includes one-year of phone support as well as real-time chat and email support beyond the warranty as part of its HP Total Care portfolio of services.
Pricing and Availability
Estimated U.S. street price of $169(2)
Expected to be available for purchase spring 2005 in North America.
###
(1) Not included; please purchase separately.
(2) Actual price may vary.
Microsoft, Windows and Windows NT are U.S. registered trademarks of Microsoft Corporation. Intel, Pentium and Celeron are trademarks or registered trademarks of Intel Corporation or its subsidiaries in the United States and other countries.
Share this article