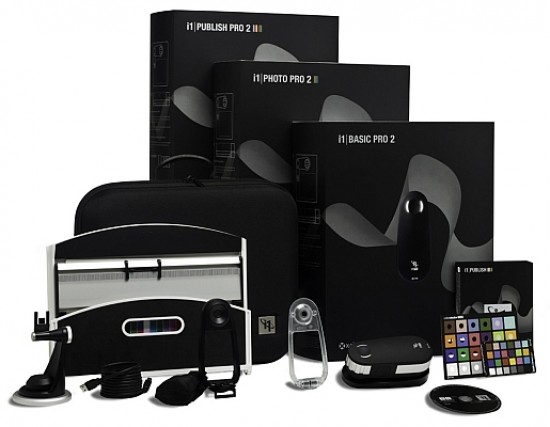 X-Rite has announced its new portfolio of i1 colour management solutions which now include a redesigned i1Pro 2 spectrophotometer. The i1Pro 2 spectrophotometer introduces an expanded feature set including enhanced optical brightener compensation, a new position detection sensor, better temperature stability, plus new diagnostics and self-correction features. The i1Pro 2 device can be purchased as part of the i1Basic Pro 2, i1Photo Pro 2 and i1Publish Pro 2 product kits.
X-rite Press Release
X-Rite Announces New i1Pro 2 Professional Color Management Solutions for Photo, Pre-press, Publishing and Digital Printing Markets
New solutions include all-new second-generation i1Pro spectrophotometer
GRAND RAPIDS, Mich.—(BUSINESS WIRE)—X-Rite, Incorporated (NASDAQ: XRIT), the world leader in color management, measurement and communication technologies, announces its new portfolio of i1 Professional Color Management Solutions which now include a redesigned i1Pro 2 spectrophotometer.
The new i1Pro 2 spectrophotometer provides a higher level of accuracy, versatility, ergonomics, functionality and value. This new portfolio comprised of X-Rite's i1Basic Pro 2, i1Photo Pro 2, i1Publish Pro 2 and i1Publish products feature groundbreaking new technology and applications. Each solution includes the i1Pro 2 second generation spectrophotometer and the latest version of i1Profiler professional color profiling software.
"Exceptionally accurate color measurement and calibration remain basic building blocks for professional-level workflow," commented Vic Stalam, X-Rite's Senior Vice President Sales & Marketing. "Nowhere is repeatable, predictive color management more critical than in the prepress, digital printing and photography markets. With the introduction of these new products, X-Rite once again delivers to color professionals around the world the products they need that incorporate important emerging color standards."
The i1Pro 2 spectrophotometer introduces expanded professional level features including:
New illuminant design allows for three standard measurement conditions (ISO 13655 M0: Tungsten; ISO 13655 M1: D50; ISO 13655 M2: UV Cut) plus Optical Brightener Compensation without changing filters or needing a second instrument.
Enhanced Optical Brightener Compensation – Users can predict what colors printed on optically brightened paper will look like under different light conditions.
Positioning Detection Sensor for a more robust scanning experience even on special substrates and low-resolution printers.
Better temperature stability and higher brightness levels – for the best possible calibration and profiling of monitors and projectors.
All new diagnostics and self-correction features – Built-in wavelength calibration technology allows for self-diagnosis of optical grating in relation to sensor, with automatic correction and notifications.
In addition, self-cleanable aperture protection glass and calibration white tile cover provides additional built-in protection from dust and dirt.
About i1Pro 2 Solutions
i1Basic Pro 2 is an affordable, professional-level spectral color measurement solution offering display and projector profiling, monitor and print quality assurance and spot color measurement.
i1Photo Pro 2 is for photographers looking for perfectly accurate color the first time and every time. Quickly and easily create custom camera, monitor, projector and RGB printer profiles, ensuring the colors captured, viewed and printed are true.
i1Publish Pro 2 is for imaging pros looking for the ultimate, professional-level ICC-profiling solution to organize and manage their complete RGB, CMYK and CMYK+ (CMYK plus any 4) color workflows.
About i1Profiler Software
i1Profiler software v1.3, now supports the i1Pro 2 spectrophotometer offering a number of unique color management capabilities and improvements such as optimizing profiles, creating profiles with ambient light measurements, compensating for optical brighteners in papers, white point editing and improved workflows.
The new i1Pro 2 Professional Color Management Solutions are immediately available from X-Rite's online store (North America), and also from the company's worldwide network of resellers. i1Publish Pro 2 will also be offered with two upgrade options based on original solution purchased. For more information, please visit www.xrite.com or www.XritePhoto.com.
About X-Rite
(NASDAQ: XRIT) X-Rite is the global leader in color science and technology. The company, which now includes design industry color leader Pantone, Inc., develops, manufactures, markets and supports innovative color solutions through measurement systems, software, color standards and services. X-Rite's expertise in inspiring, selecting, measuring, formulating, communicating and matching color helps users get color right the first time and every time, which translates to better quality and reduced costs. X-Rite serves a range of industries, including printing, packaging, photography, graphic design, video, automotive, paints, plastics, textiles, dental and medical. For further information, please visit www.xrite.com or www.XritePhoto.com
Your Comments