Jessops Offers Freebies with Nikon D3100 Pre-Orders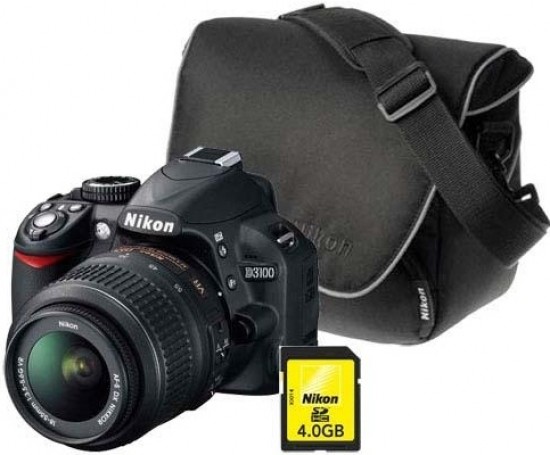 Jessops is offering customers a free Nikon camera bag and a 4GB SD card with every pre-order on the new Nikon D3100 dSLR camera. The Nikon D3100 is a 14.2-megapixel model with 11 AF sensors, Full HD video and full-time AF in Live View and D-movie modes. Using contrast based AF, the D3100 automatically focuses on subjects when Live View is activated to aid shooting when using the LCD. In comparison to the Nikon D3000, the new Nikon D3100 also gains a Quiet Shutter Release mode, which substantially reduces the sound of the mirror return, and an enhanced Guide Mode that now features sample assist images that change with camera settings to inspire users to achieve a desired look and feel to their images. The Nikon D3100 digital SLR camera will start shipping in September, but is already available for pre-order at Jessops, priced at £579.
Website: Jessops
Jessops Press Release
Snap up the feature-rich Nikon D3100 18-55VR at Jessops and receive a Nikon Gadget Bag and Nikon 4GB High Speed SD/SDHC memory card absolutely free
To celebrate the arrival of the Nikon D3100, Nikon's most user-friendly DSLR to date, Jessops are offering customers a free case and 4GB SD card with every pre-order from www.jessops.com. The eventual successor to the best-selling D3000, the new model offers 14.2 mega-pixel resolution, new auto focus modes and improved ergonomics. It's easy to navigate settings options means that this is the perfect camera for families who want professional results without having to worry about complicated functions.
Exceptional images, exceptionally easy.
A range of automatic settings means the camera is doing all the hard work much like on a compact camera: Live View with Scene Auto Selector chooses the mode that matches your shooting situation; Scene Recognition delivers sharply defined images by analyzing the scene and optimizing the camera settings immediately before the shutter is released; and Guide Mode will take you step-by-step through the process of how to get the picture you want.
The 11-point autofocus system ensures all your subjects remain in focus and captures razor-sharp images of even the most fleeting expressions or movements. Additionally, the bright viewfinder means you can see and focus precisely on the image you want to capture, quickly and easily, making this camera ideal for action shots.
The 14.2 megapixel CMOS image sensor, new powerful EXPEED 2 processing engine and a wide range of NIKKOR lenses working in perfect synergy to deliver excellent pictures with amazing detail wherever you are and whatever you are doing. It has ISO 100-3200 sensitivity, with the versatility of effectively boosting ISO up to 12800. This significantly reduces the risk of blurred images when taking pictures of the most energetic children or an evening barbeque with all the family.
Using the easy-access movie record button you can instantly switch to video mode on the D3100, and the D-Movie function allows you to record stunning Full HD movie clips (1920 x 1080) with sound. You can also make simple edits of your clips in-camera by deleting scenes or save specific frames as still images – nothing will be missed for the family photo album. The D3100 is also HDMI compatible so you can connect your camera to any HD television to view your movies in full HD with all your family from the comfort of your sofa.
Order the Nikon 3100 D-SLR now from Jessops and receive a free camera case and 4GB SD card, everything thing you need to start adding the most stunning photos to your family's photo album.
Your Comments