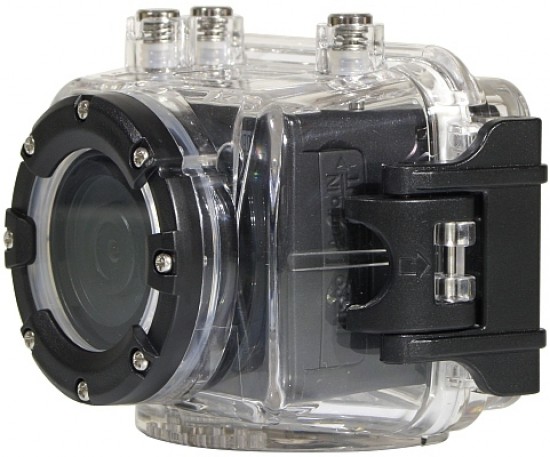 Jobo has unveiled its new action camera, the JIB 4, which can capture Full HD movies (in both 30p and 60i formats) as well as eight-megapixel stills. Equipped with a 170-degree lens and a detachable monitor, the Jobo JIB 4 is powered by a rechargeable and replaceable lithium-ion battery good enough for two hours of continuous recording. A built-in laser pointer allows precise aiming even if the monitor is not visible to the user. The included waterproof housing enables underwater operation down to a depth of 60 metres. The Jobo JIB 4 carries an MSRP of €349. An optional remote control is available for €29.
Jobo Press Release
JOBO introduces new Actioncamera JOBO JIB 4
Gummersbach, 24. August 2012. After the successful launch of JOBO's first actioncam JIB2 in Springtime JOBO now launches the sophisticated JIB4 model – designed to meet even higher expectations.
Customer feedback and new technology have enabled JOBO to build the new JIB 4 actioncamera. A powerful processor allows not only full HD recordings in 1080p with 30 fps, but even 1080i with 60 fps. Set to lower resolution the actioncam can even record 120 fps to allow for real slow motion playback. The particularly light-sensitive sensor enables good recordings even in low-light environments just as in quickly changing light conditions. Photos and videos are captured using separate buttons. To stop recording a video a third button has been created. This allows "fool-proof" operation for start and stop of the video recording. Photos are captured in up to 8 MP quality. A built-in laser pointer allows precise adjustment of the camera even if the monitor of the camera may not be visible while fine-tuning the positioning of the camera for recording. The angle can be adjusted from normal to medium all the way to full 170° wide angle.
The JOBO JIB 4 package comes with a detachable colour monitor on the back (value 99 EUR MSRP) which can be exchanged for an additional Li-Ion battery pack (value 49 EUR – MSRP) to allow for 2 hours of extra operation in addition to the built-in battery power of 2 hours – totalling a generous 4 hours operation time. Both LCD monitor and additional battery pack are include in the JIB 4 reatail package. The JIB4 has an external microphone jack and also supports turnover recording. The included waterproof housing allows under-water recordings of up to 60 m depth. Both camera and waterproof housing have a tripod bush for multiple connection options. In addition the package includes many other accessories for flexible and dedicated camera use. The JOBO JIB 4 actioncam is introduced in Europe for an MSRP of 349 EUR. An optional remote control with 10 m range is available for 29 EUR. For further information please visit our homepage: www.jobo.com/actioncam.
JOBO is exhibiting the JIB4 actioncam at photokina in hall 5.1 – booth B-16.
Your Comments