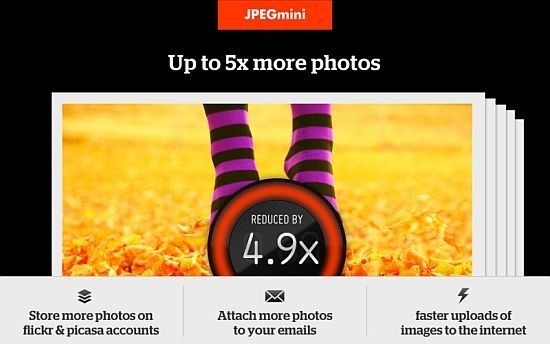 Windows users can now download a free version of JPEGmini, the flagship photo optimisation tool from technology innovator Beamr. "Photo storage used to refer to stashing a shoebox full of snapshots. Today, the proliferation of digital photography has freed up our closet space while creating its own set of storage challenges, including hard drives that are bursting at the seams, and slow online transmission times," said Sharon Carmel, CEO of Beamr. "JPEGmini for Windows offers a simple solution to the storage crunch and sharing dilemma, without compromising the quality of precious photographs." Available at the website below, this free desktop version of JPEGmini for Windows optimises up to 20 JPEG photos a day. (The full version of JPEGmini for Windows retails for $19.99, and accommodates an unlimited number of photos.)
Website: JPEGmini for Windows
Beamr Press Release
Beamr Unveils Free Windows Edition of Flagship Photo Optimization Desktop App, JPEGmini

Patented Compression Algorithm Reduces Photo File Size By Up to Five Times, Maintains Original Resolution and Enables Speed
TEL AVIV, Israel and NEW YORK, July 9, 2013 -- Windows users can now download a free version of JPEGmini for Windows, the flagship photo optimization tool from technology innovator Beamr that reduces file size by up to five times, preserves quality and resolution, and enables faster sharing, uploading and overall workflow efficiency. Available at www.jpegmini.com/windows, this free desktop version of JPEGmini for Windows optimizes up to 20 JPEG photos a day.
"Photo storage used to refer to stashing a shoebox full of snapshots. Today, the proliferation of digital photography has freed up our closet space while creating its own set of storage challenges, including hard drives that are bursting at the seams, and slow online transmission times," said Sharon Carmel, CEO of Beamr. "JPEGmini for Windows offers a simple solution to the storage crunch and sharing dilemma, without compromising the quality of precious photographs. And now, users can try all of JPEGmini's capabilities for free, before they make their decision to purchase the app."
The full version of JPEGmini for Windows retails for $19.99, and accommodates an unlimited number of photos, so users can free up hard drive space, send images faster and also store more photos on cloud-based accounts like Dropbox and Picasa. For more information on both the free and full versions of JPEGmini for Windows, please visit: www.jpegmini.com/windows.
About Beamr Beamr (formerly ICVT), is an innovative private company comprised of the world's leading imaging scientists, veterans of the Israeli technology industry who are also successful entrepreneurs. Headquartered in Tel Aviv, Beamr is focused on improving the quality, speed and user experience of photo and video sharing.
Beamr's patented-pending media optimization technology also powers Beamr Video(TM), a video optimization technology that reduces the bitrate of video streams by up to 4X, while preserving their resolution, quality and standard format. For more information about Beamr Video, please visit: www.beamrvideo.com.
Your Comments