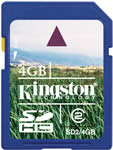 Kingston Technology Press Release
Kingston Introduces Secure Digital High-Capacity (SDHC) 4GB Card - Announces SDHC Compatibility for its 15-In-1 Hi-Speed Reader
FOUNTAIN VALLEY, Calif., Sept. 26, 2006 – Kingston Technology Company, Inc., the independent world leader in memory products, today announced it will begin producing the new Secure Digital High-Capacity (SDHC) Class 2 card and enhance the function of its existing 15-in-1 Reader to support the growing storage demands of high performance digital still cameras, digital video cameras and other high resolution image recording devices. The new SDHC memory cards are available now in 4GB* capacities with a retail price of $199.00 USD through Kingston's global network of resellers. "Although identical in size to today's standard SD card, SDHC cards can handle the tremendous levels of data that today's digital cameras and MP3 players are capable of delivering," said Keyla Velazquez, product manager Digital Media / Flash Memory, Kingston Technology Company. "SDHC cards are a perfect match for today's digital SDHC compatible devices that support MPEG-4 and high quality video compression commonly found in consumer HD and DVD videos, super VCD, box top DVRs and digital television."
The SDHC memory card is a new standard set by the SD Card Association that redefines performance classifications and capacity. Based on this standard, SDHC cards can deliver capacities beyond the 2GB threshold of present day SD cards and offer three speed classes (Class 2, 4, & 6) that guarantee minimum sustained transfer rates to support large digital video recordings for optimum performance. SDHC cards will only be recognized by SDHC host devices; manufacturers currently offering SDHC host cameras include: Canon, Pentax, Sanyo, Casio and Nikon. Kingston will add SDHC compatibility for its popular 15-in-1 Reader at the time of this launch. The retail price for the reader will remain $19.00.
"The growth in sales for consumer devices that require higher levels of storage continues to rise," said Ed Lee, Director Consumer Research for InfoTrends. "Based on the sales performance of SD cards over the last few years coupled with the increase in high-capacity, high quality consumer electronics devices, we anticipate the SDHC growth will be very significant through the holiday season and beyond."
Kingston's SDHC cards are 100 percent tested and are backed by a lifetime warranty and 24/7 live technical support.
Kingston manufactures and markets a full line of consumer Flash memory solutions including CompactFlash, MultiMediaCard, Secure Digital, Secure Digital High-Capacity, plus a line of USB Flash drives for home, school and office. The company also offers media card readers.
Kingston Secure Digital High-Capacity Card & 15-in-1 Reader
Part Number
Capacity and Description
MSRP (U.S. only). Prices subject to change.
SD2/4GB
4 GB SDHC
$199
FCR-HS215/1
15-in-One Reader
$19
Kingston Secure Digital High-Capacity Card Features and Specifications:
• Capacity – 4 GB
• Dimensions - .94" x 1.25" x .08" (24mm X 32mm X 2.1mm)
• Operating Temperature - 00 to 60o C / 32o to 1400 F
• Storage Temperature - -20o to 85o C / -4o to 1850 F
• Voltage - 3.3v
• Standardized - complies with SD Association 2.0 specification standards
• Secure - built-in write-protect switch prevents accidental data loss
• Simple - plug-and-play
• Reliable - lifetime warranty
• Economical - low power consumption
Kingston 15-in1 Reader Features and Benefits:
• Dimensions –3.46" x 2.19" x .63" (8.78 cm x 5.56 cm x 1.6 cm)
• Operating Temperature – 0 degrees to 60 degrees C (32 degrees to 158 degrees F)
• Storage Temperature – 20 degrees to 85 degrees C (-4 degrees to 185 degrees F)
• Standardized – complies with USB 2.0 Hi-Speed specification standards for up to 480 Mbps data transfer, backwards compatible with USB 1.1 specification standards for up 12 Mbps data transfer and complies with SD Association 2.0 specification standards
• Portable – convenient small size; no power cable required, USB bus powered
• Easy – plug and play into any USB 2.0 or 1.1 port
• Guaranteed – five-year warranty
• Versatile – works with 15 different Flash card formats:
• CompactFlash (CF) I and II
• Secure Digital/SDHC
• miniSD
• microSD (SD adapter required)
• MultiMediaCard (MMC) Version 3.1
• MMCmicro (MMC adapter required)
• MMCmobile (DV RS-MMC)
• MMCplus(Version4.0)
• RS-MMC (Version 3.1)
• Microdrive (CF Type II)
• Memory Stick
• Memory Stick PRO
• Memory Stick PRO Duo
• Smart Media
About Kingston Technology Company, Inc. Kingston Technology Company, Inc. is the world's largest independent manufacturer of memory products. Kingston designs, manufactures and distributes memory products for desktops, laptops, servers, printers, and Flash memory products for PDAs, mobile phones, digital cameras, and MP3 players. Kingston has manufacturing facilities in California, Malaysia, Taiwan, China and sales offices in the United Sates, United Kingdom, Europe, Russia, Australia, Taiwan, China, and Latin America. For more information, please call (800) 337-8410 or visit http://www.kingston.com
Share this article