Kodak Easyshare Touch M5370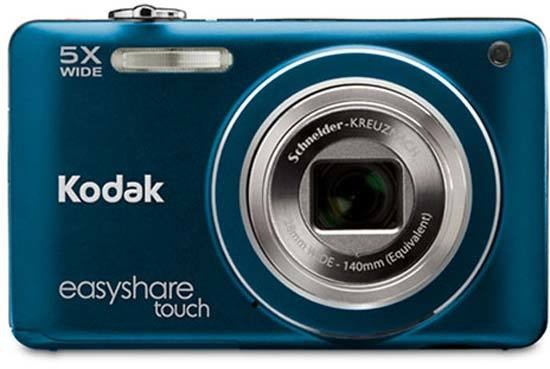 The Kodak Easyshare Touch M5370 is a new compact camera featuring a 16 megapixel sensor and a touchscreen interface. The Kodak M5370 also offers a 5X wide angle SCHNEIDER KREUZNACH lens, an enhanced Share Button App, Face Tagging, 720p HD video, and over 20 different scene modes. The Kodak Touch camera comes in silver, blue, pink and red for £129.99.
Kodak UK Press Release
Kodak Launches EASYSHARE TOUCH M5370 Digital Camera to Take Pictures Simply
New Essential Universal Li-Ion Battery Charger also released for a smarter, effortless way to charge
London, UK, September 13, 2011 — Eastman Kodak Company (NYSE: EK) today announced the launch of the next generation KODAK EASYSHARE TOUCH Digital Camera featuring a new 16MP sensor and HD video which makes creative editing, organizing and sharing easy with a simple touch.
The enhanced EASYSHARE TOUCH Camera makes sharing photos easy with Kodak's innovative and exclusive Share Button, while the responsive touch screen makes gliding through pictures effortless. Once connected to a PC, selected photos will automatically upload to sites like FACEBOOK and KODAK Gallery or can be emailed. The enhanced Share Button App builds on the success of the KODAK Share Button, enabling millions of people to easily share and transfer their favourite images. Face Tagging allows you to stay even more organized by enabling you to upload your images to FACEBOOK with your friends already tagged.
"The EASYSHARE TOUCH Camera offers the family 'Chief Memory Officer' great 16MP pictures or 720 HD video that can be simply shared with a touch," said Phil Scott, Vice President of Marketing, Digital Capture and Accessories, Kodak. "The EASYSHARE TOUCH Camera has a completely new compact and clean design with an intuitive touch screen and many additional features. These options allow consumers to effortlessly tap the screen to take a picture or add in effects like background blur and spot colour easily from the touch screen."
The EASYSHARE TOUCH Camera features Kodak's Smart Capture capability to automatically set the camera based on your scene while Face Recognition recognizes and organizes pictures of your friends. Special shooting modes like KODAK Film effects, photo booth and over 20 scene modes bring creativity to your pictures while the 5X wide angle SCHNEIDER KREUZNACH lens makes it easy to take exceptional pictures from a distance.
Available this fall, at major retailers and Kodak.com, the EASYSHARE TOUCH Camera comes in silver, blue, pink and red for U.K. £129.99 RRP.
New KODAK Essential Universal Li-Ion Battery Charger Announced Today:
In addition to the launch of the EASYSHARE Touch is the latest innovation in battery chargers - KODAK Essential Universal Li-Ion Battery Charger. Whether in a hotel room, an airport or at home, it is the smarter way to have devices ready to go – no matter the camera brand. It features Kodak's innovative blade array technology and offers effortless, carefree charging. Also included is a USB wall plug adapter for charging additional devices.
About Kodak
As the world's foremost imaging innovator, Kodak helps consumers, businesses, and creative professionals unleash the power of pictures and printing to enrich their lives.
To learn more, visit www.kodak.co.uk and follow our blogs and more at www.kodak.com/go/followus.
Choose from the widest selection of KODAK Digital Cameras, Pocket Video Cameras and more at http://store.kodak.co.uk.
Your Comments