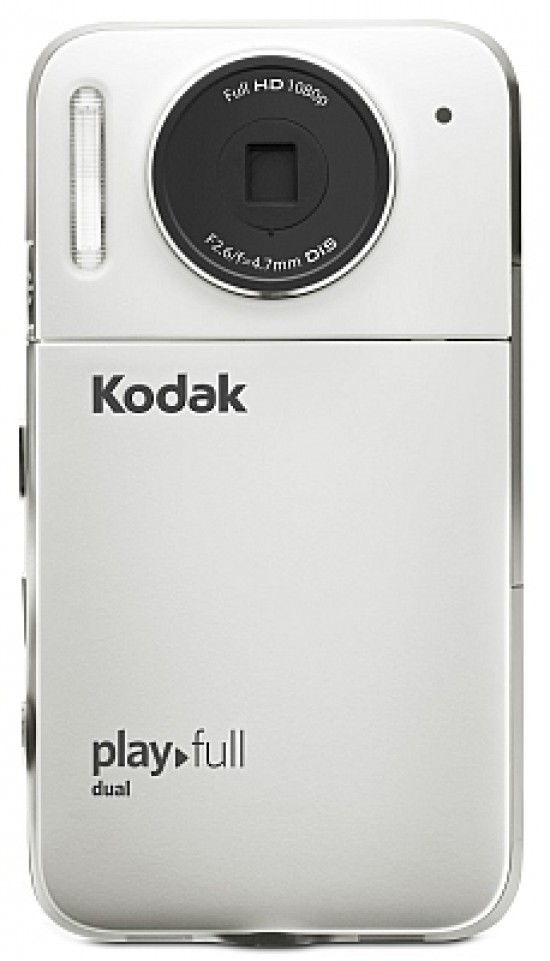 The Kodak Playfull Dual Camera is a 1080p/60fps Full HD pocket camcorder that can also capture 12-megapixel stills courtesy of a high-resolution BSI CMOS sensor.  It has an external microphone jack, built-in Xenon flash, and Share Button for easy upload to Facebook, YouTube, Kodak Gallery, email and more. The Kodak Playfull Dual Camera will be available from April for $199.
Kodak Press Release
Kodak Focuses on Simple Ways to Create, Share and Print in a Social and Mobile World
Las Vegas, NV, January 09—
At the 2012 Consumer Electronics Show, Kodak (#31400, South Hall) is showcasing a host of connected products and solutions that make it easy to create, share and print brilliant images wherever, whenever and however you like.
Kodak's new Wi-Fi enabled camera – the KODAK EASYSHARE Wireless Camera M750 – lets you share pictures instantly. Use the KODAK EASYSHARE Camera App with your ANDROID, APPLE or BLACKBERRY device1 to send pictures wirelessly to FACEBOOK, KODAK Gallery, and email– even email pictures to your KODAK All-in-One Printer. The camera also works with your home Wi-Fi network.
The new KODAK PLAYFULL Dual Camera combines a 1080p/60 fps HD video camera with a 12 MP BSI CMOS digital camera for one powerful device. It has an external microphone jack, built-in Xenon flash, and Share Button for easy upload to FACEBOOK, YOUTUBE, KODAK Gallery, email and more.
"Kodak has been synonymous with imaging for more than 120 years. And for today's social and mobile consumers, we continue to innovate to deliver intelligent and intuitive products that produce brilliant Kodak-quality images," said Vince Ferraro, Kodak's new global Vice President of Corporate Marketing and Consumer Digital Imaging Group. "People trust Kodak with their memories, and we want to help them do more with those memories. Whether at home, on the go, or at retail, Kodak has a smart and simple solution to capture, create, share and print."
At Home
Ready to free your FACEBOOK photos? Kodak has two new printing apps that let you bring your FACEBOOK pictures to life.
  * The My KODAK MOMENTS App allows you to effortlessly create a premium photo book from your and your friends' FACEBOOK albums and have it delivered to your doorstep. 
  * The KODAK Photo Collage Print App, the first photo collage home printing app on FACEBOOK, lets you easily create a photo collage you can conveniently print at home.
Easily upload your FACEBOOK photos to your KODAK Gallery account to create a variety of photo products including prints, photo books and wall décor.
Captured a great moment on video and want to commemorate it with a picture? Upload the video to your computer and use your KODAK All-in-One Printer to make a print2.
On the Go
With Kodak products, it's easy to share and print brilliant photos and documents, wherever you are.
  * Use your EASYSHARE Wireless Camera with your smartphone to email pictures to any KODAK All-in-One Printer3 and KODAK PULSE Digital Frame, or send to your favorite social networking site.
  * Print photos and documents from your smartphone, laptop or tablet, from anywhere in the world, with Kodak's new HERO All-in-One Printers that are Google Cloud Print ReadyTM and KODAK Email Print Ready4. Only Kodak offers the ultimate combination of smart features, high quality output and affordable ink.
  * With the KODAK Pic Flick App, wirelessly send photos to your printer or PULSE Frame from an iPhone, iPad, iPod touch, ANDROID or BLACKBERRY device5.
  * Send documents from your ANDROID device directly to your KODAK All-in-One Printer using Google Cloud Print with the KODAK Document Print App6.
  * Start a Group Album on your iPhone with the KODAK Gallery Mobile App and invite your friends to add pictures to create a brilliant-quality photo book.
At Retail / Premium Output
With FACEBOOK Connect on KODAK Picture Kiosks, you can access your FACEBOOK photos to create and print brilliant keepsakes including photo books and personal greeting cards.Over one million customers have printed their FACEBOOK photos from a KODAK Picture Kiosk.
For the first time at CES, Kodak is showcasing one of its leading printing solutions for photo specialty printers, professional photo labs and commercial printers. The KODAK NEXPRESS Photo 3300 Digital Production Color Press produces best-in-class images for brilliant-quality photo books, calendars, and posters, even with effects like in-line dimensional print, which is unique in the industry. Photo books created at KODAK Gallery are printed on a KODAK NEXPRESS Press.
CES Innovations 2012 Design and Engineering Awards
Three Kodak products earned CES Innovations 2012 Design and Engineering Awards – the KODAK HERO 9.1 All-in-One Printer, KODAK PLAYFULL Waterproof Video Camera and KODAK PLAYSPORT Video Camera Zx5. Kodak has received a total of 27 CES Innovations Awards to date.
Your Comments