Kodak Playfull Waterproof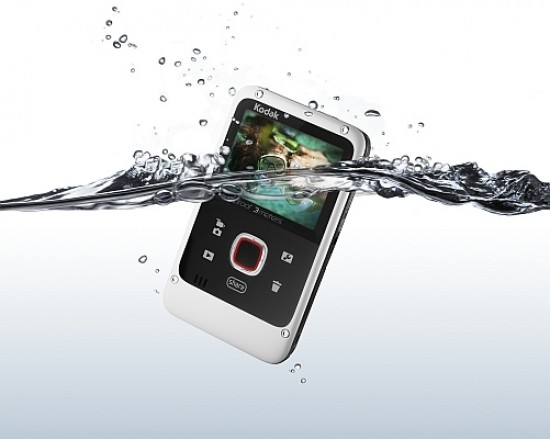 The Kodak Playfull Waterproof is Kodak's latest waterproof digital video camera. Combining pocketability with ruggedness, the Kodak Playfull Waterproof shoots 720p HD video, has a built-in USB arm for easy file transfer to a computer, can withstand a drop from a height of 1.5m, and is waterproof down to a depth of 3m. It also boasts a 2" display with LCD Glare Shield feature, an SD memory card slot that's compatible with SDHC cards, and an HDMI port. Available in black or white for £79.99 MSRP, the Kodak Playfull Waterproof will go on sale on 1st November.
Kodak Press Release
No Moment Missed with Kodak's Newest Small and Affordable PLAYFULL Waterproof

Latest Kodak pocket video camera provides worry-free fun in a perfectly sized package
London, UK October 6th 2011 —Eastman Kodak Company (NYSE: EK) has announced the launch of the new PLAYFULL Waterproof Video Camera, a pocket video camera that is the perfect size to have on hand for any occasion. Showing Kodak's commitment to innovation, affordability and understanding the consumer's needs, the PLAYFULL Waterproof makes capturing every enjoyable moment fun and worry free.

"Today's consumers are looking for products that offer worry free simplicity while meeting the needs of their active lifestyles," said Paul Davey, Marketing Manager, Digital Capture and Accessories, Kodak. "A video camera should be easy to use, convenient to carry, and designed so you don't worry about it regardless of where you are. Small enough to fit in a pocket, the new KODAK PLAYFULL Waterproof is perfect for family fun with its waterproof and drop-proof capabilities, plus it's great value."

Kodak's exclusive Share Button and pop-out USB arm make it seriously simple to e-mail videos directly to friends or upload to popular social networks and photo sharing sites. It can also record up to ten hours of HD video with the expandable SD/SDHC card slot that can hold up to 32 GB. With a great feature set, affordable price and small attractive design, the PLAYFULL Waterproof is the everyday HD video camera that you'll never want to go anywhere without.  Available in black or white for £79.99 MSRP, the PLAYFULL Waterproof is available from 1st November at major retailers and Kodak.co.uk.
Key Features
•        Small, sleek design. Only 12mm deep.
•        720p HD video
•        Waterproof up to 3 metres, drop-proof up to 1.5 metres
•        Kodak's Share button – easily email or upload to FACEBOOK, YOUTUBE, TWITTER, and more
•        Built-in USB arm
•        Expandable SD/SDHC card slot allowing HD recording up to 10 hours
•        Capture effects
•        2" display with LCD Glare Shield feature
•        HDMI and AV out ports
Your Comments