Kolor Panobook 2014 Photo Contest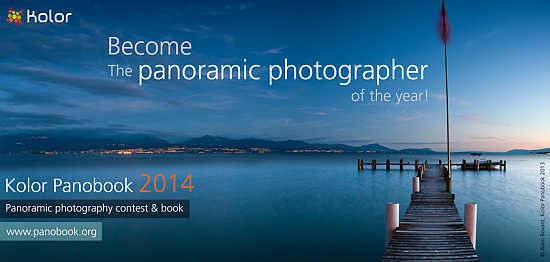 The 2014 Kolor Panobook Contest, a major panoramic photography competition, is about to open. The entry period will begin on 3rd February, and photographers have until 3rd March 2014 to submit their best panoramic images to the competition. As in the previous years, the best entries will be published in a photobook called the Kolor Panobook 2014. For more information and to enter, visit the website below.
Website: Panobook
Kolor Press Release
Get ready for the panoramic photography contest: 
Kolor Panobook 2014
Francin, Jan. 31, 2014 - Software editor Kolor announces that the panoramic photography Kolor Panobook 2014 contest is about to open! Prepare your panoramas and get your chance to become the panoramic photographer of the year.
This unique project is renewed every year by Kolor, is an opportunity for amateur and professional photographers to be recognized and published into a quality hardcover book. Last year, more than 1600 panoramic images were submitted by more than 800 participants from around the world. Sorted in 9 categories and judged by 3 photography experts. Finally, 150 panoramas were selected and published in a collective work, the book of panoramic photography, THE Kolor Panobook. 
The entry period of the Kolor Panobook 2014 contest will begin the February 3 to March 3, 2014, for four weeks. Participation is free.
More information about the contest: Panobook.org
Your Comments