Konica Minolta Announces Dynax 40 Film SLR Camera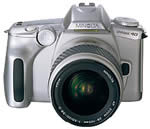 Konica Minolta Press Release 08/01/04
New Dynax 40 perfect results every time

Langenhagen, January 8th, 2004
Konica Minolta has accomplished what everyone said couldn't be done-combined the high image quality of SLR photography with unbeatable cost performance. Introducing the Minolta Dynax 40.
Ideal for those family pictures when everything has to be perfect and crystal-clear, the Dynax 40 is an easy-to-use SLR camera with unbeatable cost performance. The natural successor to the best-selling previous models, the Dynax 40 continues Minolta's tradition of high-image-quality SLR photography.
After admiring the striking design, users of all levels with appreciate features like Wide 3-Point AF System for increased focusing confidence, Predictive Focus Control for moving subjects, Full-Auto Program for no-fuss shooting, and Subject Program Selection for the best photos in any situation or lighting.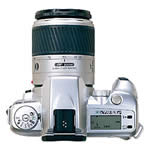 Product Highlights
- Design that's modern, familiar, and functional.
- Proprietary Wide 3-Point AF System with center cross-hair trigger sensor gives increased focusing confidence.
- Multi-dimensional Predictive Focus Control maintains accurate focusing on moving subjects.
- ADI (Advanced Distance Integration) flash metering automatically fine-tunes flash exposure when photographing.
- Full-Auto Program takes care of all focus and exposure.
- Versatile exposure modes (P, A, S, M) for full photographic expression.
- Subject Program Selection for great photos in any situation.
- The spherical acute matte focusing screen maintains the brightness of the viewfinder and makes focusing easier.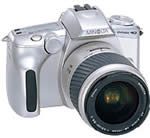 Features
Design that's Fresh and Familiar
The first thing the strikes you is the design: high-contrast silver and black give the Dynax 40 that highlights the SLR camera's reliability and dependability. The overall effect produces a soft, pleasing image -a camera that actively welcomes you to pick it up and start shooting off rolls of film.
Multi-dimensional Predictive Focus Control
Like the name suggests, this function keeps a clear focus on fast-moving subjects until you're ready to shoot, predicting exactly where a moving subject is going to be at the moment of shutter-release and making certain that the focus is razor sharp.
ADI flash metering
When using a D series lens, ADI (Advanced Distance Integration) metering(1) ensures proper flash exposures regardless of background or subject reflectance.
(1) When using a dedicated flash unit: 5600HS(D), 3600HS(D) or 2500(D)
Full-Auto Program (P) Mode
Simply select the green-colored P Mode on the selection dial, and the camera handles everything for you. The Dynax 40 focuses perfectly on the subject and adjusts exposure automatically. The flash unit pops up automatically when needed.
Versatile Exposure Modes
The Dynax 40 offers four exposure modes: P (programmed AE), A (aperture priority), S (shutter priority) and M (manual) exposure modes that ensure photographs convey the user's intentions perfectly every time the shutter is pressed.
Subject Program Selection for All Photo Situations
Choose the appropriate icon and the desired exposure setting, and the Dynax 40 does all the work while you have all the fun! The following 5 pre-programmed modes allow you to shoot a particular scene beautifully with the touch of a dial.
Portrait Mode creates portraits with emotional power. By blurring the background while keeping the subject in sharp focus, this mode creates dramatic portrait shots.
Landscape Mode controls the depth of field, putting both a subject in the foreground and scenery in the background in clear focus and sharp detail.
Close-Up Mode lets you take dramatic close-ups of small subjects, such as flowers. This mode captures subject details while keeping distracting backgrounds out of focus.
Sports Action Mode is the best choice for shooting a moving object. Super-fast continuous AF and high shutter speeds freeze a subject and capture clear, sharp detail.
Night Portrait Mode adds greater expression to shots taken at night or with sunset backgrounds by using the flash and a longer exposure to reduce background darkness and capture a greater amount of detail.
Spherical Acute Matte
Like its more expensive counterparts, the Dynax 40 has a Spherical Acute Matte focusing screen that enhances the brightness of the viewfinder and makes focusing easier. Viewer magnification has been rated to 0.75X.
Website: http://www.konicaminoltaeurope.com/
Terms and product names may be trademarks or registered trademarks of their respective holders and are hereby acknowledged.