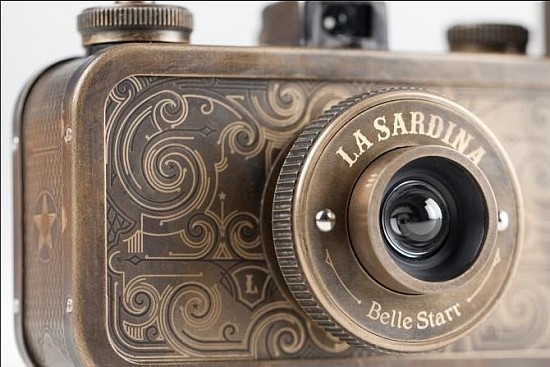 Lomography has launched a new Western Edition of its La Sardina 35mm film camera. The Lomography La Sardina Western Edition comes in two versions, called Belle Starr and Clever Coyote. Known as the "Queen of the Oklahoma Outlaws," Belle Starr has been described as "the most dangerous and wanted woman of her time". The Sardina clone named in her honour (pictured) is decorated with filigree patterns and arrows, while the Clever Coyote carries an image of the prairie and the coyote, engraved in oxidised metal. Like all other cameras in the Sardina range, the Western Edition models feature an ultrawide 22mm lens with a fixed f/8 aperture and an 88° angle of view. The cameras can be yours for £179 each.
Lomography Press Release
The Lomographic Society Proudly Presents
THE LA SARDINA WESTERN EDITION
Wild West Widgets: These two new oxidized metal Sardina clones will make you yell yeeeehaaaw!
Belle Starr: Raise your Stetson to the queen of Wild West bandits and show some guts with ultra-wide-angle snapshots
Clever Coyote: Even the toughest desert snake cannot resist this metal outlaw howling at the moon
WILD WEST WIDGETS
Saddle your horses and summon your gang – there are two new outlaws in town! With their oxidized metal bodies and ultra-wide-angle lenses they will conquer your analogue heart in an instant. Belle Star and Coyote are the names of these widely travelled Sardinas and they are well known amongst analogue outlaws up and down the desert. Loaded with 35 mm film they travelled dusty roads and Rocky Mountains to bring some outlaw extravaganza to Lomographers all over the planet. Once in your hands these two cameras will make you yell yeeeehaaw!
BELLE STARR
She was the most dangerous and wanted woman of her time, the prototype of an outlaw and a lady with clear intentions. Outlaw Belle Starr inspired us to this delicate Sardina clone, decorated with filigree patterns and arrows to underline the wild nature of this unique shotgun dame. A super-wide-angle lens helps you to level your camera right were you need it and capture a whole herd of wild horses if necessary. Raise your Stetson to the queen of Wilde West bandits and get in the mood for Lomographic adventures!
CLEVER COYOTE
Howling at the moon, roaming the prairie with his pack and hunting down his prey – this is the life of the clever coyote. With the new La Sardina Coyote we cherish this swift animal and hope to inspire you to be as clever as the coyote when it comes to choosing the right time, place and subject for your Lomographs. Track down the subject of your Lomographic desire like the coyote would do and impress your friends with this delicately designed camera. The image of the prairie and the coyote engraved in oxidized metal makes this camera an irresistible prey for all you Lomographers out there.
TECHNICAL DETAILS
Film Type: Standard 135 roll film
Exposure area: 36 x 24mm
Lens focal length: 22 mm
Aperture: 1:8
Angle of view: 88 degrees
Focusing range: 0.6m - infinity
Shutter speed: N (1/100), B (bulb)
Multiple exposure: independent MX switch
Flash contact: Unique Sardina flash contact
Flash Sync: first curtain X-type synchronization
Tripod socket thread: Standard ¼" tripod socket
Cable release: Universal cable release socket
Price:  179 EUR
What the Hell is Lomography?
www.lomography.com/about
The Lomographic Society International is a globally-active organization dedicated to experimental and creative snapshot photography. Boasting over a half-million members across the world, the concept of Lomography encompasses an interactive, vivid, blurred and crazy way of life. Through our constantly expanding selection of innovative cameras & photographic accessories, we promote analogue photography as a creative approach to
communicate, absorb, and capture the world. Through the efforts and skill of our Lomographic Society members, we seek to document the incredible planet around us in a never-ending stream of snapshots – literally a global "Lomographic" portrait as seen through the eyes of countless individuals and cultures.
THE FUTURE IS ANALOGUE!
Your Comments