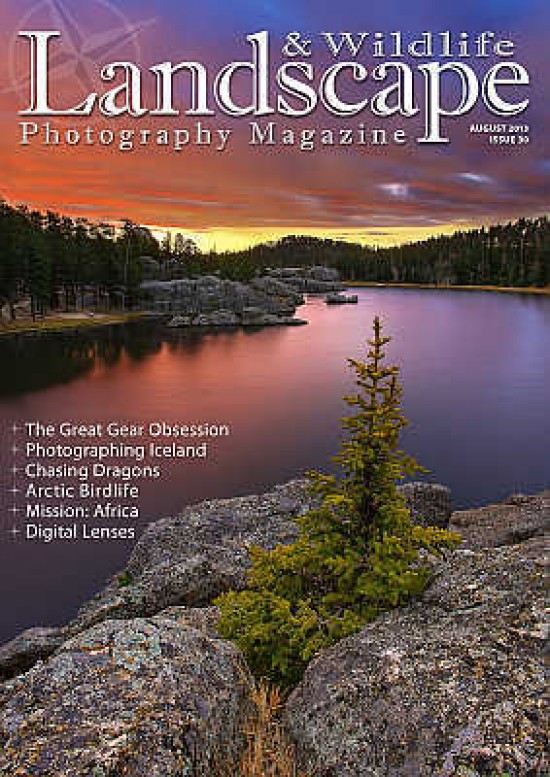 Issue 30 of Landscape Photography Magazine is now available to download. This edition includes a guide to using social networks, a free article on the top ten Lightroom shortcuts, a review of the Photopills app, a tutorial on using auto ISO, a review of the book "Burmes Light" by David Hay, the second part of the article "The art of macro and close-up photography," a test of graduated neutral density filters, and much more. Some of these articles are free but do note that the full contents of the magazine are available to subscribers only
Website: Landscape Photography Magazine
Landscape Photography Magazine Press Release
Issue 30 of Landscape Photography Magazine is out now.
Published every month, LPM and its accompanying website has over 300,000 unique visitors in more than 195 countries, making it a truly international photography magazine for the digital age. Packed with refreshing content, exciting features and stunning imagery from around the world - all provided by innovative professionals who share one passion - that of landscape photography. It makes no difference if you are using a large format or a compact camera, LPM welcomes everyone the same way. We are here to promote, educate, inspire; this is what we do, this is who we are.
Besides our regular columns from our inspirational photographers and authors, this is what else we have in store for you this month:
Advice of the month: Top 10 Lightroom shortcuts (free article)
A guide to using social networks
Arctic Birdlife by Mark Sisson
App Review: Photopills (free article)
Auto ISO by Kaleel Zibe
Book Review: David Hay is reviewing "Burmese Light"
Digital lenses by David Hay
Featured Artist - Mattias Johansson
Gear Test: ND Grad filters
In Conversation... Harry Cory Wright (free article)
Mission to Africa by Steve & Ann Toon
Photographing Iceland by Reine Mirau
Portfolio: Keith Kiska & Steven B Sullivan
The art of macro and close-up photography part II
Note that the full contents of Landscape Photography Magazine are available to subscribers only.
And of course, exceptional landscape and nature photography sent in by our readers. Landscape Photography Magazine, a publication full of inspiration.
http://landscapephotographymagazine.com/
Your Comments