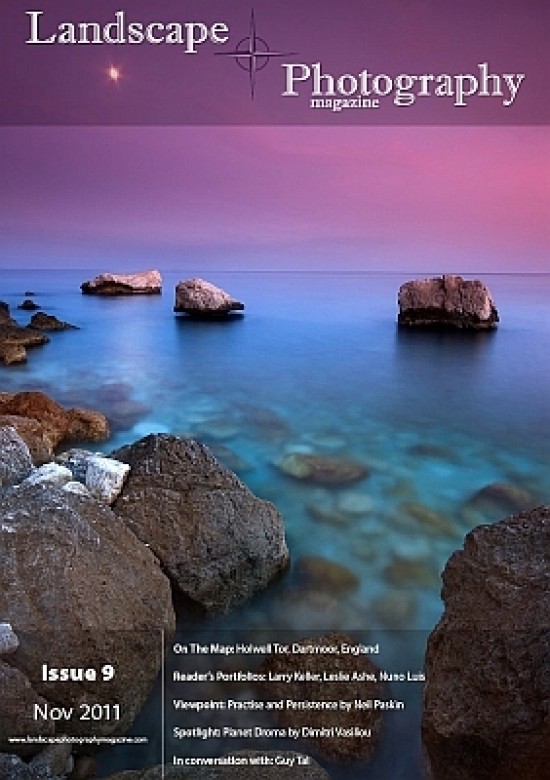 The ninth edition of the online Landscape Photography Magazine is now available. This issue includes an interview with US landscape photographer Guy Tal, an article about the importance of practice and persistence in landscape photography, a tutorial on evaluating histograms, an in-depth look at autumn landscape photography, and several articles that introduce great locations such as Holwell Tor in England, the beaches of North Michigan and Loch Droma in Scotland. The magazine also features the portfolios of three photographers, Larry Keller, Leslie Ashe and Nuno Luis.
Website: Landscape Photography Magazine
Press Release
Landscape Photography magazine
Issue 9 of landscape photography magazine is out now.
A great variety of new articles, tutorials and highly inspiring portfolios, as well as an interview with US Landscape Photographer Guy Tal are included in this issue. They will be of help not only to intermediate and advanced photographers but also all those who are in those early stages.
We are promoting imagery from landscape photographers worldwide. We are also showcasing some spectacular landscape locations in great detail with map links for all to visit.
It makes no difference if you are using a large format or a compact camera, the magazine welcomes everyone the same way. We are here to help each other improve and make sure that Landscape Photography will be here for ever and remain one of the best and most inspirational genres in photography.
Neil Paskin talks about Practice and Persistence in landscape photography. David Lee will guide us to Holwell Tor in England and David Hay explains all about Autumn landscape photography. Mike Bell is giving us an insight into Histogram for beginners, Joe Rainbow will take us a trip down to Porth Nanven in Cornwall, England and Julian Bunker says it all when it comes to Beaches of North Michigan. We do not stop here though as Our conversation with landscape photographer Guy Tal will take you by surprise, Trevor Anderson talks about a coming storm, Dimitri Vasiliou takes us to Loch Droma in Scotland and 3 gentlemen will inspire us with their portfolios, Larry Keller, Leslie Ashe and Nuno Luis.
Come and see for yourself, the inspiration is endless.
http://landscapephotographymagazine.com/
Your Comments