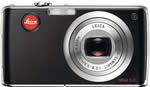 Leica have quietly introduced the new Leica C-LUX 1, a 6 megapixel, 28-102mm zoom digital camera which looks suspiciously like a re-brand of the Panasonic DMC-FX01 that was announced in February. Of course, it could be an April Fool's joke…
Leica Press Release
The LEICA C-LUX 1 is an engagingly attractive companion with a fashionably compact form factor. Offered in smart black or lustrous silver and having a basic outline of only 5 x 10 cm, it's a camera you'll want to take with you wherever you go. And its elegant exterior is complemented by cutting-edge technology: 6-megapixel capture, ultra short shutter delay, precise autofocus measurement, and a generous selection of scene modes make it ideal for taking great pictures effortlessly. Whether you're on the beach, on a stroll through narrow streets, or in your favorite restaurant – the C-Lux 1 will capture all those precious moments you want to remember in stunning, true-to-life color and detail.
The LEICA C-LUX 1 at a glance:
* High-quality fabrication:
Elegant and robust metal body available in black or silver finish.
(Notice: The silver finish isn't available in all countries.)

* Leica lens:
The extended focal length range of the Leica wide-to-telephoto zoom lens is equivalent to a 28-102 mm in the 35 mm format, suitable for interiors, portaits, scenics, and more.

* Optical image stabilizer:
Exquisitely sharp photos even in candlelight or of moving objects thanks to the built-in optical image stabilizer and the high-sensitivity setting of up to ISO 1600.

* Display:
High resolution 2.5-inch display provides a clear view of critical details.
Scope of delivery for LEICA C-LUX 1:
- Battery charger + battery
- 64 MB SD memory card
- AV cable
- USB cable
- DC cable
- wrist strap
- CD ROM with software (Adobe Photoshop Elements 4.0, Quicktime Movieplayer)
Accessories for the LEICA C-LUX 1:
Case:
real leather case with micro-velour lining.
Colors: Cognac-brown, black or red
Direct mains connector:
ACA-DC4 with mains cable (replacement)
Lithium-Ion-Battery:
LEICA BP-DC4 (replacement)
Digital Adapter:
Digital Adapter 2 for all Leica Televid

Specifications
Photography type / format 1/2.5" CCD sensor with 6.37 million pixels (6 m pixels effective in 4:3 format)

Resolution In 4:3 format: either 2816 x 2112, 2048 x 1536, 1280 x 960 or 640 x 480 pixels, 2816 x 2112 , 2048 x 1536 , 1600 x 1200 pixels
In Leica 3:2 format: either 2816 x 1880 or 2048 x 1360 pixels. In 16:9 format: either 2816 x 1584 or 1920 x 1080 pixels (corresponds to HDTV standard)

Video sequences In 16:9 format with 848 x 480, in 4:3 format with 640 x 480 or in 4:3 format with 320 x 240 pixels at either 30 fps or 10 fps, duration of recording only limited by the capacity of the memory card Recordings with sound

Data recording Data formats: Still pictures: JPEG (Fine/Standard) Video: QuickTime Motion JPEG

Storage media SD Memory Card and MultiMedia card (a 64 MB-SD card is supplied with the camera)

Film speed setting Either automatic or manual ISO 80, ISO 100, ISO 200 or ISO 400 (in high sensitivity mode 800 - 1600)

White balance Either automatic, for daylight, overcast sky, halogen light, two manual settings, fine adjustment of white balance in a range of –1500 to +1500K in 150K steps (not available for automatic setting).

Lens LEICA DC VARIO-ELMARIT f/2.8-5.6/4.6-16.8 ASPH. (corresponds to 28 -102 mm in 35 mm format), 3.6x optical zoom. Change of focal length by conveniently located zoom lever

Optical image stabilizer 2 modes: either for exposure only or for exposure and monitor

Focus range Normal: 50cm – infinity Macro/Simple/Motion Picture: wide-angle 5cm/telephoto 30cm infinity

Focusing Autofocus, either normal or macro Autofocus modes / measurement range: either 5 fields (full image area), faster autofocus with 3 fields (across the center) or with 1 central field, 1 field, or spot.

Exposure Exposure modes: either simple mode, normal image or macro Exposure metering: Multi-field measurement exposure bracketing: +/- 2 EV in 1/3 EV steps

Series exposures Either 3 fps or 2 fps at full resolution, max. 8 pictures with JPEG standard, max 6 pictures with JPEG fine

Shutter speed range In fully automatic mode: 8-1/2000 sec. Starry sky mode: 15, 30, 60 sec.

Flash Flash modes: either automatic flash on with or without pre-flash (to combat red-eye), manual flash on (fill-in flash) with or without pre-flash, SLOW for slower shutter speeds (with pre-flash), flash off. Flash range (ISO set at Auto): 0.6–4.0 m (wide-angle), 0.3–2.0 m (telephoto), in high-sensitivity mode: 0.8 – 5.7m (wide-angle), 0.8 - 2.8m (telephoto), flash exposure bracketing: ±2 EV in 1/3 EV steps.

Scene modes Portrait, soft skin, landscape, sport, night portrait, night landscape, self-portrait, food, party, candlelight, fireworks, starry sky, snow, baby1, baby2, high sensitivity

Toning effects Blueish, reddish, black and white or sepia

LCD monitor 2.5" polycrystalline TFT color display with 207,000 pixels. Field of view: almost 100% Power LCD mode, wide-angle viewing mode

Self-timer Either 2s or 10s countdown

Power supply Lithium ion battery, 3.7 V, 1150 mAH or optional mains unit

Ports USB 2.0 (Full speed), DC in (power supply) and AV out.

Printer compatibility PictBridge

Battery capacity (approx.) 320 pictures (CIPA Standard)

Dimensions (w x h x d approx. 94.1 x 51.1 x 24.2 mm

Weight approx. 132g without battery and memory card; approx. 160g with battery and SD memory card

Scope of delivery Battery charger, battery, 64 MB SD memory card AV cable, USB cable, AC cable, wrist strap, CD ROM with software
(Adobe Photoshop Elements 4.0, Quicktime Movieplayer)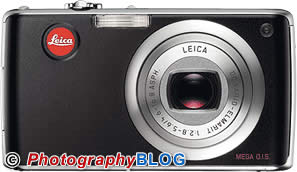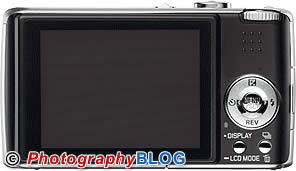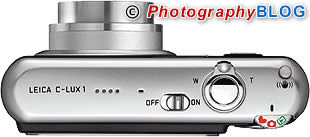 Share this article