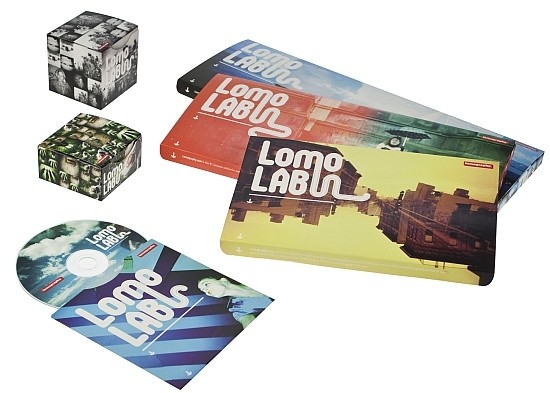 The LomoLab is a new film processing lab housed in the basement at the Lomography Gallery Store East London. Offering on-site processing of colour and black-and-white 35mm and 120 format film, including cross processing, push and pull processing, the LomoLab will also provide a scanning service with an option to send scans directly to your LomoHome or email address. Launching on 11th March and open Monday through Friday, the LomoLab is located at 117 Commercial Street, London.
Lomography Press Release
We've been saying it for years and, Mulder and Scully, the truth is finally out there…The Future (really, really) Is Analogue
Lomography UK is delighted to announce a monumentally important event for London - the grand opening of its brand new, fully analogue LomoLab. Not only is it welcome news for the processing of your Lomography camera exploits, but it's also available for you to use for all film photography processing!

A FILM PROCESSING LAB OPENING RIGHT HERE IN LONDON! For years these mighty dragons have been closing down and slipping away in this supposed age of digitalisation…but not for us. We've been quietly (well, not that quietly) forging ahead with the most amazing community of analogue photographers, cameras, workshops, parties and events over the last 18 months since we first opened the London Lomography Gallery Store in the West End. Since then the Lomography Gallery Store East London has opened and now here we are, about to unleash the beast that is the Lomography LomoLab for all your creative processing needs.

The LomoLab is fully on view to the public and is housed in the basement at the Lomography Gallery Store East London. Here you will be able to see our own LomoLabRatGenius Mr. Jack Quick perform miracles in the most personal manner, all using the passion and creativity that Lomography is so well known for. Using a real hands-on approach to processing; our LomoLabRat will also be running some creative processing workshops from the LomoLab…ever wanted to develop your black and white films with instant coffee? Fancy learning about crazy and wild film treatments? What about instant photo collage and manipulation classes? Fancy some fun with pre treating and post treating negatives? Then look no further than the LomoLab for all of this and more. Workshop details to be announced at the launch.

Following on from the standard set by our LomoLabRatGenius: Mr. Jack Quick; all our LomoLab operators will be photography graduates with years of professional printing experience and hard core Lomographers to boot. Each set of prints will be treated with care and consideration and will be handled as though they belonged to the LabRats themselves! This is a timely process but one that we at Lomography feel is of utmost importance to our customers – whether they are Lomographers themselves or not. The on-site processing machines are also painstakingly maintained by the LomoLabRatGenius himself, with a huge amount of care and attention. More timely attention needed for this, but ultimately, we at Lomography feel that it's all worth it. No rushed and uncared-for, one-hour processing here – no siree bob! Having someone who knows what their doing and who takes the time with each order is a bit of a rarity these days and it's something that we're all very proud of here at Lomography.

The LomoLab East London is open Monday – Friday 10 – 7.
The Lomography Gallery Store is open all week 10 – 7

LomoLab
The Lomography Gallery Store East London
117 Commercial Street
London
E1 6BG
020 7426 0999

Technical Details
35mm processing on site
120mm processing on site
Standard colour processing 24hr service
Black and white processing
Spinner 360 processing 3 day service
Colour correction available
Push and pull processing possible
Cross processing – E6 through C41 chemistry
On site scanning with specialist scanning masks available for all panoramic requirements including:
Spinner 360
Sprocket Rocket
Horizon
Upload facility to offer digital scans direct to customer's LomoHome or email address
Your Comments