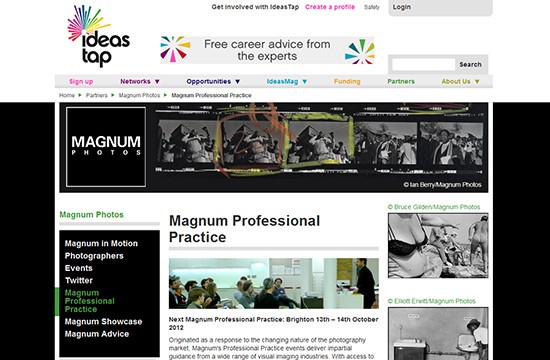 The next Magnum Professional Practice seminar will be held from13-14th October in Brighton, England. In this two day event, leading figures of the photographic industry will deliver presentations and advice on the best means in engaging with and the realities of working in their sectors. Confirmed speakers include David Birkitt, Jessica Crombie, Celia Davies, Harry Hardie, Diane Smyth, Rebecca Swift and Peter Marlow. The tuition fee is £200+VAT including lunch but excluding transport & accommodation. Bursary places for photographers aged 16-25 years are available via IdeasTap for the subsided rate of £50 +VAT.
Magnum Press Release
Magnum Professional Practice: Brighton
13th – 14th October 2012
Conceived as a response to the ever evolving nature of the photography market, Magnum's Professional Practice seminars deliver guidance and networking opportunities from a wide range of visual imaging professionals. With access to key individuals working across the editorial, commercial, cultural and publishing sectors, Magnum is well placed to advise the next generation on their photographic development.
In this two day event, leading figures of the photographic industry will deliver presentations and advice on the best means in engaging with and the realities of working in their sectors. In their professional capacities, our speakers routinely work with photographers; commissioning, selecting, editing and purchasing images for a range of purposes. In these seminars, our industry experts pass on their knowledge to photographers wishing to further their understanding of the business of photography. We cover a variety of sectors including advertising & corporate, editorial, gallery, NGO, museum, publishing and rights management.
Professional Practice seminars fill a widening gap between academic learning and the professional world, conveying vocational knowledge unassociated with most academic curriculums. Our seminars allow emerging photographers to begin establishing a professional network, including both peer and industry contacts, and to identify realistic entry routes into employment and paid opportunities. This event is aimed a wide range of photographers at different stages of their careers: professional photographers working in a particular discourse but wanting to explore other avenues; emerging photographers who require practical, vocational training; or semi-professional photographers wishing to make the commitment to full time practice. It is also an opportunity for non-photographers interested in working within the visual arts industry to receive an overview of the wide variety of jobs available in this sector; from picture researchers, to art buyers and gallerists.
Each of Magnum's Professional Practice lectures is tailored to deliver the best impartial advice and provide the opportunity to meet with key industry specialists. Places on Magnum's Professional Practice course are limited and successful candidates will be chosen on the perceived benefit to the applicant's career.
This event is hosted as part of the Brighton Photo Biennale's 'Development Week', held at Lighthouse Arts, 28 Kensington Street, Brighton, BN1 4AJ MAP
www.lighthouse.org.uk
Read previous participants testimonials and interviews with Professional Practice industry speakers and previous attendees on our IdeasTap partner page:
http://www.ideastap.com/Partners/magnumphotos/professional-practice
Tuition fees: £200 (+VAT) includes lunch. Excludes transport & accommodation
Click here to apply: https://ideastap.wufoo.com/forms/s7x2p7/
Bursary places for photographers aged 16-25 years are available via IdeasTap for the subsided rate of £50 (+VAT)
Click here to apply: http://www.ideastap.com/Opportunities/Brief/91cdcf46-8b32-4c0d-a6e1-a0c400c8ba5b#Overview
Confirmed speakers
David Birkitt – Managing Director, DMB Media
David Birkitt has managed the careers of some of the world's leading image-makers. Working internationally he has amassed a decade of experience at the highest level of the visual industry. DMB Media offers a fresh perspective on worldwide projection and career management for individuals and companies across the creative industries, partnering both established and exciting new talent with the right creative projects. www.dmbmedia.co.uk
Jessica Crombie - Head of Film and Photography, Save The Children
Jessica Crombie is Head of Film and Photography at international NGO Save the Children where she leads the film and photo department in their creation of new content and innovative uses of lens based media. Jessica entered the NGO sector as Picture Editor at WaterAid, but spent the first decade of her career in commercial photography as an art buyer at a number of top level advertising agencies, Chief Booker at Wyatt-Clarke and Jones and Creative Manager at Magnum Photos. Crombie is the co-founder of the Humanising Photography network, a diverse group of professionals working in the field of lens-based media brought together to explore visual politics and the relationship between lens-based image making, human rights, humanitarianism, and communication.
www.savethechildren.com and www.humanisingphotography.org
Celia Davies - Head of Programme, Photoworks
Celia oversees the planning and delivery of the artistic programme and is co-curator of BPB12. She was previously Head of Exhibitions at the De La Warr Pavilion from 2002-2009. She has devised numerous contemporary solo and group exhibitions and major commissions of new work, profiling both international and UK based artists. More recent projects include Brighton Palermo Remix by David Batchelor for Brighton Festival (2012), This Storm is What We Call Progress by Ori Gersht (2012), Imperial War Museum, London and recently curated projects include Myth, Manners and Memory: Photographs of the American South including Walker Evans, William Eggleston, William Christenberry, Carrie Mae Weems, Susan Lipper and Alec Soth (2010), Beuys Is Here co-curated with Anthony d' Offay (2009), Kenneth and Mary Martin, Constructed Works(2008), Jeremy Deller (2006). Selected recent commissions include Mumuration Rinko Kawauchi and Brighton Picture Hunt Alec Soth (2010) Seascape Susan Collins (2009), Palace Nathan Coley (2008), It Starts From Here (2007), Motion Path Graham Ellard and Stephen Johnstone (2006),Variety including Brian Catling, Daria Martin, Mark Wallinger and Boyd Webb (2005) and Bridget Smith(2005). She has been editor and contributing writer for numerous visual art publications, including the influential Photoworks Monographs series, co-published with Steidl. She is co-editor of Photoworks magazine and a trustee of Blast Theory.
www.photoworks.org.uk
Harry Hardie – Founder & Director, HERE
Harry has been working with photography for 10 years, starting as the Assistant to the Director of Photography at The Times, London, then as the Photo Editor for The Times Luxx Magazine. After The Times Harry worked as director of HOST Gallery, London, before founding Here and Here Press, a company that publishes, exhibits, teaches, and supports photography, Here Press publishes photobooks that explore new forms of documentary photography. Harry is also a lecturer in photography at University College Falmouth, and has curated numerous exhibitions of contemporary photography.
www.hereontheweb.co.uk
Diane Smyth – Deputy Editor of the British Journal of Photography
Diane is editor of the BJP app and deputy editor of BJP, print edition, where she mostly looks after features. She has also written for Aperture, PDN, Creative Review, Philosophy of Photography, Photomonitor, The Times and guardian.co.uk, and curated photography exhibitions for the Flash Forward Festival in Toronto in 2010 and the forthcoming Lianzhou International Photo Festival in China. She has spoken on photography at the London College of Communications, University College Falmouth, The Photographers' Gallery and The Frontline Club.
www.bjp-online.com
Rebecca Swift – Visual Consultant, formerly of Getty Images
Rebecca joined the photography industry nearly 20 years ago and survived the move from analogue to digital. She was one of the founding members of the Creative Research team at Getty Images, introducing the visual research methodology to the Visual Communications Industry. At Getty Images, Rebecca is responsible for building multiple image collections including the highly successful iStockphoto brand. Day to day she works with photographer communities that range from the amateur hobbyists to highly successful professionals. She runs global research projects looking at the future of visual communication and has published many trend reports.
Rebecca also works as a visual consultant for global corporations who are building visual brands. She works with companies within a wide range of industries from the Charity sector to the Oil Industry and has presented findings all over the world. Rebecca lectures widely at conferences and seminars and has been a visiting lecturer at University of the Arts and UCLAN. She has sat on the judging panel for most of the significant European photography, design and advertising awards. She is currently researching a PhD into visual trends in UK advertising imagery over the last 30 years. Rebecca also has the pleasure of curating Flickr.com.
Sophie Wright – Cultural Director, Magnum Photos Sophie's interest in photography began whilst working as a picture researcher at Penguin Books. She then went on to work in a start up photography agency and gallery after which she became Deputy Editor of PLUK magazine, co-curating exhibitions at the gallery owned by PLUK's publisher, artandphotographs. With Magnum Photos since 2003, her role involves origination and co-ordination of touring exhibitions both individual and group by Magnum's photographers within the UK, Middle East and Australasia. She has also overseen the creation of the Magnum Print Room, putting in place a schedule of exhibitions and talks in collaboration with the Atlas Gallery. She regularly writes on photography for magazines such BJP, Foam and Foto8. www.magnumphotos.com and www.sophie-wright.com
Peter Marlow – Magnum photographer
Although gifted in the language of photojournalism, Peter Marlow is not a photojournalist. He was initially, however, one of the most enterprising and successful young British news photographers, and in 1976 joined the Sygma agency in Paris. He soon found that he lacked the necessary appetite for the job while on assignment in Lebanon and Northern Ireland during the late 1970s; he discovered that the stereotype of the concerned photojournalist disguised the disheartening reality of dog-eat-dog competition between photographers hunting fame at all costs.
Since those days, Marlow's aesthetic has shifted - in that he makes mainly color photographs - but his approach is unchanged. The color of incidental things became central to his pictures in the same way that the shape and mark of things had been central to his black-and-white work.
Marlow has come full circle. He started his career as an international photojournalist, returned to Britain to examine his own experience, and discovered a new visual poetry that enabled him to understand his homeland. Having found this poetry, he has taken it back on the road: he now photographs as much in Japan, the USA and elsewhere in Europe as he does in the UK. Peter Marlow will deliver an inspirational career overview presentation and talk about his new book 'The English Cathedrals' (Merrell Publishers, October2012).
www.petermarlow.com and www.magnumphotos.com/photographers
Your Comments