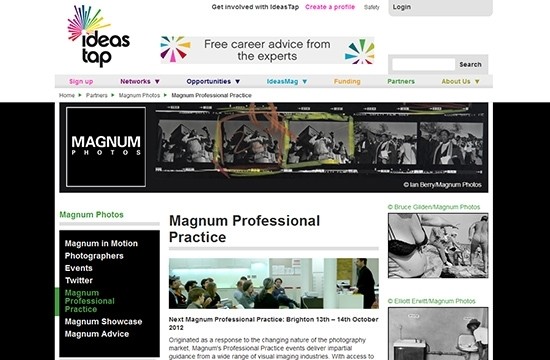 The next Magnum Professional Practice seminar will be held from 13th – 14th April in Newport, Wales. In this two day event, hosted in partnership with the University of Wales, leading figures of the photographic industry will deliver presentations and advice on the best means in engaging with and the realities of working in their sectors. Confirmed speakers include Sophie Batterbury, Emily Graham, Harry Hardie, Joni Karanka, Peter Marlow, Stewart Mungeam, Fiona Rogers and Hannah Watson. The tuition fee is £150 (+VAT) including lunch and refreshments but excluding transport and accommodation. 10 bursary places are available for photographers aged 16-25 years for the subsided rate of £50 (+VAT).
Magnum Press Release
Magnum Professional Practice: Newport
13th – 14th April 2013
Conceived as a response to the constantly changing nature of the photography market, Magnum's Professional Practice seminars deliver guidance for photographers on the practical business of photography. Our seminars allow photographers to extend their professional networks with an emphasis on industry contacts.
Professional Practice helps to identify realistic entry routes into employment and paid opportunities, from a wide variety of sectors including advertising & corporate, editorial, gallery, NGO, museum, publishing and rights management.  In their professional capacities, our roster of high profile speakers routinely work with photographers; commissioning, selecting, editing and purchasing images for a range of purposes.
Magnum's Professional Practice events fill a widening gap between academic learning and the professional world,  offering unparalleled vocational knowledge often unassociated with the traditional teaching. This event is aimed a wide range of photographers at different stages of their careers: emerging photographers who require practical, vocational training , semi-professional photographers wishing to make a full-time commitment and professional photographers working in a particular discourse but wanting to explore other avenues. It is also a unique opportunity for non-photographers interested in working within the arts to receive an overview of the wide variety of jobs available in the visual industry; from picture researchers, editors, art buyers and gallerists.
Each of Magnum's Professional Practice seminars is tailored to deliver the best impartial advice and provide networking opportunities to meet with key decision makers. Places on Magnum's Professional Practice course are limited and successful candidates will be chosen on the perceived benefit to the applicant's career.
This event is hosted in partnership with the University of Wales at the Newport Campus. Magnum Photos & University of Wales has a long-standing relationship beginning in 1973 when David Hurn created the first Diploma in Documentary Photography. 40 years on, University of Wales is still considered to be the most prestigious place to study documentary photography.
Caerleon Campus, Lodge Road, Newport, Caerleon, South Wales NP18 3QT
Want to know what happens on Professional Practice? Read previous participants testimonials and interviews with our industry speakers: http://www.ideastap.com/ideasmag/all-articles/magnum-professional-expect
Tuition fees: £150 (+VAT) includes lunch & refreshments. Excludes transport & accommodation
Click here to apply:  http://www.ideastap.com/Partners/magnumphotos/professional-practice
Through the generous support of Magnum's educational partners, 10 bursary places are available for photographers aged 16-25 years for the subsided rate of £50 (+VAT)
Click here to apply: http://www.ideastap.com/Opportunities/Brief/742566be-b3aa-4f13-b9f0-a17000ab6af1#Overview
Your Comments