Mamiya RZ67 Pro IID Now Official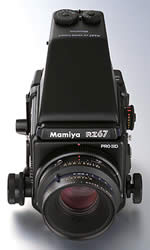 The Mamiya RZ67 Pro IID digital medium format camera, which we featured a few days ago, has now appeared on the official Mamiya website.
The new camera features a MSCE (Mamiya Serial Communication for Exchange) connection to allow any MSCE compatible digital back to be used with the camera. The RZ-67 Pro IID will be available in August, costing around ?1300 / 2000 Euros.
Website: Mamiya Japan - RZ67 Pro IID