Manfrotto Pro Light Bags Now Available in US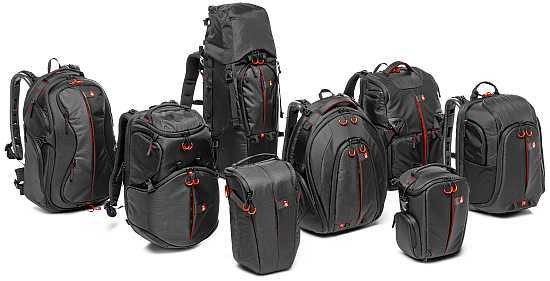 Manfrotto's Pro Light photo bag collection is now available in the United States. The new bags feature Manfrotto's CPS (Camera Protection System) which has been specifically engineered to provide maximum protection at the core of the bag by using 3D shock absorbing foam to give the highest level of safety and resistance. The collection also features  Manfrotto'sAdvanced Harness System and gecko EVA foam harness straps which allow the Pro Light bags to be extremely comfortable to wear. Furthermore, the anatomic shape is designed to perfectly fit the body of the camera, while the removable waist strap ensures stability. Manfrotto's Pro Light Bags Collection includes a total of 28 product SKUs, including holsters, photo backpacks, video backpacks, rolling organisers, video cases, and accessories such as element covers and camera straps. The bags are available now at retailers nationwide, and range in price from $44.00 to $550.00.
Manfrotto Press Release
Manfrotto Introduces New Pro Light Photo and Video Bag Collection
08/06/2014 —  Upper Saddle River, N.J. (August 7, 2014) – Manfrotto, a leading global distributor of premium photo,video and lighting support products and accessories, proudly introduces its new Pro Light Bags Collection, designed for on-the-move professional photographers, videographers and advanced hobbyists. Crafted using the most innovative materials and design techniques, the Pro Light bags are the lightest carrying solutions in the Manfrotto range, while providing superior protection and ease of access.
"Manfrotto offers the most comprehensive range of premier quality carrying solutions on the market today, each of which was designed with specific users and applications in mind," said Paul Zakrzewski, Director of Marketing for Manfrotto Distribution, Inc.  "The Pro Light Collection is certainly no exception in that it was created to meet the needs of professionals on the go. These bags were designed specifically for professionals who need to carry a lot of high end gear in a comfortable, highly-protective case and then have quick, easy access to all that gear at the drop of a hat." 
Manfrotto's Pro Light bag line offers a comprehensive range of carrying solutions designed specifically for photographers and videographers who need to bring a considerable amount of gear on active assignments. Versatile, functional and extremely ergonomic, Manfrotto's Pro Light photo bag range features a number of intuitive, creative solutions that facilitate rapid access to equipment. The 3N1 Backpacks, for example, enable users to rotate the backpack to their chest and access their gear via the fast-opening side pocket within seconds -- without ever having to remove the bag from their body.
"Innovation is a major part of the Manfrotto DNA and the Pro Light Collection is representative of that," noted Zakrzewski.  "As the needs and preferences of the photo and video communities continue to evolve, so must the equipment that we develop to support them in their work. Withthe addition of the Pro Light Collection to the Manfrotto family of bags, we now offer innovative, reliable carrying solutions for all skill levels, personal preferences, and imaging missions."
Pro Light bags have top wearability and ergonomic access solutions, combined with a stylish Italian design true to the Manfrotto brand. Its tough outer layer and high-resistant nylon legs provide the greatest protection to the gear inside.
Key features of Manfrotto's Pro Light bags include:
Extreme Lightness: Pro Light bags feature the latest innovative materials to construct the lightest camera bags in the Manfrotto range, delivering maximum comfort and usability for assignments.
Maximum Protection: At the core of each Pro Light bag is the innovative Manfrotto Camera Protection System (CPS). This unique system has been specifically engineered to provide maximum protection for the most vulnerable equipment in the center of the bag. Strict laboratory tests confirm that the innovative 3D shock-absorbing foam dividers provide the highest level of protection and resistance where it really counts.
Unmatched Flexibility: Pro Light bags come in a variety of sizes and configurations, all with ample room to fit a substantial amount of gear. The removable CPS dividers allow users tremendous flexibility in organizing and packing their equipment. Numerous design innovations provide quick, easy access to gear at a moment's notice. Some of the bag options also allow ample room for a laptop, tablet, and other electronic gear useful in shooting, such as element covers and protections for photo and video cameras.
Attention to Detail and Design: All Pro Light Bags have been conceived with attention-to-detail and design, using the latest innovative materials and fabrics. Every element and feature of each bag was created with a specific purpose. Removable and ergonomic waist straps ensure stability and comfort, and eliminate unwanted tilting. Pocket positions, zipper pullers, tripod holders and straps have been designed according to the most innovative carrying solutions for instant access.
Manfrotto's Pro Light Bags Collection includes a total of 28 product SKUs, including holsters, photo backpacks, video backpacks, rolling organizers, video cases, and accessories such as element covers and camera straps. The bags are available now at retailers nationwide, and range in price from $44.00 to $550.00.
To learn more about Manfrotto's extensive range of bag options and collections, visit http://www.manfrotto.us/camera-bags-collection.
For additional information or to learn more about Manfrotto's photo and video products and accessories, visit www.manfrotto.us. Follow Manfrotto on Facebook at https://www.facebook.com/ManfrottoSoX  or on Twitter @manfrotto_us.
About Manfrotto (Vitec Group) – www.manfrotto.us
Manfrotto is the world leader in the design, production and distribution of professionalproducts for photography, video and entertainment. The company was founded in 1972based on Lino Manfrotto's experience, and its mission has always been to support andsimplify the work of reporters, photographers and producers. The Imagine More projectadds to this historical mission the idea of fuelling the enthusiasm of weekend photographersand supporting the surge of new amateurs. Part of the UK-based Vitec Group since 1989,Manfrotto has now become a worldwide presence. In its eight key markets – Italy, France,Germany, the United Kingdom, China, Japan, Hong Kong and the United States – it isrepresented by its own direct distribution system, Manfrotto Distribution, whereas in 80other countries sales are handled by independent distributors. Through the Imaging Division of Vitec Group, Manfrotto Distribution owns the following leading international brands: Manfrotto, Gitzo, Lastolite and Avenger and is the U.S. distributor of Elinchrom, Gossen, National Geographic, Metz, and Rotatrim.
Your Comments