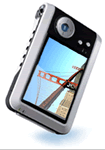 MediaGear Press Release
MediaGear Launches the New HD2GO, a Digital Photo Storage and Viewer Unit That Also Plays Music and Videos on a Large 3.6 Inch LCD Color Display
SANTA ANA, Calif.—(BUSINESS WIRE)—July 26, 2006—MediaGear today introduced its newest product offering, the HD2GO, which is a high-featured photo storage/viewer that also plays color video and stereo music files. "The HD2GO is exciting news to the digital photography market anxious for a stepped-up model which is comparable in features to much higher priced devices available today from other manufacturers," noted Tom Wang, Sales Director at MediaGear. "The HD2GO's 3.6 large screen true color LCD display is the most impressive feature. The HD2GO can store over 10,000 digital photos and up to 25 hours of video. The unit can easily display these photos or videos on a clear bright color screen that will 'wow' your friends and family."
The HD2GO user can also download videos and music to complement its photo storage abilities. Plus, with a simple setup, you can view photos and videos from the HD2GO on TV.
Downloading files is easy. When transferring pictures from your camera just insert your memory card into the HD2GO memory card slot. To download videos and music to the HD2GO, just attach a standard USB cable from a PC.
Navigation is a snap. After power-up, the HD2GO displays all icons for photos, music, video, and set up. With one press of the "OK" button, you can further navigate or edit your stored photos and data. Convenient toggle and other user-friendly buttons make the HD2GO an easy-to-use combination storage and viewing device.
Battery life is impressive. The HD2GO has plenty of capacity with an average 4.5 hours of video playback time or 15 hours of audio. The on-board Lithium ion battery can be recharged in 5 hours. The HD2GO comes equipped with an AC adaptor plug for unlimited viewing time.
MediaGear plans to market the HD2GO on their website: www.mymediagear.com. List price is expected at $295.95. HD2GO 300 dpi digital images can be downloaded from http://web.mymediagear.com/Default.aspx?tabid=153.
MediaGear is located at 1202 E. Wakeham Ave, Suite 200, Santa Ana, California, 92705, www.mymediagear.com. MediaGear, Tel: 714-564-7719, ext. 1601, Fax: 714-564-7716. Media contact: Terry Smith, e-mail: terrys@mymediagear.com.
The MediaGear name and logo are registered trademarks of MediaGear Inc. All other names and logos are owned by their respective owners