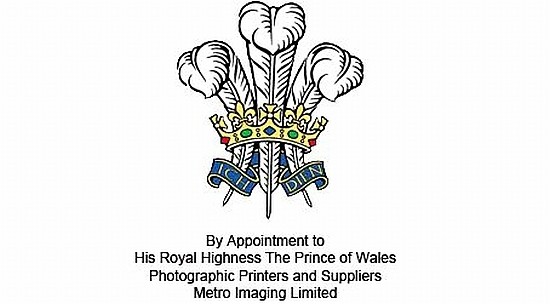 Metro Imaging has become one of 159 companies to receive a warrant from HRH Prince of Wales, in recognition of its close relationship as a supplier to the Duchy of Cornwall. This highly prized status is only granted on consistent demonstration of quality and excellence. "We are really proud of this prestigious acknowledgement," says Steve Macleod, Creative Director at Metro Imaging. "We love our work and always strive to give our best to every customer."
Metro Press Release
Metro Imaging Granted Royal Warrant
Metro Imaging becomes one of 159 companies to receive a warrant from HRH Prince of Wales, in recognition of its close relationship as a supplier to the Duchy of Cornwall and commitment to the highest standards of service and excellence.
It's no secret that Metro Imaging has been producing stunning images for over thirty years, but it's one of its better-kept ones that it does work for the Royal Family, having had the privilege to be trusted with some very precious images over the decades.
The Royal Warrant, recently granted to Metro Imaging, is a mark of recognition to individuals or companies who have supplied goods or services for at least five years to HM The Queen, HRH The Duke of Edinburgh or HRH The Prince of Wales. The highly prized status is only granted on consistent demonstration of quality and excellence, with around 850 Royal Warrant Holders to date.
Steve Macleod, Creative Director at Metro Imaging says:
 
"We are really proud of this prestigious acknowledgement. We love our work and always strive to give our best to every customer. We are looking forward to displaying the legend, 'By Appointment'".
 
In addition to the usual qualifying criteria, The Prince of Wales asks that companies meet a code of good environmental practice in order to qualify for his warrant. Metro Imaging leads the printing field with its green credentials and has done an extensive environmental review to establish the impact of printing techniques, photographic paper, packaging and the reuse and recycle of all materials.
Steve Macleod continues "Our green credentials are essential to move forward as a business into 2012 and beyond. Printing can have damaging affects for the environment, and as such Metro Imaging will continue to do our up most to provide this."
Since launch Metro Imaging has continued to recognise that business operations have an influence on the environment, to this extent the company follows the following principals:
Two thirds of all paper in use by Metro is either Fuji or Kodak, both of whom are certified with ISO 14001 environmental management system standard. 
In 2012 Metro will be moving towards having all packaging materials one hundred per cent recyclable.
All chemical waste is recycled and the waste is then taken to a treatment site where the process begins for the recovery of silver. The resultant silver is formed into ingots and sold to the precious metals market.
These are just three of the ways Metro Imaging has responded to its environmental review.
Your Comments