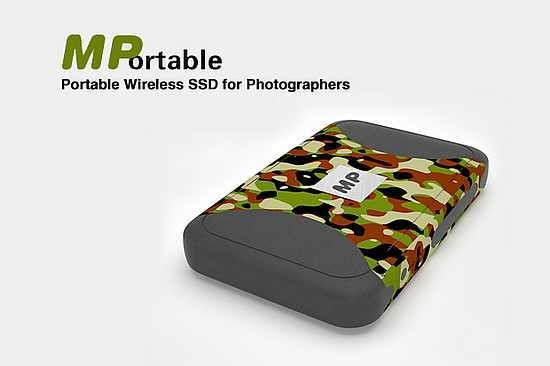 The new MPortable is billed as the world first portable wireless SSD (solid state drive) designed with photographers in mind. Built to withstand "severe shaking and dropping," the MPortable drive is capable of automatically transmitting photos from a connected camera and supports various image file types including most raw image file formats. "With write speeds of 200MB/second and read speeds of 400MB/second, the MPortable [SSD] easily outperforms virtually all USB flash disk technologies used by photographers," says Bond Wong, an engineer working for MAJC IT, the Zhuhai, China-based company that developed the device. Interested readers are encouraged to pay a visit to the project's IndieGoGo page.
MAJC Press Release
MAJC IT Launches Crowdfunding for the World's First Wireless Solid State Disk (SSD)
MPortable Solves Most Storage Problems Facing Digital Photographers
Zhuhai, GuangDong (PRWEB) July 24, 2014 - MAJC IT has launched a crowdfunding campaign to produce the world's first wireless solid state disk (SSD) based on their revolutionary design. The MPortable is a wireless, high speed, easy-to-use and manage storage device for people who love photography, both amateur and pro. MPortable is also able to protect user's data safely from severe shaking and dropping.
"We are crazy fans of nice photo ourselves," said Qiang Ma, CEO of MAJC IT. "As we had these headaches every time we traveled with cameras, all of us were interested in making a special designed portable device for photographers - an amazing device to resolve all these problems. Our goal is to help photographers on the journey."
Photos are transmitted to MPortable from user's cameras automatically whenever there is a connection between them. MPortable can deal with any image format, including professional standard RAW file type. Based on its custom algorithm, MPortable will quickly generate high quality thumbnail images allowing users browse via pad or phone smoothly. With write speeds of 200 MB/Second and read speeds of 400 MB/Second, the MPortable easily outperforms virtually all USB flash disk technologies used by photographers.
Leveraging solid state disk (SSD) instead of a spinning hard disk enables data stored on the MPortable to survive from possible shaking and dropping. An SSD, unlike hard disk, does not have any moving parts.
Undertaken with the well-known principle of "keep it simple, stupid" in mind, MAJC IT also plans to design an intuitive and friendly user interface (UI). The MPortable client application allows users to manage their photos conveniently. Both iOS app and Android app are envisioned in the next release cycle.
For more information, please visit https://www.indiegogo.com/projects/mportable-portable-wireless-ssd-for-photographers/x/8089777
Your Comments