New Wave Photography 2013: London-Krakow-Budapest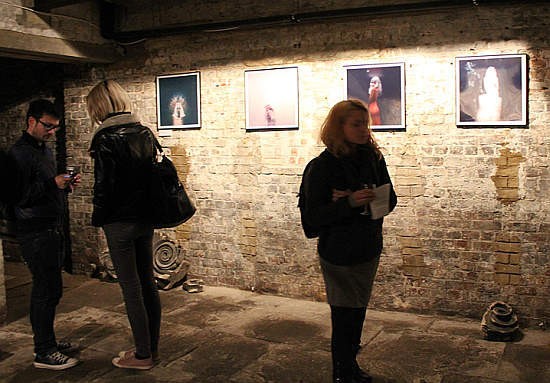 The second edition of the New Wave Photography exhibition was shown 19 - 27 April at the Crypt Gallery in London. The exhibition presented over fifty works by photographers from the Czech Republic, Hungary, Poland and Slovakia, attracting a large number of visitors, including Londoners and tourists, art enthusiasts, collectors, businessmen and students. Over 2,000 people have seen the show, many of whom have left with a piece by their favourite artist. The photographers whose works were on display included five Hungarians (Réka Kóti, Sarolta Bán, Benedek Bognár, Zoltán Békefy and Miroslav Zselinsky), three Polish artists (Maciej Boksa, Przemysław Kuciński and Pawel Piotrowski), three Czechs (Martin Hruška, Lucie Jestrabikova and Karel Vojkovský) and Veronika Otepková from Slovakia.
New Wave Photography Press Release
New Wave Photography 2013 discovers a new generation of artists.
The second edition of the New Wave Photography exhibition was shown 19 - 27 April at the Crypt Gallery in London. The exhibition presented over fifty works by photographers from the Czech Republic, Hungary, Poland and Slovakia, attracting a large number of visitors, both Londoners and tourists, art enthusiasts, collectors, businessmen and students. Over 2,000 people have seen the show, many of whom have left with a piece by their favorite artist.
Here are just few of the visitors' comments:
"It reminds me of the book The Silver Key by Lovecraft" - Spanish visitor commenting on Maciej Boksa's Doors of Perception.
"I think such a classic nude will look great in my living room." - Lady from Warwick, who bought one of Przemysław Kuciński's gum prints.
"There is simply no piece that I don't like"- German girl living in North London when asked what is her favourite photograph.
"I just love the way she combines dance, music, painting and photography in one piece of art. Please send it directly to my home in Lisbon." - a Portuguese art lover, who bought Lucie Jestrabikova's photograph.
"I was struck by the intimacy of the poses in the nude photography." - an American visitor about Karel Vojkovsky's work.
"I worked as a photography agent for many years, but have not seen such a fantastic range of techniques before."
The exhibition showed a diverse selection of work including surrealism, minimalist landscape, classical nude photography, gum print, lomography and digital montage. The historic Crypt Gallery's unique atmosphere was an inspiring venue in which to host the exhibition.
New Wave Photography can be seen from 13th June to 28th July 2013 in Krakow, Poland. All of the work is available to purchase from United Creativity's online gallery. The organisation is committed to selling affordable art both at their exhibitions and through their online gallery. All artwork is sold as limited edition prints, with a maximum 30 images per photograph which represents a strong collectors value. The affordable prices make fine art photography accessible for all who wish to add to their private collections or work spaces.
To receive a free copy of the New Wave Photography 2013 Album please go to United Creativity's website.
Artists presented:
Surrealism figures strongly at this exhibition with striking work from Hungarian artist Sarolta Bán. Her photographs show dream-like narratives through a series of digital montages. Sarolta has exhibited extensively throughout Japan, Luxembourg and Hungary and was recognised as 2011's 'Best Young Talent' by Elle Magazine.
Benedek Bognar's photographs epitomise the experimental spirit of the exhibition. His series   'Interrogation' was created using a baggage inspection device. The X-ray images suggest an intriguing narrative through a number of incriminating objects. The work draws inspiration from the painting 'The Seven Deadly Sins' by Hieronymus Bosch.
Slovakian photographer, Zoltan Bekefy is another artist who draws inspiration from classical imagery, yet he manages to transform his grande landscapes into contemporary minimalist scenes. His adopted home in Ireland is the source of inspiration, photographing subtle black and white landscapes of turbulent seas and dramatic headlands.
Maciej Boksa is originally from Kielce, Poland. He graduated from the School of Creative Photography in Krakow. He creates abstract forms, focusing on enigma, reflection and contrast. His series  "Doors of Perception" (2010-2013) is an example of macro graphics. 'The photographs are intended to guide the viewer into an alternative perception of reality. While they try to imitate the beauty of dreamlike visions, they create a new dimension of imagination. It takes the viewer into a microscopic world - elusive and ethereal, imperceptible in everyday life.'
Martin Hruška, originally from Karlovy Vary, Czech Republic is showing a collection of his marine life photographs. 'Underwater photography is the only way that a diver can share his experiences under the surface with others. These pictures were taken at different coral reefs in the Caribbean Sea. Schools of fish, Turtles, Stingrays, Angelfish are only small part of this colourful underwater world'. Martin has been photographing wildlife and landscapes since 2005.
Lucie Jestrabikova's photographs have been created by using her body to create fascinating abstract compositions. Digital techniques in photoshop have allowed her to combine two of her artistic skills: 'My photography is more like painting than photography. Like a painter I use the movement of my body to make strokes and create the pictures. Then in post-production I have created the final compositions'. Lucie studied New Media at the Institute of Art, University of West Bohemia in Pilsen. She works with a variety of media including photography, video, performance, painting and drawing.
Reka Koti explores the creative boundaries of Lomography  (an analogue technique, inspired by the effects of the Lomo Kompakt Automat camera). Her series 'Driftwoods' shows influences from fashion photography and figurative painting. Her work has featured in American Iconology and at the Pecha Kucha exhibition, Ludwig Museum of Contemporary Art, Budapest.
Slovakian artist, Veronika Otepková proves that digital photography can be both innovative and classically beautiful. She draws most of her inspiration from historical events and poetry. Despite her traditional inclinations she is undaunted by the possibilities of digital manipulation. Her use of textures and tone mapping creates an oil paint surface on which she composes her images.
Despite the wealth of digital mastery on display there is also some refined traditional techniques on offer,  including work by Polish photographer Przemysław Kuciński. He uses a 19th century handmade technique called gum print to create black and white nude images. By using a combination of chemicals a gum, paint-like surface is produced. The original images were developed on canvas. "All That I Love is not only a title of the series, it also refers to the whole process of producing the work."
Pawel Piotrowski's digital series The Absolute Brightness was developed over a three year period. The photographs represent an epic perspective of art, philosophy, psychology and religion. 'The main inspiration for me was the natural processes and spirituality at every level of existence. Only after some time I realised how much I was consumed by the work. I realised how deeply it reflects my inner state.'
Karel Vojkovský specialises in studio based nude photography. Originally from Frýdek-Místek in the Czech Republic, he has worked for the last 10 years as a professional photographer in Prague. His intent to study the 'dynamic extent of the human body' has pushed his models to the limits. 'I see the human body as a machine enabling me to consider forms from a different point of view, not looking for sexuality and desire rather perceiving them as a tool of my creativity. I know that everybody is unique. I'm fascinated by human movement and the grace of shapes.' Karel has exhibited throughout Europe in Croatia, Poland, Austria and the Czech Republic and has recently received the gold award at the 7th International Salon photography competition in the Ukraine.
 
Miroslav Zselinsky's series In Bloom, depicts a kaleidoscopic world of dead, withered flowers. 'The appearing forms encourage the viewer to make associations. On the other hand, the pictures were inspired by flowers, which used to be vivid, but later withered and are reborn as new, organic forms.' Practicing as a photographer and graphic designer, Miroslav, originally from Slovakia, is now based in Budapest. His work has been shown at several solo and group exhibitions in Hungary, Slovakia, Italy and Belgium. He is a member of the Studio of Young Photographers.
Curators:
Maria Loades, Edward Loades
Sponsors:
Vertus, Antyramy.eu, Loades EcoPark, Szymon Gostyński Law Firm, Reklamex,
Supporting Institutions:
The Royal Photographic Society, Polish Cultural Institute, Czech Centre, Embassy of Slovak Republic in London, Balassi Institute- Hungarian Cultural Centre, Sotheby's Institute of Art, Cracow School of Art and Fashion Design.
Media Partners:
GUP, Silvershotz, Flash Art, Aesthetica, Image in Progress, F-Stop Magazine, DE Magazine, ePhotoZine, Camera Obscura, Art Guide East.
Your Comments