Nikon Acknowledges Component Problems with 3 SLR Cameras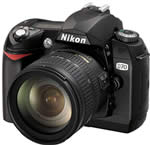 Nikon has posted the following notice on its Support page for the D70 / D2H / F55 cameras.
It has come to our attention that electronic components related to exposure control in some D70 cameras may, on rare occasions, fail.
Should you experience this problem with your D70 camera, Nikon will replace the associated components free of charge even if the camera's warranty has already expired. We sincerely apologize for any inconvenience you may have suffered because of this problem.
To check if your camera has failed due this reason, please read the symptom description, below.
Website: Nikon Support
How can I identify if my camera is faulty?
With a memory card inserted: The green memory card access lamp blinks continuously and camera does not respond to any controls.
With no memory card inserted: The camera will not turn on despite the battery indicator showing a fully charged battery.
How can I contact Nikon on-line?
You must be registered for Nikon support. Mke sure that all your personal details are registered in full and are up to date, as these will be used if you return your product to us. You must also register your D70 and serial number. For instructions where to find the camera serial number click here.
1. Register for Nikon Support.
If you are not registered for Nikon Support, click here to create a new account. If you already have an account, check that your personal details are up to date and that you have registered your product and serial number. To do this, login and click the 'My Account' tab, then click the 'Profile' sub-button. When finished, click the 'Save' button at the bottom of the page.
2. Submit your Question
Click the 'Ask a Question' tab near the top of the page and fill in the required fields, please add the words 'D70 notice' to the 'Title' field and add your comments to the 'Question' field. When you have finished, click the 'Submit Question Button' and then you will be asked to click the 'Finish Submitting Question' button on the last page. We will endeavour to answer your question as soon as possible.