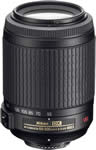 PMA 2007: The Nikon AF-S DX VR Zoom-Nikkor 55-200mm f/4-5.6G IF-ED is a compact telephoto zoom lens featuring Vibration Reduction at a budget price point. This new 3.6x (82.5-300mm) zoom lens is designed specifically to work with the new Nikon D40x and existing D80 / D40 DSLR cameras. The Silent Wave Motor promises quiet autofocusing, whilst an ED glass element helps minimize chromatic aberrations. The Nikon AF-S DX VR 55-200mm f/4-5.6 lens costs £249.99 and will be available from 29th March 2007.
Nikon UK Press Release
Nikon UK is pleased to announce the new AF-S DX VR Zoom-Nikkor 55-200mm f/4-5.6G IF-ED lens, a high-quality compact 3.6x DX zoom designed specifically to work with Nikon's market-leading D80 and D40/ D40x cameras. The 55-200mm lens is an affordable entry-level lens which features Nikon's cutting edge Vibration Reduction stabilisation system and exclusive Silent Wave Motor for fast, quiet and precise auto focusing.
Considered to be the pioneer of innovative camera technology, Nikon is constantly seeking ways to make it possible for photographers with any level of experience to get striking results. With optics designed for the Nikon DX Format digital SLR cameras, this high-performance compact lens delivers a picture angle equivalent to that of a 35mm format, 82.5-300mm zoom lens, which enables users to get close to unapproachable subjects.
Nikon's Vibration Reduction function compensates for camera shake to produce sharper, clearer pictures in unsteady or poorly-lit conditions.
Other fantastic features include Nikon ED glass and aspherical lens elements to minimize chromatic aberration, astigmatism, and other forms of distortion, while ensuring high resolution and contrast.
Major Features
• A compact telephoto zoom lens featuring VR and SWM at an affordable price
• Vibration Reduction (VR) offers the equivalent of shutter speeds 3 stops faster for more flexible hand-held shooting
• A wide 55-200mm (picture angle equivalent to 82.5-300mm lens in the 35mm format) 3.6x zoom range offers high quality images
• An ED glass element helps minimize chromatic aberration, providing superior contrast and higher resolution
• Compact SWM (Silent Wave Motor) for quiet autofocusing
• Optical performance highly complements Nikon digital SLR cameras
Specifications
Focal length 55-200mm (picture angle equivalent to a 82.5-300mm lens in the 35mm format)
Maximum aperture f/4-5.6
Minimum aperture f/22-32
Lens construction 15 elements in 11 groups (one ED glass element)
Picture angle 28°50' - 8°
Minimum focus range 1.1m (3.6 ft.) (through the entire zoom range)
Attachment size 52mm
Dimensions (approx.) 73.0 x 99.5mm (2.9 x 3.9 in.)
Weight (approx.) 335g (11.8 oz.)
Included accessories 52mm Snap-on front lens cap (LC-52), Rear lens cap (LF-1), Bayonet hood (HB-37), Flexible lens pouch (CL-0918)
Specifications and equipment are subject to change without any notice or obligation on the part of the manufacturer. March 2007
©2007 Nikon Corporation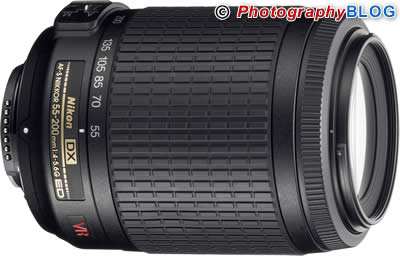 Share this article