Nikon Coolpix L11 and Nikon Coolpix L10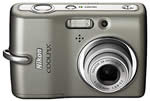 PMA 2007: The Nikon Coolpix L11 and Nikon Coolpix L10 are entry-level additions to the Coolpix range of compact digital cameras. The Nikon L11 offers 6 megapixels and a 2.4 inch LCD screen, and the Nikon L10 5 megapixels and a 2 inch LCD screen. Both cameras have a 3x zoom lens (37.5-112.5mm), maximum ISO of 800 and a choice of 16 Scene modes. The Nikon Coolpix L11 will cost £129.99 / $149.95, Nikon Coolpix L10 price $119.95, both available at the end of February.
Nikon UK Press Release
Nikon's COOLPIX range has proved extremely popular with both amateurs and professionals with the ability to capture images easily with a stylish and compact camera. The new COOLPIX L10 and COOLPIX L11 are the latest additions to this range, combining a range of features that justify Nikon's reputation as the pioneer of state-of-the-art camera technology.
Within the stylish and compact bodies of these new models, Nikon has packed in a range of exciting features to achieve optimum results in a variety of challenging conditions. The COOLPIX L10 and the COOLPIX L11 guarantee image quality with resolutions of 6.0 and 5.0 megapixels relatively, as well as light sensitivity of up to ISO 800 which makes it possible to produce quality shots in low light conditions without using lower exposure. These features also ensure that the user is able to capture fast-moving objects without blurring or loss of detail.
Three unique Nikon innovations make it possible to manipulate the images in-camera, enabling hobbyist photographers to achieve excellent results. Face-priority AF detects people's faces to achieve sharp focus no matter where they happen to be located in the frame; In-Camera Red-Eye Fix tackles this effect by providing automatic compensation for more flattering, natural-looking portraits in low light. Finally, Nikon's unique D-Lighting function, available in playback mode, improves underexposed images or shots taken with too much back light by creating a copy of an image with added light and detail wherever necessary, leaving well-exposed areas untouched.
Ample LCD screens of 2.0-inch on the COOLPIX 10 and 2.4-inch screen on the COOLPIX allow the user to view their results immediately with friends gathered around. Nikon's exclusive PictureProject software also makes it easy to edit, organise, transfer and share the images taken with these new cameras.

Nikon COOLPIX L11/L10 Feature Highlights
Compatible with AA batteries
Unlike many compact digital cameras on the market the COOLPIX L11 and the COOLPIX L10 are compatible with AA-size batteries. Thanks to this advantage, users never have to worry about recharging their batteries or running out of power at an unfortunate moment. They can simply pick up a new set of batteries no matter where they are in the world and keep on shooting without worry.
A high quality design
With the COOLPIX L11 and L10, the high quality of the images is complemented by superior body design. Slim and compact, they fit comfortably in the hand to promote natural, yet steady shooting, while the lens retracts when not in use to make both cameras even more compact for carrying. What's more, they are also available in a range of attractive colours.
Note: Available colours may differ by country or area.
Nikon COOLPIX L11/L10 Other Features
? Light weight with compact dimensions
? Choice of 16 Scene modes
? Selection of movie recording modes
? BSS (Best Shot Selector) identifies and saves the sharpest image automatically from ten sequential shots
? SDHC memory card compatibility
? Voice recording capability
? Colour Options add to creative freedom
? 7MB of internal memory (approx.)
? PictBridge compatible
? ImageLink compatible (L11 only)
? Menu available in a choice of 20 languages
? USB connectivity enables swift data transfer to computers
? Macro shooting enables shooting from as close as 15cm (5.9 in.)
? Time zone function allows setting of home town and new city time zone for easy image sorting after traveling
? 4x digital zoom extends compositional freedom
? Choice of White Balance
Auto with TTL control, 7-mode manual (Direct sunlight, Incandescent, Fluorescent, Cloudy, Shade, Flash and White Bal. Preset)
Nikon Digital Camera COOLPIX L11/L10 Specifications

Effective pixels:
L11: 6.0 million L10: 5.0 million

Image sensor:
1/2.5-in. CCD; total pixels: approx. 6.18 million (L11)/ 5.05 million total pixels (L10)

Lens:
3x Zoom-Nikkor; 6.2-18.6mm (35mm [135] format picture angle: 37.5-112.5mm); f/2.8-5.2; 6 elements in 5 groups; Digital zoom: up to 4x (35mm [135] format picture angle: approx. 450mm)

Focus range (from lens):
40cm (1 ft. 4 in.) to infinity (?), Macro close-up mode: 15cm (5.9 in.) to infinity (?)

Monitor:
L11: 2.4-in., 115,000-dot, TFT LCD with brightness adjustment

L10:
2.0-in., 153,000-dot, TFT LCD with brightness adjustment

Storage media:
Internal memory (approx. 7 MB), SD memory cards

Movie:
With sound: TV movie (640) at 30fps/15fps, Small size (320) at 30fps/15fps, Smaller size (160) at 15fps

Image size (pixels):
L11: 2816 x 2112 (High: 2816*/Normal: 2816), 2048 x 1536 (Normal: 2048), 1024 x 768 (PC screen: 1024), 640 x 480 (TV screen: 640) L10: 2560 x 1920 (High: 2560*/Normal: 2560), 2048 x 1536 (Normal: 2048), 1024 x 768 (PC screen: 1024), 640 x 480 (TV screen: 640)

ISO sensitivity:
Auto (auto gain ISO 64-800)

Built-in flash:
Range: (W) approx. 0.4-3.0m (1 ft. 4 in. – 9 ft. 10 in.), (T) approx. 0.4-2.5m (1 ft. 4 in. – 8 ft. 2 in.)

Interface:
USB

Languages:
Czech, Danish, German, English, Spanish, French, Indonesian, Italian, Dutch, Norwegian, Polish, Portuguese, Russian, Finnish, Swedish, Chinese (Simplified and Traditional), Japanese, Korean, Thai ?

Power sources:
Two AA alkaline, oxyride, or lithium batteries, two EN-MH1 rechargeable NiMH batteries (optional), EH-65A AC adapter (optional)

Battery life (approx.):
Approx. 250 shots with alkaline, 600 shots with lithium, or 300 shots with EN-MH1, or 250 shots with oxyride batteries (based on CIPA standard)

Dimensions (WxHxD):
L11: 89.5 x 60.5 x 27 mm (3.5 x 2.4 x 1.1 in.) excluding projections/ L10: 89.5 x 60.5 x 26 mm (3.5 x 2.4 x 1.0 in.) excluding projections

Weight:
L11: Approx. 125 g (4.4 oz.) without battery and SD memory card L10: Approx. 115 g (4.1 oz.) without battery and SD memory card

Supplied Accessories*:
Two 1.5V LR6 AA-size alkaline batteries, USB Cable UC-E6, Audio Video Cable EG-CP14(L11 only), Strap, Dock Insert PV-14(L11 only), PictureProject CD-ROM

Optional Accessories:
Battery Charger MH-71, Ni-MH Rechargeable Battery EN-MH1, AC Adapter EH-65A, Audio Video Cable EG-CP14

* Supplied accessories may differ by country or area.

PictureProject System Requirements
OS
Macintosh: Mac® OS X version 10.3.9, 10.4.x

Windows:
Windows® Vista (32bit), Windows® XP Home Edition/Professional, Windows® 2000 Professional pre-installed models

Note
CD-ROM drive required for installation. Only built-in USB ports are supported.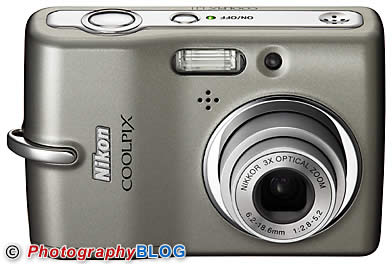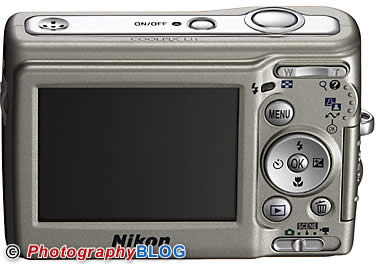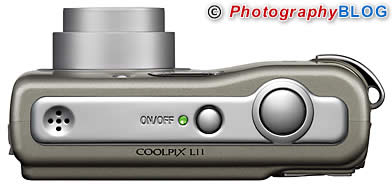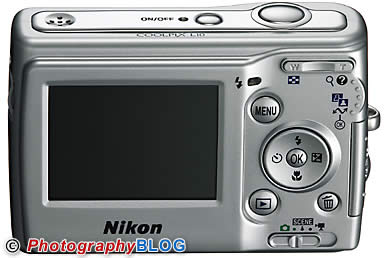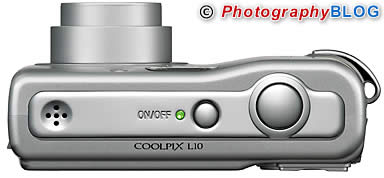 Share this article