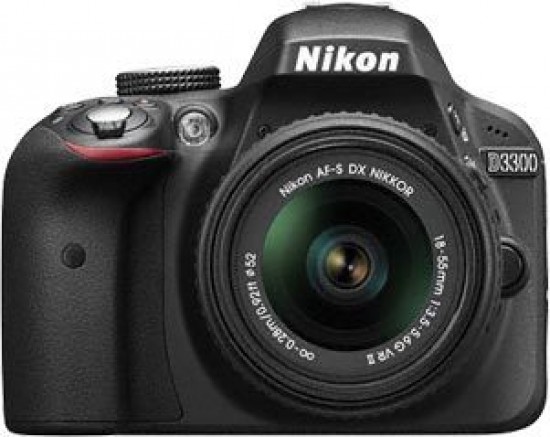 The Nikon D3300 is a new 24.2-megapixel digital SLR camera with 5fps continuous shooting, a 921k-dot rear screen, no anti-aliasing filter and a small, retractable kit lens. Other highlights include a native sensitivity range of ISO 100/21° - ISO 12,800/42° (expandable to ISO 25,600/45° equivalent), 11-point AF system, Full HD movie recording, 13 special effects, EXPEED 4 image processing unit, 420-pixel RGB metering sensor, and compatibility with Nikon's separately sold ME-1 Stereo Microphone and Wu-1a Mobile Adapter. The camera is sold in a kit with the new AF-S DX NIKKOR 18–55mm f/3.5–5.6G VR II retractable zoom, which is much more compact to carry than its predecessor that was shipped with earlier entry-level Nikon dSLRs. The Nikon D3300 will be available from February, priced at around £599.99 / €719.00 / $649.95 for the single-lens kit and £499.99 / €599.99 for the body only.
Nikon Press Release
SIMPLY STUNNING: CAPTURE ALL THE BEAUTY OF THE MOMENT WITH THE NEW NIKON D3300
Nikon today announces the D3300, a new entry-level D-SLR that makes it easy to capture the important moments.
Powerful, comfortable to carry and effortless to operate, the small and lightweight Nikon D3300 allows you to enjoy superior D-SLR image quality whilst keeping things simple.
From low-light scenes to beautiful portraits, Nikon's acclaimed Guide Mode continues to help photographers understand camera settings and learn the basics - so it's easy to capture great photos and movies. An impressive feature set means the D3300 is able to capture remarkable detail and deliver clear images, especially when shooting at high ISOs in dark situations. Advancements include the 24.2-megapixel CMOS sensor designed without an optical low pass filter (OLPF), a wider ISO range (up to ISO 12,800) and Nikon's powerful new EXPEED 4 image processor, plus faster continuous shooting speeds of up to 5 frames-per-second.
In addition, the new D3300 NIKKOR kit lens is smaller and more portable than its previous entry level models and Nikon's wireless mobile adapter makes it easy to share photos that will standout from the smartphone crowd on any social network.
Simon Iddon, Senior Product Manager for Consumer D-SLR, at Nikon UK, says: "The Nikon D3300 is an excellent choice for budding photographers at the start of their D-SLR journey. The new camera is easy to use and, with features such as Guide Mode that offers step-by-step assistance, beginners and hobbyists alike will find their skills improve as their passion for photography grows."

He adds: "The strong combination of a high-resolution sensor and high ISO ensures superb image quality whilst the ability to share photos via mobile devices makes the D3300 the perfect tool to capture life's special moments."
Incredible image quality
The image sensor is the heart of a camera, and the D3300 is a camera with a big heart. Its 24.2-megapixel sensor is specifically designed without an optical low-pass filter, so it can capture even the finest details and textures with stunning sharpness. Images are remarkably clear, especially when captured with a NIKKOR lens. Thanks to the powerful new EXPEED 4 image processor and a ISO range that now offers up to ISO 12,800 (extendable to 25,600 equivalent) even images shot in dark situations at high ISOs are beautifully rendered and exceptionally clean, with rich gradation. Fast moving action, and fleeting movements or expressions can be captured at exactly the right moment thanks to continuous shooting speeds of up to 5 frames-per-second. And no matter how quick the pace is, focus is always spot-on thanks to the 11-point AF system, which boasts a cross-type sensor in the centre for greater accuracy.
Guide Mode: Step-by-step assistance
Nikon's acclaimed Guide Mode will help unleash your inner photographer. Offering clear step-by-step explanations and inspiring sample images that illustrate the desired result, Guide Mode shows beginners, as well as those who want to learn more, exactly how to shoot great photos and movies. Easily accessible through the mode dial found on top of the camera body, Guide Mode can be used to learn how to set-up the camera, and shoot, view, delete or even retouch images. Aspiring photographers can also learn how to take portraits with beautiful background blur, freeze the action or obtain clear shots in low light. Because it asks the user what kind of photo or movie they would like to capture, Guide Mode has been widely acclaimed for its ability to build confidence in budding photographers and make it easy for anyone to learn how to master key features and controls without ever needing to open the camera manual!
Special Effects
The camera's new Special Effects mode makes it easy to add a touch of artistry to photos and movies. With 13 different effects to choose from, users can have a lot of fun shooting distinctive photos and movies. Options include Pop, which brightens colours by increasing the saturation; Toy Camera, which creates a retro effect; and Easy Panorama, which creates spectacular panoramas of vast landscapes or city skylines. Effects are incredibly simple to apply and can be previewed in real time on the large LCD screen while shooting.
The joy of Full HD movies: D-Movie
The Nikon D3300 doesn't just make it easy to capture great photos; this camera makes it wonderfully simple to record stunning movies too. The camera's D-Movie function can record Full HD movie footage at frame rates up to 50p/60p with continuous autofocus, delivering smooth recordings of even fast-moving action, plus a remarkable level of sharpness and clarity. A one-touch movie record button makes it easy to begin and the built-in stereo microphone—plus compatibility with Nikon's external ME-1 Stereo Microphone—results in movies that don't just look good, but that sound great as well.
Easy connectivity
Photos taken with the Nikon D3300 can be sent directly from the camera to any iOS™ or Android™ smart device¹, ready for easy upload to social networking sites like Facebook, Instagram, or Twitter. Thanks to the impressive image quality, the photos won't fail to attract attention! Also incredibly useful for shooting photos, the Wi-Fi function makes it possible to use the smart device to preview scenes, or control the camera remotely and capture some great self-portraits.
Intelligent design for intuitive operation
Nikon's superior ergonomics, clear menus, and one-touch buttons for frequently used functions like D-Movie and Live View make operation quick and intuitive. The 7.5 cm (3-in.) LCD monitor with wide-viewing angle and 921K-dot resolution offers incredibly clear images, and the new 'i' button, conveniently located on the back of the camera, makes it possible to bypass the main menu in order to quickly change settings while shooting. The clear, wide optical viewfinder (offering approximately 95% frame coverage and 0.85x magnification) makes it easy to capture perfectly timed photographs, especially when shooting fast action from a distance. And, new to the D3300, users shooting through the viewfinder can choose between a classic interface and a graphic interface that animates settings for more intuitive operation.
Small system
Small in size but big on image quality, the Nikon D3300 makes it more appealing than ever to use a D-SLR. Thanks to the new small and retractable NIKKOR 18–55mm VR kit lens, the D3300 is a much more compact to carry than many other D-SLRs. The incredibly lightweight body weighs just 410 g (without memory card or battery) and is available in black, red or grey. Despite its small dimensions, a large comfortable grip makes it easy to get a firm hold on the camera.
NIKKOR, Speedlight, and system compatibility
One of the greatest advantages to shooting with a Nikon D-SLR is Nikon's wide range of NIKKOR lenses and powerful yet easy-to-use system accessories that are compatible with the Nikon D3300. NIKKOR lenses are renowned across the world for their optical performance, and the D3300 is compatible with the full range of DX-format lenses. From compact zooms that are perfect for general use or travel, to fast prime lenses that enable beautiful bokeh (background blur), as well as wide-angle and micro lenses, there is a lens for every situation. Whichever you choose, you can enjoy the precision and flexibility to make the most of the camera's 24.2-megapixel resolution and capture photos and movies with vivid colour and striking contrast. In addition to lenses, the Nikon SB-300 Speedlight is a compact and lightweight external flash unit that offers beginners an easy way to achieve beautifully lit images. Use it to add impact to daylight images, enhance twilight shots, or expose more subject detail in backlit situations.
Your Comments