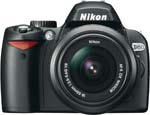 The Nikon D60 is a new 10 megapixel entry-level DSLR camera. Successor to the popular D40/D40x models, the new D60 is a modest upgrade which features Nikon's EXPEED image-processor, 3-point auto-focus system, 3fps continuous shooting and a 2.5 inch LCD screen. The D60 includes an integrated dust reduction system with a new Airflow Control System that channels dust out of the image path. The D60 body only is £449.99 / €672.00. The Nikon D60 Kit with AF-S DX NIKKOR 18-55mm f/3.5-5.6G VR will cost £529.99/ €791.00. The D60 kit with AF-S DX Zoom-Nikkor 18-55mm f/3.5-5.6G ED II will cost £499.99/ €747.00. In the USA the Nikon D60 will be available beginning in February 2008, pricing still to be confirmed.
Nikon Europe Press Release
Nikon Europe Debuts D60 Digital Single Lens Reflex Camera
User-friendly Nikon D60 offers 10-megapixel resolution, in-camera editing
Amsterdam, the Netherlands, January 29, 2008 - Nikon Europe today announced the debut of the Nikon D60, a digital SLR designed for the consumer who wants to combine top technology with user-friendliness and creative features. The D60 provides a resolution of 10.2 effective megapixels, Nikon's exclusive EXPEED image-processing concept, in-camera editing functions and a 3-area auto focus system. The camera offers continuous shooting at 3.0 fps, near instant power-up in just 0.19 seconds and high ISO sensitivity, all in a compact, lightweight body with a user-friendly ergonomic design.
The Nikon D60 is designed to simplify camera operation and allow the photographer to concentrate on taking pictures. The camera's simple, user-friendly design includes a reduced number of buttons and a combined monitor and information display. A 2.5-inch LCD screen presents information using an easy to understand graphic user interface, with three types of presentation style to suit all users. The symbols and numbers in the display rotate through 90 degrees, presenting information in the correct orientation according to how the camera is being held. The D60 also includes a new feature that turns off the LCD monitor screen automatically when the viewfinder is in use.
The D60 utilises Nikon's exclusive EXPEED technology to maximise image quality and processing speed. The camera also offers creative features that are designed to allow the optimisation and adjustment of images without the need for a computer. Image optimisation is achieved through functions like Active D-Lighting (which compensates for strong shadows, and the automatic correction of false eye colour when using the built-in flash. Creative features include the automated creation of stop-motion animation files from a sequence of images, and effects that simulate the use of optical filters to produce colour shading and sparkling highlights.
To combat the dust that can be introduced into the camera body when changing lenses, the D60 includes an integrated dust reduction system. Nikon's exclusive Airflow Control System channels dust out of the image path and a vibrating, self-cleaning sensor unit shakes off any remaining dust from the camera's optics.
The Nikon D60 standard kit comes with a high-performance VR-NIKKOR lens, the AF-S DX NIKKOR 18-55mm f/3.5-5.6G VR. Compact and lightweight, the lens offers 3x zoom with a versatile focal length range of 27mm to 82.5mm (35mm-format equivalent). Nikon's advanced Vibration Reduction technology combats the effect of camera shake, allowing the use of shutter speeds that are up to three times slower than is practical with non-VR lenses. And with its sophisticated, leather-toned design, the lens looks as good as the pictures it takes. "The D60 is intended to put high quality photography within the reach of ordinary consumers." said Toru Uematsu, Manager Prosumer Products at Nikon Europe B.V. "The combination of precision technology and carefree convenience places the D60 in a unique position of offering compact camera users the chance to move up to digital SLR with ease and security."
The D60 is capable of use in a range of lighting conditions due to a wide sensitivity range of ISO 100 to ISO 1600 and offers vivid colour reproduction with clear, sharp results. For convenient use in places where flash photography is not allowed, the camera will set the sensitivity automatically for the best results. The camera's built-in Speedlight produces excellent balanced results thanks to Nikon's sophisticated i-TTL flash system, and also allows the use of additional remote-controlled Speedlights.
Storing images on highly-compact SD memory cards (compatible with SDHC), the D60 body measures approximately 126 (W) x 94 (H) x 64 (D) mm and weighs 495 grams. Supplied accessories include a rechargeable Li-ion battery, quick charger, USB cable, rubber eyecup, camera strap, body cap, eyepiece cap and accessory shoe cap. The provided software includes the Nikon Software Suite on CD-ROM. Software for photofinishing and camera remote control may be purchased separately as an option. Suggested retail pricing for the D60 Kit with AF-S DX NIKKOR 18-55mm f/3.5-5.6G VR is €699. Other kits are available.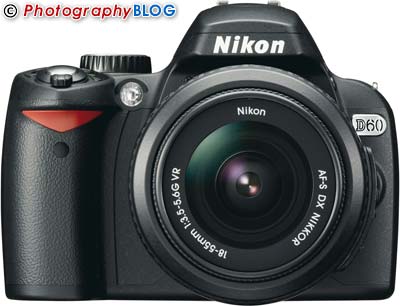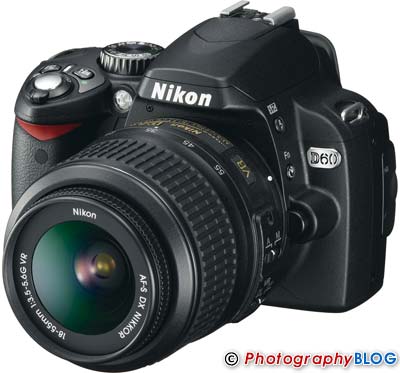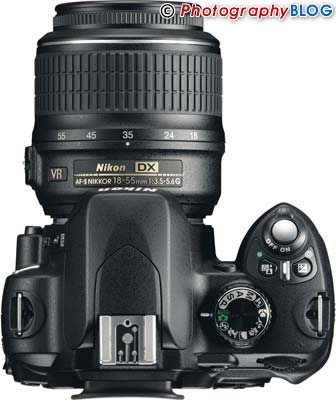 Share this article