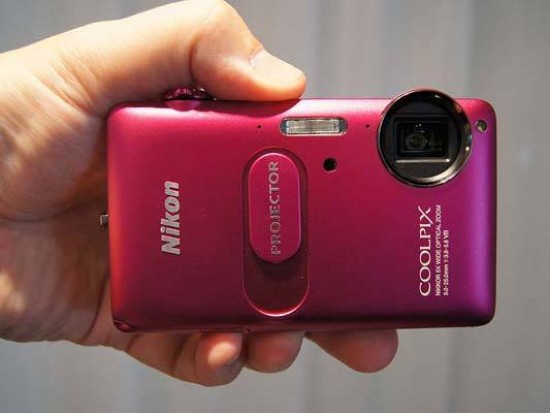 The S1200pj is the newest projector camera from Nikon. A slim camera, the S1200pj has a 14 megapixel sensor and 5x optical zoom. A 3 inch screen on the back of the camera joins just a few buttons to adjust settings and enter menus but there's also a dedicated video button for fast recording of candid moments.
Sharing those moments is easier with the S1200pj thanks to the improved projector which is on the front of the camera and a lot brighter. The picture can be seen on a flat surface even in bright light. You can even show pictures from an iPhone, iPad or iPod and even stream video from YouTube using a compatible cable.
The design of the S1200pj has taken a more curvier approach than previous models and this is to appeal to women more. Well, that and the hot pink colour option. Nikon want to make themselves more approachable by women and young people and a lot of the design aspects reflect this, such as the colouring, including a new white. If the RRP is anything to go on, the camera is pretty expensive. £399 for an entry level compact camera is steep. Obviously, it have new technology and improved features, but will that sway consumers to part with enough cash to buy it. After all, you can get Canon IXUS 1100HS for less than the S1200pj and it's a higher
specification camera.
The Nikon Coolpix S1200pj has an RRP of £399.99 (464 euro) and is available in hot pink or black.
Your Comments