"No Place Like Home" Exhibition Opens Tomorrow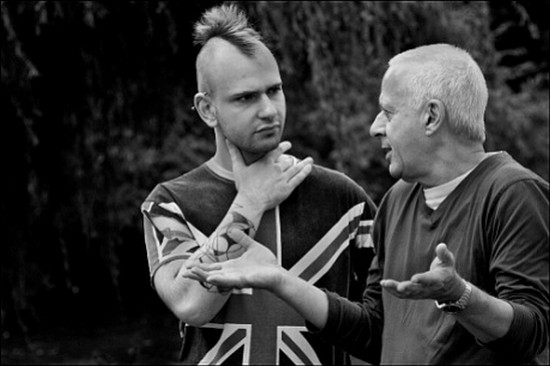 Tomorrow sees the opening of the exhibition, "No Place Like Home - Photographs by Judah Passow" in London's Jewish Museum. The 98 black-and-white images by the four-time World Press Photo award winning photographer - which will become part of the Jewish Museum's permanent photographic collection - explore issues surrounding themes of community, charity, social action, humour, faith and identity. The Museum is located at 129-131 Albert Street, Camden Town, London NW1 7NB.
Press Release
No Place Like Home - Photographs by Judah Passow
A Portrait of Contemporary Jewish Life
Contemporary Photography Exhibition at the Jewish Museum
1 February – 5 June 2012
31 January 2012. London.
February 2012 will see the Jewish Museum, London, host its first contemporary black & white photography show. Curated by the Jewish Museum and in partnership with Pears Foundation, No Place Like Home is the culmination of a year-long photography project by award-winning photojournalist Judah Passow, representing an intense study and defining moment in the documentation of Jewish lives and communities in 21st century Britain.
Travelling across England, Scotland, Wales and Northern Ireland, Passow has produced a ground-breaking exhibition which captures the rich diversity of contemporary British Jewish life across the UK. With unprecedented access to cultural and religious institutions, community organisations and social groups, he examines those shared values which create a remarkable sense of community - values expressed through work, study, charity, social action, worship, and the marking of traditional milestones in Jewish life.
Looking back on the year's work, Judah Passow says: "What I found so striking was how Britain's Jewish community has been able to build a safe and comfortable home for itself by continually examining and adapting a complex cultural and religious heritage to the real-world demands of the larger society in which it lives. This capacity for self-questioning and re-invention is the source of the Jewish community's vitality and achievement, and the reason for its survival."
Shiri Shalmy, Curator of the exhibition says: "The selection process was a challenging exercise for us. Judah's UK-wide project was extensive – a definitive study of contemporary British Jewish life that ran into a collection of over 500 images, each one beautifully composed, each one with its own compelling back story. The final selection of almost 100 images is, I believe, a true and honest depiction of a diverse and exciting British minority community.
"Judah Passow's remarkable achievement is in applying the skills and sensitivities he developed through his photojournalistic work to capturing these personal portraits of people going about their daily lives."
Key to this project was access. Passow drew on both his own Jewish heritage and a fearless sense of inquiry honed by his many years of work in some of the world's most dangerous war zones. Earning the trust of the people he photographed, they allowed him to share a remarkable range of personal moments, from the mundane to the profound, informing his images with both intimacy and insight.
Rickie Burman, Director of the Jewish Museum comments: "No Place Like Home is a collection of eye-catching, beautifully crafted images that capture many diverse aspects of British-Jewish life, linking with the approach and themes of our new Museum,"
"The images are a celebration of the many identities that make up this community; one that has had both an impact on, and has been impacted by its host country. Judah's show is a first foray into contemporary photography for the Museum, following its recent redevelopment, and will appeal to all; I think we can all recognise ourselves and the situations in his pictures, no matter which cultural background we hail from."
Passow's photographs are inquisitive and compassionate, provocative and blunt, bringing depth and sensitivity to the complexity of their subject. "Throughout the project," Passow concludes, "wherever I went I found that certain core themes always presented themselves, serving as a kind of cultural glue holding that particular community together - the observance of Jewish holidays, the centrality of family life and the importance of humour, education, charity, compassion and personal reflection as forces shaping both character and identity. This exhibition is a visual conversation, exploring those driving forces which define and give meaning to Jewish life in 21st century Britain."
No Place Like Home - Photographs by Judah Passow will be at the Jewish Museum London, from 1 February – 5 June 2012 and will be supported by a programme of events including talks, master classes and family activities. No Place Like Home is produced in partnership with Pears Foundation, a British family foundation rooted in Jewish values. Its work is concerned with positive identity and citizenship. The exhibition is also supported by The European Association for Jewish Culture and the Shoresh Trust.
Your Comments