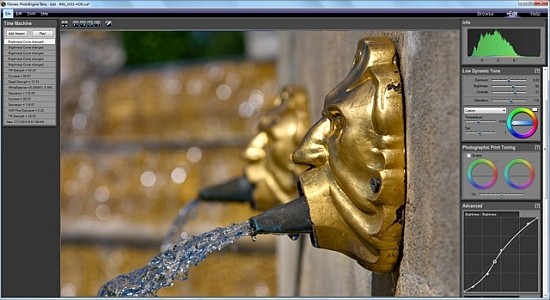 Oloneo have updated their HDRengine and PhotoEngine applications to include support for 28 new camera raw formats. Newly supported cameras include the Canon EOS 6D, EOS 650D, EOS M, PowerShot G15, PowerShot S110 and PowerShot SX50 HS, the Fuji X-E1, XF1 and F800EXR, the Nikon D600, 1 J2, 1 V2 and Coolpix P7700m the Olympus E-PL5, E-PM2 and XZ-2, the Panasonic FZ200, G5, GH3 and LX7, the Pentax K-5 II, the Samsung EX2f and NX1000, as well as the Sony RX1, RX100, NEX-5R, NEX-6 and A99. Those who buy PhotoEngine today are entitled to a $30/€26 discount.
Oloneo Press Release
Updates of PhotoEngine & HDRengine support 28 new cameras
Winter Sales: last days to get PhotoEngine at USD119 / €99
1 - PHOTOENGINE & HDRENGINE SUPPORT 28 NEW RAW FORMATS Oloneo products are among the most up-to-date raw processing and HDR photography software products with 28 new camera raw file formats supported, including: Canon 6D and 650D, Nikon D600, Fujifilm X-E1 and XF1, Panasonic GH3, Sony RX1 and RX100.
New supported cameras:
- Canon: EOS 6D, EOS 650D, EOS M, PowerShot G15, PowerShot S110, PowerShot SX50 HS
- Fujifilm: X-E1, XF1, F800EXR
- Nikon: D600, 1 J2, 1 V2, Coolpix P7700
- Olympus: E-PL5, E-PM2, XZ-2
- Panasonic: DMC-FZ200, DMC-G5, DMC-GH3, DMC-LX7
- Pentax: K-5 II
- Samsung: EX2F, NX1000
- Sony: Cyber-shot DSC-RX100, Cyber-shot DSC-RX1, NEX-5R, NEX-6, SLT-A99
Updated cameras:
- Nikon: D3200
- Canon: EOS-1D X
Updated versions of PhotoEngine and HDRengine are freely available to all existing customers.
Download:
http://www.oloneo.com/en/page/download.html
2 - OLONEO WINTER SALES ENDS ON JANUARY 31ST PhotoEngine is available at USD119 / €99 (instead of USD149 / €125) until January 31st.
The PhotoEngine discount is available to everyone in the Oloneo online store at:
http://www.oloneo.com/en/page/store.html
(VAT may apply)
ABOUT OLONEO PHOTOENGINE
Oloneo PhotoEngine is the only HDR imaging, RAW processing and dynamic relighting application offering professional photographers full control over light and exposure in real-time.
More info on Oloneo PhotoEngine:
http://www.oloneo.com/en/page/products/photoengine.html
ABOUT OLONEO HDRENGINE
Designed for the HDR photography enthusiasts and novices, Oloneo HDRengine is an accessible, high performance HDR application to easily create realistic or artistic, professional looking HDR photos.
More info on Oloneo HDRengine:
http://www.oloneo.com/en/page/products/hdrengine.html
Your Comments