Olympus C-500 ZOOM Announced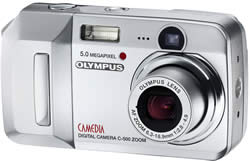 Olympus C-500 ZOOM is introduced; a 5 megapixel digital camera with 3x optical zoom lens equivalent to 38-114mm and 15 scene modes. The C500 Zoom also has 14MB internal memory and a 1.8-inch LCD screen. The Olympus C-500 Zoom Announced will be available in March exclusively through Dixons in the UK, price to be confirmed (called the D-595 Zoom in the USA).
Olympus Press Release
Let your imagination run free
The Olympus C-500 ZOOM
London, 17 February 2005
The C-500 ZOOM digital camera is an exciting new addition to the Olympus range. It gives enthusiasts the ease of use associated with automatic functions but still allows plenty of room for creativity and experimentation with full manual control. With 5.0 million pixels and TruePic TURBO technology, images are guaranteed to be rich and highly defined. A bright 3x zoom lens (35mm equiv: 38-114mm) adds shooting flexibility. Movies with sound can also be recorded and photos can be viewed on the 4.6cm LCD monitor.
The C-500 ZOOM is an ideal camera for all photographers looking for an easy to use camera without wishing to forgo full manual control.  An exclusive to Dixons in the UK, this camera will be available in late March (pricing to be confirmed).
With the C-500 ZOOM, shooting is as easy or as creative as the photographer desires. Users can choose from 15 scene programmes including Fireworks, Portrait and Night Scene. A special help function describes the selected mode and gives a sample picture to make sure the right one is chosen. Additionally, this camera offers full manual control over the exposure settings enabling photographers free reign to explore their creativity – a feature virtually unheard of in a camera of this category. Shooting flexibility is increased by the Super Macro mode that permits shots from only 2cm away.
5.0 million pixels equip this model with the power to capture images in extraordinary detail. A 3x zoom lens (35mm equiv: 38-114mm) brings subjects in close and ensures superior results. The TruePic TURBO image processor means users can not only look forward to generating brilliant images but also fast camera start-up and operating speeds.
With the new special "re-size with frame illustration" editing function, the photographer can choose from a variety of templates, directly on the camera. Being PictBridge compatible, images can then be printed directly on any printer supporting this standard, such as the Olympus P-10 – without needing to go via a PC.
The C-500 ZOOM can also record movies, with length of film dependent on XD card capacity.  Results can then be presented on the integrated 4.6cm LCD monitor.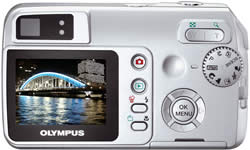 The Olympus C-500 ZOOM – main features:
· 5.0 million pixels
· 3x zoom lens (38-114mm equivalent), 1:2.8-4.9
· Automatic and Manual modes for full manual operation
· 15 scene programmes (e.g. Fireworks, Portrait, Night Scene) with help function and Function shooting (e.g. Sepia, Black&White)
· 4.6cm/1.8" LCD monitor with 85,000 pixels
· 14MB internal memory plus xD-Picture Card slot
· Movies with sound (time limited only by memory capacity)
· Editing functions (Incl. Re-size with frame illustration)
· PictBridge and TruePic TURBO
· Multilingual menu (more languages can be downloaded using the included Olympus Master 1.1 software)
· Uses standard or rechargeable AA-size batteries (shipped with two alkaline batteries)
For more information and where to buy Olympus products please go to www.olympus.co.uk or call free on 0800 072 0070