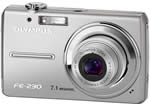 PMA 2007: Just 16.5mm slim, the new Olympus FE-230 digital camera has a smart stainless metal body and 7.1 megapixel sensor, plus a 3x zoom lens and large 6.4cm LCD screen. The FE230 also offers High ISO Setting mode with ISO 1250, Super Macro and a movie recording function with sound. The Olympus FE-230 will be available from February 2007 with an estimated price of £150.
Olympus Press Release
Hamburg, 25 January 2007 – Style and ease of use are what characterise the affordable Olympus FE-230. At just 16.5mm slim, its smart stainless metal body cuts a great figure wherever it's taken. Its easy operation makes capturing photos a snap and 7.1 Megapixels guarantee top-class pictures that will leave any mobile phone camera in the dust. The large 6.4cm LCD ensures framing becomes an accurate affair and viewing the results a sheer pleasure.
The FE-230 makes a big impact with its slim-line stainless metal body that's just 16.5mm thin. Image quality is second to none thanks to the TruePic TURBO image processor and a resolution of 7.1 Megapixels. Furthermore, a 3x zoom lens provides good shooting flexibility and a big 6.4cm LCD lets users frame and view shots with ease.
Handling is genuinely intuitive, with the camera incorporating a "one button, one function" design principle. A mode dial lets users conveniently choose between the camera's eight different shooting programmes, which include High ISO Setting mode with ISO 1250, Super Macro and a movie recording function with sound. Ideal for snapshooters, 18 preset scene modes are on board. These include special Underwater modes which, in conjunction with the optionally-available Underwater Case for waterproof protection up to 40m depth, give you the freedom to take fun shots well below the water's surface. And to make it easy on all European users, the camera has 25 languages on board.
An xD-Picture Card slot and the internal memory make for plenty of storage space to enable long-lasting shooting experiences. Furthermore, the included Olympus Master software means that editing and archiving pictures on the computer is refreshingly uncomplicated.
The ultra-slim FE-230 offers great quality at a low price and will be available from February 2007.
The Olympus FE-230 – main features:
* 7.1 Megapixels in a stainless metal body
* Only 16.5mm slim
* 3x optical zoom (equiv. to 38-114mm on a 35mm model), 1:3.1-5.9
* 6.4cm/2.5" LCD
* Super Macro mode from 5cm
* "One button, one function" design principle
* 18 scene modes (including Underwater Wide and Macro)
* High ISO Setting mode (ISO 1250)
* Internal memory plus xD-Picture Card slot
* Movie recording with sound up to card capacity
* TruePic TURBO
* Supplied with Olympus Master software + LI-42B lithium ion battery
* Multi-language menu with 25 languages
* Underwater case (40m) PT-038 optionally available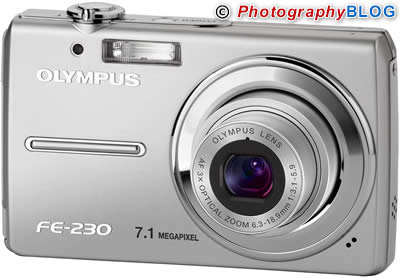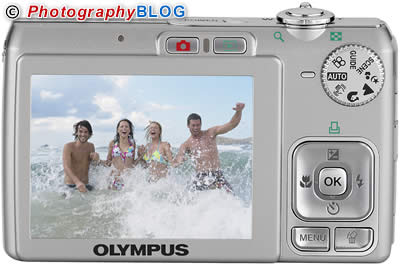 Share this article