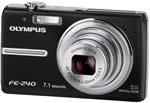 PMA 2007: The Olympus FE-240 digital camera features a 5x optical zoom lens (38-190mm), 7.1 megapixels, large 6.4cm LCD, slim metal body and a High ISO Setting mode with ISO 1000. The Olympus FE240 will hit stores in February 2007 with an estimated price of £180.
Olympus Press Release
Hamburg, 25 January 2007 – The Olympus FE-240 delivers extraordinary magnification power in a surprisingly compact form. Its 5x zoom lens enables users to close in dramatically on any type of action from afar. Yet despite incorporating this high-performance attribute, the slim and stylish metal body – which is available in the choice of silver or black – still easily fits into virtually any pocket. Furthermore, this 7.1 Megapixel FE model boasts exceedingly easy operation and features a large 6.4cm LCD.
The FE-240 has a decided advantage – a 5x zoom lens (equiv. to 38-190mm on a 35mm camera) in an incredibly slim metal body, matched with a resolution of 7.1 Megapixels. It is therefore perfect for those who want to enjoy power, compactness and quality.
Like all FE series cameras, this model stresses the ease of use factor through the "one button, one function" design principle. In addition, 15 scene modes even allow beginners to achieve great results. Main functions are conveniently controlled via a mode dial that lets users choose between the eight different programmes, including a High ISO Setting mode with ISO 1000 and movie shooting. Furthermore, a total of 25 languages on board means the FE-240 will feel right at home in any corner of Europe.
An xD-Picture Card slot, in addition to the internal memory, makes for shooting fun without limits. Finally, the included Olympus Master software makes editing and archiving pictures on the computer a cinch.
The intense-zooming FE-240 will hit stores in February 2007.
The Olympus FE-240 – main features:
* 7.1 Megapixels in a stylish metal body available in silver or black
* 5x optical zoom (equiv. to 38-190mm on a 35mm model), 1:3.3-5.0
* 6.4cm/2.5" LCD
* "One button, one function" design principle
* Super Macro mode from 3cm
* TruePic TURBO
* 15 scene modes (e.g. Cuisine, Fireworks, Self Portrait)
* High ISO Setting mode (ISO 1000)
* Internal memory plus xD-Picture Card slot
* Movie recording with sound up to card capacity
* Supplied with Olympus Master software + LI-42B lithium ion battery
* Multi-language menu with 25 languages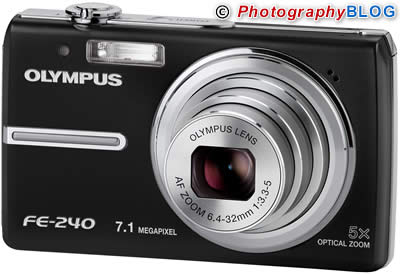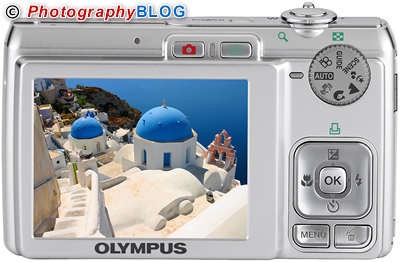 Share this article