Olympus IR-300 and Olympus S-DVD-100 DVD Recorder Announced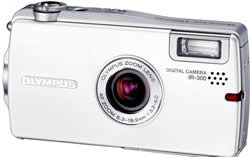 Olympus IR-300 and Olympus S-DVD-100 DVD Recorder are introduced today, expanding the Olympus Easy Imaging System. The Olympus IR-300 is a 5 megapixel digital camera with a 3x optical zoom equivalent to 38-114mm, 17 scene modes and a docking station. The S-DVD-100 recorder burns virtually all types of DVDs or CDs (at 8x and 24x recording speeds respectively) and conects to a PC via USB 2. The Olympus IR-300 and Olympus S-DVD-100 DVD Recorder will cost £299.99 (inc VAT) and £289.99 (inc VAT) respectively.

Olympus Press Release
Meet the Dockers
Two More Olympus Docking Products Join The Easy Imaging Revolution
LONDON 17th February 2005
In October 2004, Olympus previewed the pioneering Easy Imaging System, a new take on shooting, printing, archiving and sharing digital photos without using a PC – widely regarded as an integral lifestyle product for all consumers in the near future. This second range of affiliated products sees a new digital camera as well as a DVD recorder join the existing line-up.
The latest camera in the Easy Imaging System, the Olympus IR-300 and the
S-DVD-100 DVD recorder are planned for release in May 2005 with recommended retail prices of £299.99 (inc VAT) and £289.99 (inc VAT) respectively.
With its sleek shell the IR-300 digital camera will be popular with photographers with an eye for pure, minimalist design. Thankfully it also has the technology to back-up the aesthetic. With its 5.0 million pixels even the smallest images can be re-produced in high-definition. These can then be checked and shared - even in bright sunlight - on the 5.1cm Sunshine LCD monitor.
It's stylish exterior belies its superior focussing capabilities. A 3x optical (35mm equiv: 38-114mm) and 4x digital zoom provide this model with a 12x total magnification, uniquely positioned at the centre of the body. Users can also choose from a plethora of scene modes (17 in total) including Fireworks, Beach & Snow and the more traditional Portrait, while editing functions, including Resize and Red Eye Reduction, can be carried out directly on the camera allowing photographers to enhance the shots quickly while on the move.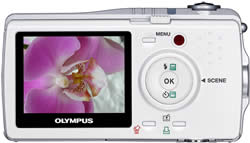 Additional features such as Super Macro shooting from as close as 5cm and movie recording with sound (including a digital image stabiliser to prevent erratic video images), add to this stylish and versatile package.
The IR-300 comes with a docking station which not only acts as the battery charging unit but also doubles as a camera stand. It's also the key to the integration that allows the PC-free printing and archiving, plus connection to the other Easy Imaging System components.
The second new addition is the S-DVD-100 DVD recorder which provides fast, hassle-free data recording and is the lynchpin component of the Easy Imaging System for sharing images with friends and family, and secure long-term archiving.
By rapidly burning virtually all types of DVDs or CDs (at 8x and 24x recording speeds respectively) storing your photos is now a quick and simple process. As with all Easy Imaging System components, the concepts of speed, ease and PC-free operation are integral. To burn, users simply dock a camera from the Easy Imaging System range to the unit and it's virtually done. Furthermore, due to USB 2.0 Hi-Speed support, the recorder may also be easily connected to a PC and thereby functions as a stylish external DVD drive too.
Besides the new camera and DVD recorder, the Easy Imaging System comprises:
· 4.0 million pixel IR-500 camera (exclusive to Dixons Store Group) with 360° rotating Sunshine LCD
· P-S100 dye-sublimation printer
· S-HD-100 hard disk drive with 40GB capacity – enough to hold more than 30,000 images in 5 million pixel resolution.
Working together in perfect harmony, the system provides everything that is needed for the effortless shooting, printing, archiving and sharing of photos without the need for a PC.
For more information and where to buy Olympus products please go to http://www.olympus.co.uk or call free on 0800 072 0070
The Olympus Easy Imaging System components' main features:
NEW! IR-300 digital camera
· 5.0 million pixels
· 3x optical (35mm equiv: 38-114mm), 1:3.3-4.0 and 4x digital zoom
· 5.1cm / 2.0" Sunshine LCD monitor (206,000 pixels)
· 17 scene programmes
· Movie mode with sound and camera shake protection
· Super Macro mode for shots from as close as 5cm
· 15MB internal memory plus xD-Picture Card slot
· Multilingual menu (additional languages can be downloaded)
· PictBridge compatible (connection to printer via supplied docking station)
· USB AutoConnect and AV output via supplied docking station
· Includes Olympus Master 1.2 software
NEW! S-DVD-100 DVD recorder
· Records onto almost all types of CDs & DVDs directly from an Easy Imaging System camera via docking station
· Max. 24x CD / 8x DVD burning
· Can also be used as external DVD drive with a PC (connection to PC via USB 2.0 Hi-Speed)
IR-500 digital camera
· 4.0 million pixels
· 6.4cm / 2.5" swivel Sunshine LCD with 360° rotation
· 2.8x optical zoom (35mm equiv: 40 -112mm), 1:2.9-4.8
P-S100 printer
· High-quality 306 dpi dye-sublimation printing
· 16.77 million colours and protective sealing of prints
· Borderless 148 x 100mm prints
· Prints in approx. 85 seconds
· 50 sheet paper in-tray
· PictBridge compatible
· PC-connection via USB
S-HD-100 hard disk
· 40GB capacity
· Multiple image file management functions
· PC-connection via USB 2.0 Hi-Speed
Share this article