Offering a 3 inch LCD screen, 7 megapixels and weatherproof body, the Olympus mju 730 is the latest update of a classic brand. The Olympus mju 730 is available from October, priced at around £270.00.
Olympus UK Press Release
London, 23 August 2006 – With a luxuriously large 7.6 cm LCD screen, sophisticated illuminated controls and super-slim design, taking photos using the Olympus mju 730 is a real pleasure. The extra-large screen also means that, once the shoot is over, all of your friends can enjoy viewing the shots at the same time. The 7.1 million pixel CCD and precision 3x zoom lens work together to deliver pictures packed with detail – something that can be really appreciated on an LCD screen of this size. And, as with all mju series cameras, the slim metal bodied mju 730 is weatherproof*, so even rain needn't stop play. But it's when night time falls that the Olympus mju 730 really comes into its own. Its buttons automatically illuminate, to make locating the controls a doddle, even in the dark. Olympus-developed BrightCapture Technology also increases LCD screen contrast and boosts the ISO value to brighten pictures considerably – now also in the Movie mode for the first time. The Olympus mju 730 proves that it's often when the lights go down that the fun really starts.
The super-sized screen on the Olympus µ (mju) 730 brings a whole new dimension to picture taking. There's no more squinting at pokey little monitors, or peering through viewfinders, instead the picture to be taken is clearly displayed on a high contrast 230,000 pixel LCD screen, measuring a whopping 7.6cm. This doesn't only make framing shots much easier; it allows larger groups of friends to view shots already taken on the camera comfortably, without having to plug it into a TV or computer.
Yet despite its screen size, this camera is remarkably slim, barely creating a bulge in a jacket pocket or handbag. Behind its stylish, weatherproof* metal body, the µ (mju) 730 has been equipped with a powerful 7.1 million pixel CCD, for detailed, razor-sharp results. In addition, the high-quality 3x optical zoom lens (equiv. to 38-114mm on a 35mm camera) gives the photographer the versatility to capture rolling landscapes, and then zoom-in to isolate a far away feature.
Ease of use is a key element of this camera's design. The µ (mju) 730 is thoughtfully equipped with a Guide Function that explains the different camera settings on the LCD screen – a bit like having the instruction book built in. Users can also choose to store their photos in either the internal memory, or on optional xD-Picture Cards.
In low-light the performance of the µ (mju) 730 is second to none. Illuminated buttons automatically start to glow when the ambient light begins to fade, allowing the photographer to continue finding their way around the controls even in the dark. Also, Olympus' patented BrightCapture Technology increases LCD screen contrast by up to 4x to make framing subjects easier. BrightCapture also boosts the maximum ISO value to 1600, so that photos taken in darker conditions come out significantly brighter and look more natural, as the need to use the flash is reduced. BrightCapture Technology is now also available in the camera's movie mode with sound.
Boosting the ISO value means that faster shutter speeds can be used, reducing the chance of camera shake. However, if a photo does turn out blurred, all is not lost as the µ (mju) 730 boasts a Digital Image Stabilisation Edit function. This detects camera movement at the moment the shutter is released; the µ (mju) 730 then compensates for the unintentional movement and helps to correct the blurred shot. Image blur and other photo imperfections like backlighting and red-eye can also be corrected directly on the camera, at the press of a button, with the new Perfect Fix function.
With its huge 7.6cm LCD screen, illuminated buttons and exceptional performance in both day and night, the Olympus µ (mju) 730 is packed full of bright ideas. The camera will be available from selected High Street retailers, priced at about £270.00, from October.
The Olympus µ (mju) 730 – main features:
• Weatherproof* metal body
• 7.6cm/3" LCD (with 230,000 pixels)
• 7.1 million pixels
• 3x optical zoom (equiv. to 38-114mm on a 35mm model), 1:3.5-5.0
• BrightCapture Technology for better low light photography – also available in movie mode with sound (640x480 pixels at 30fps)
• Illuminated buttons
• Digital Image Stabilisation Edit to lower the risk of blurred pictures
• 20 scene modes (e.g. Sports, Beach&Snow, Candle) and Automatic
• Guide Function
• Perfect Fix button for correction of image blur, backlight and red eyes
• Internal memory plus xD-Picture Card slot
• Multi-language menu with 10 languages plus possibility to download 15 more languages from the internet (on board: English, German, Spanish, Italian, French, Russian, Czech, Polish, Danish, Dutch)
• Supplied with Olympus Master Software and LI-42B battery plus charger
* Weatherproof equivalent to the IEC standard publication 529 IPX4
For stockist information call 0800 0720070 or visit http://www.olympus.co.uk
.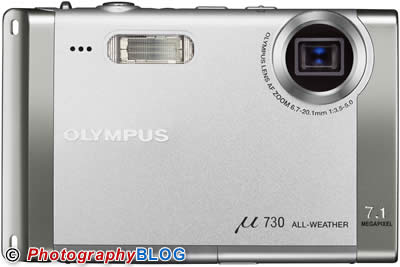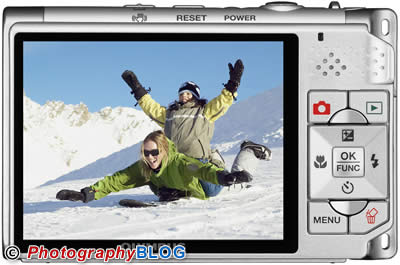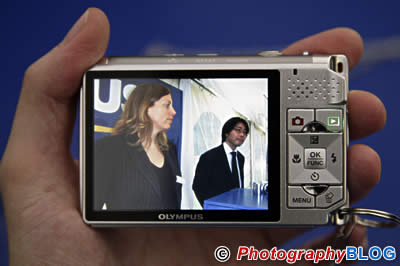 Share this article