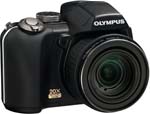 The Olympus SP-565 UZ is a new 10 megapixel camera with a massive 20x optical zoom. Equivalent to 26-520mm, Dual Image Stabilisation helps to prevent blur caused by camera shake. The SP565 UZ also offers a 2.5 inch LCD screen, P/A/S/M exposure modes, Advanced Face Detection, and xD-Picture Card and microSD Card compatibility. The Olympus SP-565 UZ will be available in late September 2008 for £349.99 / $399.99.
Olympus UK Press Release
Minimum size for maximum brilliance
The Olympus SP-565 UZ: A massive 20x wide optical zoom for ultimate control
London, 25 August 2008 – Raise your photographic potential with the world leader in the ultrazoom category. Featuring a 20x wide zoom lens (26-520mm*), the affordable Olympus SP-565 UZ lets you shoot like a pro without having to carry around tons of equipment. Zoom in ultra-close to any subject, or back out for an ultra-wide shot – all with a single lens. The integration of Dual Image Stabilisation also ensures protection against camera shake. Photos are stored to internal memory, xD-Picture Card or – thanks to a bundled attachment – microSD Card. The Olympus SP-565 UZ with a 20x wide optical zoom will be available in late September 2008 for an RRP of £349.99.
So far, yet so close
See the world like you thought you never could. An incredible 20x wide zoom (26-520mm*) brings you right into the heart of the action. Capture the excitement of a football match from the sidelines, yet feel the immediacy in your results as if you had been right there on the field. Using the 5x digital zoom and optional TCON-17 Teleconverter (with CLA-10 Conversion Lens Adapter) even more is possible. How much more? Up to a massive focal length equivalent of 4420mm! And with the integration of Dual Image Stabilisation – combining both a mechanical and digital image stabiliser – results come out reliably sharp. The 10 Megapixel SP-565 UZ also presents users with flexibility for wide-angle shooting. This is not only perfect for capturing sweeping landscapes and group photos, but also for getting a wider perspective when photographing interiors or other architecture.
Capture more
Sequential shooting at up to 13.5fps** lets every facet of a scene be faithfully recorded as it happens. And with the ingenious Pre-Capture mode, recording of pictures can start even before the shutter is fully pressed. In addition, Pre-Capture Movie mode is also on board – providing the same advantage over the clock, but in movie format.  For ultra-close-ups from as little as just 1cm, the Super Macro Mode also gives photographers the chance to explore a subject's every detail.
Creative control and exceptional results
On top of 23 scene modes covering the most common shooting situations, the SP-565 UZ also offers manual control. P/A/S/M options give users free rein to pursue their creative inspiration. And no matter which mode is chosen, the TruePic III image processor ensures best results.
Advanced Face Detection Technology guarantees that human subjects come out optimally focused and exposed. Up to 16 faces can be detected in a single scene. Shadow Adjustment Technology, meanwhile, recognises dark areas in compositions and adjusts accordingly to return the most realistic image possible.
Low light photography capabilities are enhanced through high ISO settings and BrightCapture Technology. The latter also returns bright views on the 6.4cm/2.5" LCD. On top of a built-in flash, extra illumination – and extraordinary flexibility – can be obtained thanks to compatibility with the Olympus FL-50R and FL-36R wireless flash units.
Perfect for all users
In addition to the internal memory, compatibility with both xD-Picture Cards and microSD Card (due to bundled attachment) gives users a range of storage options. Wearers of spectacles will appreciate the viewfinder's dioptric correction facility.  And with 39 available languages, photographers are almost always able to operate this camera in their native tongue.
Packed with features that support a creative photographic experience, the Olympus SP-565 UZ delivers ultrazoom performance in a compact and affordable package. It will become available late September 2008.
The Olympus SP-565 UZ – main features:
• Extreme optical performance in minimum size: 20x wide optical zoom (26-520mm*) - from extreme close-ups to the action as well as stunning scenes (additional 5x digital zoom also included)
• Avoids blur thanks to Dual Image Stabilisation
• Don't miss the moment with high-speed 13.5fps sequence shooting**
• Advanced Face Detection of up to 16 persons for perfectly focused and exposed faces plus correct exposure of other image areas
• P/A/S/M exposure modes for creative freedom
• 25 scene modes for the best results in different situations
• 10 Megapixels to make poster-size prints
• See and share images on the 2.5"/6.4cm LCD
• Built-in flash and wireless flash control from the camera body
• Liven up your memories with movie recording with sound (up to VGA resolution at 30fps)
• In-camera panorama function (with xD-Picture Card)
• Includes Perfect Fix and Perfect Shot Preview
• xD-Picture Card and microSD Card compatible
* Equivalent to a 35mm camera
** In 3.0 Megapixel mode
microSD is a trademark of SD Card Association
Appendix
BrightCapture Technology
A technology developed for better shooting results in low light situations. It works in two ways: i) All available pixel information from the image sensor is used to provide a view on the LCD that's up to four times brighter than conventional types, to make framing easy even in dark surroundings. ii) In certain shooting modes sensitivity is increased (resolution is sometimes reduced), which results in well-exposed images with accurate colour reproduction, high contrast and definition, even when not using the flash. Scene modes that benefit from BrightCapture Technology include Candle, Night Scene and Available Light.
Dual Image Stabilisation
Providing two-fold protection, this special function helps to avoid image blur caused by camera shake or fast-moving subjects. It combines high ISO values with a CCD-based mechanical image stabiliser, where a built-in gyro sensor detects camera movement and adjusts the CCD accordingly.
Advanced Face Detection Technology
A technology that searches for faces in a composition and recognises them as the main subject. It then automatically puts them in focus and optimally adjusts exposure to create an image that's sharp in the right places and ideally exposed. Advanced Face Detection Technology can detect up to 16 faces.
microSD compatibility
A special attachment comes bundled with this camera which provides for microSD Card compatibility in addition to xD-Picture Card. 
Pre-Capture mode
This mode lets the camera record five frames occurring immediately before the shutter is released. It works by continuously storing the five frames in buffer memory (in 3MP resolution). In this way, that decisive split-second between when something occurs and when the shutter is actually triggered is overcome.
Pre-Capture Movie mode
Enables short movies (of seven seconds) to be recorded that even capture the two seconds before the shutter button is pressed. In this way, that decisive moment between when something occurs and when the shutter is actually triggered is overcome. Optical zoom and autofocus functions remain available throughout recording.
Shadow Adjustment Technology
A technology designed to improve exposure for pictures with dark areas. Using a sensor that works much like the human eye, dark parts of a composition (e.g. a shadow under a tree) are identified and the camera then adjusts the exposure settings accordingly for those areas. The result is a more realistic and detailed picture.
TruePic III image processor
Olympus' newest-generation image processing engine. It automatically enhances important aspects of image quality including: Colour reproduction (colour range, saturation and brightness), picture sharpness (reduced image noise, improved edge reproduction), as well as providing faster processing speeds.
Wireless Flash Control
The user can control wireless flash units remotely – eliminating the need for extra cables – by using the built-in flash as the system's master unit. Control options include the ability to independently regulate flash mode and compensation settings, four channel settings to avoid interference as well as a wide range of brightness levels.
In-Camera Panorama mode
A mode allowing users to instantly compose panoramas of approx. 130° right inside the camera. By framing each shot in step with the on-screen guide, exciting panoramic scenes can be stitched together for a more realistic and emotional depiction of any landscape or skyline. This mode is only available in conjunction with the use of an xD-Picture Card.
Perfect Fix
Facilitates the instant correction of image mistakes at just the touch of a button. It allows the lightening of shadows and can also remove the red-eye effect. Each of these editing features is available directly in the camera.
Perfect Shot Preview
Allows the effect of various settings to be previewed before shooting. Users can therefore be confident of capturing the image perfectly. The image appears in a multi-frame window on the LCD in real-time, making it easy to compare options and take the best possible shot.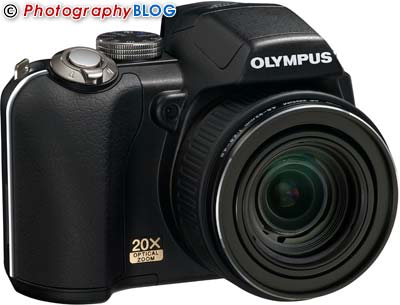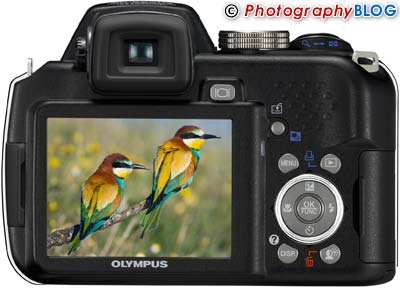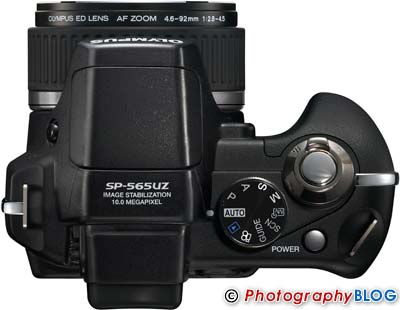 Your Comments