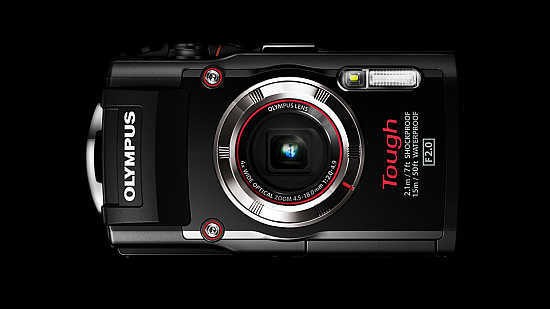 Shockproof to a height of 2.1 metres, crushproof to a weight of 100kg, freezeproof down to -10°C, dustproof and waterproof to a depth of 15m, the Olympus Stylus TG-3 is an ultra-rugged digital compact camera featuring a 25-100mm (eq.) f/2-4.9 lens, GPS and Wi-Fi connectivity. Additionally, the TG-3 has the first-ever macro mode to feature four settings in one. Microscope Mode lets you magnify a subject more than 40x from as close as 1cm. So if it measures just 1mm in reality it can impressively appear as large as 44.4mm on the LCD. Focus Stacking Mode automatically shoots multiple shots of a macro subject with different parts in focus and then merges them to a crisply focused image of publishable quality. The Olympus Stylus TG-3 will be available in black or red from June 2014 for £349.99/$349.99 
Olympus Press Release
Olympus' Stylus TOUGH TG-3 captures first-class stills where regular compacts fear to tread.
Spectacular macros and pristine wide angles, in severe low-light conditions, and on long trips with no chance to free up internal storage … when regular compact cameras and smartphones reach their limits, Olympus' Stylus TOUGH TG-3 comes into its own. The new flagship of Olympus' ultra-rugged TOUGH range is ideal for anyone with a passion for outdoor sports and adventure and high-quality photographs. Its super-bright, large-aperture lens makes first-class shots possible even in poor light. The 1:2.0-4.9 wide, high-speed 25-100mm* 4x optical zoom unit feeds the same TruePic VII image processor found in Olympus' high-end OM-D E-M1 interchangeable lens camera. And the world's first four-mode Super Macro system gives nature enthusiasts the potential to capture startling close-ups in a detail and quality that makes sharing a must. Uploading is instant and easy via WiFi and a smartphone. The TOUGH TG-3 caters to its most creative owners with specialist converter lenses and macro accessories. For the most adventurous, it comes in a virtually indestructible, trademark TOUGH body. The TOUGHTG-3 will be available in black or red from June 2014 for £349.99 
TOUGHer
The Legendary Japanese mountaineer Yuichiro Miura took the TG-3's predecessor to the summit of Mount Everest in 2013, and one glance at the new camera's riveted casing cements the TOUGH reputation for excellent build quality. It is shockproof to a height of 2.1 metres, crushproof to a weight of 100kg, freezeproof down to -10°C, dustproof and waterproof to a depth of 15m without specialist underwater housing**. 
Closer
The TOUGH TG-3's reassuring body protects some world-class imaging technology. For example, it has the first-ever macro mode to feature four settings in one: Advanced Super Macro Mode comprises of Microscope Mode, Microscope Control Mode, Focus Stacking Mode and Focus Bracketing Mode. Microscope Mode lets you magnify a subject more than 40x from as close as 1cm. So if it measures just 1mm in reality it can impressively appear as large as 44.4mm on the LCD. Focus Stacking Mode counteracts unintentional bokeh caused by a shallow depth of field. It automatically shoots multiple shots of a macro subject with different parts in focus and then merges them to a crisply focused image of publishable quality. The upshot is maximum creativity without a computer – which is just what you need when you're miles from home.
More convertible
One of the key disadvantages of smartphone cameras and strap-on camcorders is the limitation of storage for high-resolution images. Not to mention the lack of creative accessories that tends to result in generic shots with low-quality. One of the great advantages of Olympus' TOUGH TG-3 is the pristine image quality it delivers, even in low light, plus compatibility with converters and macro accessories that let you shoot with a range of spectacular styles and effects. For example, the new ring-shaped LG-1 Macro Light Guide which screws directly onto the wide-aperture lens to illuminate macro subjects evenly from all sides. Or how about a Converter Lens Adapter with a variety of conversion lenses (fisheye, telephoto) that can be attached in all conditions – including underwater – without the risk of damaging the camera. For shooting at greater depths, the PT-056 underwater casing protects your camera down to 45 metres. 
More shareable 
The inevitable result of all that creative versatility? The potential to capture a varied and original collection of high-quality, 16-Megapixel photographs and Full HD movies that you can upload to social media via WiFi, with the confidence of avoiding the 'hall of shame' reserved for the many sub-standard snapshots taken with average gear. WiFi also lets you remotely control the TOUGH TG-3 from a compatible smartphone, making it simple to get close-up shots of easily startled subjects like insects and other animals. You can release the shutter directly on your phone's touchscreen and check the composition of selfies in inaccessible places where there's no-one else around to help. 
Accessories
> LG-1 Macro Light Guide for illuminating macro subjects evenly and counteracting camera shadow for truly spectacular shots 
> PT-056 underwater housing for capturing movies and stills worry-free at depths up to 45 metres 
> CSCH-122 silicone jacket for protection from bumps and scratches > FCON-T01 fisheye converter for quirky, wide-angle shots in all conditions, including underwater 
> TCON-T01 tele-converter to capture far away subjects by extending the max. focus length from 100mm to 170mm without changing the aperture
Main Features:
>  Super-bright 1:2.0 wide 25-100mm* 4x optical zoom lens
>  GPS and e.Compass for fast and accurate location data
>  Advanced Macro functionality
>  WiFi for remote control and sharing via a smartphone using the Olympus Image Share app
>  Waterproof, shockproof, crushproof, freezeproof 
>  Great system expandability
>  7 Art Filters and 4 Magic Filters for adding effects on camera
* 35mm equivalent
** Waterproof according to IEC standard publication 529 IPX8. Shockproof figures equivalent to MIL Standard (Olympus test conditions). Freeze proof and crushproof according to Olympus test conditions.
Image Gallery
Click on a thumbnail to see the full version.
Your Comments