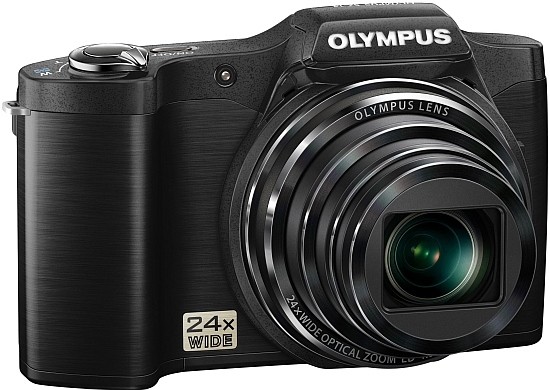 Olympus has updated its SZ series of pocketable travalzoom cameras with two new, 14-megapixel models. The Olympus SZ-11 features a 25-500mm equivalent lens, while the Olympus SZ-14 comes with a 25-600mm zoom. Both cameras boast a TruePic III+ processing engine, sensor-shift image stabilisation, "Advanced Face Detection" and "Shadow Adjustment" technologies, a range of Magic Filters, in-camera panorama stitching, 3D photo shooting and Eye-Fi memory card compatiblity. Additionally, both the Olympus SZ-11 and the SZ-14 can shoot 720p HD videos with "Multi-motion Movie IS", The SZ-14 is available for €229 / £199.99 and the SZ-11 for €199, both from mid-January 2012. (Note: the SZ-11 was actually announced back in 2011, but has hitherto been available via select distributors in a few markets only.)
Olympus Press Release
New SZ Series cameras boast powerful zooms plus a new Magic Filter
10.01.2012
Olympus 'Super Zoom' cameras get sharper and closer SZ-14 & SZ-11 feature Multi-motion Movie IS
Hamburg, 10 January 2012 – Vivid movies and close-ups bring memories of holidays and other trips to life. That's why the latest stars of Olympus' compact SZ 'Super Zoom' Series come with Multi-motion Movie Image Stabilisation (Movie IS) and massive wide optical zoom lenses – 25-600mm* and 24x on the new SZ-14, 25-500mm* and 20x on the SZ-11. With these powerful new compacts, you can zoom right in to shoot close-ups without capturing your own shadow or disturbing your subject. Cutting-edge Multi-motion Movie IS complements their High Definition Movie capability by reducing blur. It delivers HD movies that are crisp and vivid, even when you're filming moving subjects while walking yourself, for example on the beach with friends and family. With at least ten Magic Filters you can add a whole range of special effects to your images directly on-camera. The SZ-14 even offers the new Fragmented filter. The new additions to Olympus' category-defining Traveller range will be available from mid-January 2012 – the SZ-11 in silver and black for €199, the SZ-14 in silver, black and red for €229.
Get sharp with Multi-motion Movie IS
Despite their small and stylish design, the new SZ Series cameras are packed with state-of-the-art Olympus technology that delivers excellent image quality. In combination with 14-Megapixel resolution and world-class optical zoom lenses, Multi-motion Movie Image Stabilisation ensures 720p HD films couldn't be better defined. It reduces the blur that occurs naturally when people make slow-paced movies on trips – because they have to film spontaneously and don't have time to set up a tripod. Even tracking shots turn out sharp and virtually blur-free, as do movies you make while you're moving yourself.
Get creative with Magic Filters
The SZ Series is ideal for people who like to get creative – thanks to a whole host of Magic Filters, most of which can be applied to HD movies and still photos. The SZ-11 comes with fully ten filters and the SZ-14 goes one better with 11 – it's one of the first Olympus cameras to feature the advanced Fragmented filter. When you apply Fragmented to a photo of landscape or people, the result is a collage of tiles that look as if the original picture had been cut up and reassembled. They give the shot a lively new look and feel with a friendly, three-dimensional texture.
Get closer with Telephoto Macro
Both cameras feature new Telephoto Macro that gets you right up close for stand-out macro shots. You can capture all the glorious colour, texture and detail of small subjects like flowers from just 30cm away. Wide optical zoom lenses likewise give you the chance to zoom right up – from a distance – to capture intricate subjects like a butterfly that might otherwise be disturbed by your presence and move off before you get a chance to shoot. These powerful lenses are also ideal for defocusing the background to create professional looking images with an undistorted foreground subject and intentional background blur. With both compacts you can enjoy your images on a large three-inch LCD display and share them wirelessly on a website or computer via Eye-Fi Card – or in all the glory of High Definition via HDMI on a big-screen HD TV.
The SZ-14 is available for €229 and the SZ-11 for €199, both from mid-January 2012.
Outstanding features:
Image Quality
• 24x wide optical zoom (25-600mm*) for superb close-ups
  (SZ-11: 20x wide optical zoom and 25-500mm*)
• Multi-motion Movie IS for capturing HD movies with reduced blur while walking
• TruePic III+ image processor for ideal colour reproduction and low noise
• 720p HD Movie with sound for movies in excellent quality
• 14 Megapixels for high-quality full-size movies, stills and prints
• Dual Image Stabilisation for reducing blur with fast-moving shots
Usability
• 3" colour LCD (460,000 dots) for easily framing, reviewing and sharing shots
• Advanced Face Detection and Shadow Adjustment Technology for capturing people's faces just as you want them
• Beauty Mode for hiding unwanted blemishes
• Intelligent Auto Mode (i-Auto) and AF Tracking for easy setting and focussing
• Pet Detection Mode for automatically capturing dog's or cat's faces when they look at the camera
• Scene Mode for automatic settings that suit specific conditions (e.g., Landscape, Night)
Creativity & Flexibility
• Eye-Fi Card compatibility for automatic wireless uploading of images to a website or PC
• 3D photo shooting mode for striking stills
• Magic Filters for adding creative effects to HD movies and/or stills: Punk, Pop Art, Pin Hole, Drawing, Fish Eye, Soft Focus, Sparkle (photos only), Watercolour, Miniature (SZ-11: photos only), Reflection and new Fragmented (SZ-14 and photos only).
Other key features
• Photo surfing and [ib] software for browsing, organising and viewing images by person, place, location or event
• HDMI technology for controlling your camera from one remote when it's connected to HD equipment
• ISO 80 to 1600
• In-Camera Panorama
• SDHC and SDXC memory card compatible**
• Built-in flash
• In-camera manual
• USB charging
* 35mm camera equivalent.
** SD is a trademark of SD Card Association. UHS Speed Class is not supported.
Your Comments