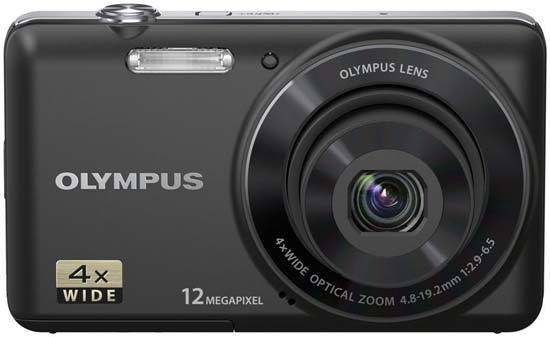 The Olympus VG-110 is a new 12 megapixel entry-level digital compact camera. The VG110 has a 4x wide optical zoom lens (27-108mm), 2.7 inch LCD screen, and a range of Magic Filters. In the UK, the Olympus VG-110 will be available exclusively at Boots from mid-February 2011 for £79.99.
Olympus UK Press Release
Third VG Series compact offers superb value
Olympus raises bar again for entry-level compacts
VG-110 delivers outstanding image quality
Hamburg, 8 Feb 2011 – Olympus' new VG Series keeps quality simple, so that users can get the most out of the simple pleasures in life – like capturing movies and still photos at minimum expense. Like the
VG-130 and VG-120, the new VG-110 couldn't be easier to use. In addition to the full array of automatic imaging aids like i-Auto and Shadow Adjustment Technology, a 4x wide optical zoom lens (27-108mm*), 12 Megapixels and Digital Image Stabilisation give users the versatility and imaging power they need to take excellent quality shots in a variety of everyday situations. Seven creative Magic Filters make shooting and reviewing movies and stills on-camera even more fun. The Olympus VG-110 will be available exclusively at Boots from mid-February 2011 for £79.99.

Quality imaging
The VG-110 compact offers the brilliance of Olympus optics in miniature – at an unbeatable price. With tried-and-tested Olympus technologies like Intelligent Auto Mode (i-Auto), AF Tracking, Shadow Adjustment Technology and Face Detection, all users have to do is point and shoot for fantastic results.
Creative options
As with the array of automatic features, users benefit from many of the same on-camera Magic Filters available on Olympus' high-end models, including Pop Art, Soft Focus and the new Sparkle filter that adds a twinkle to objects to brighten up the day. 
The Olympus VG-110 is available in silver, black and red from mid-February 2011 for £79.99, exclusively at Boots.
Olympus VG-110 outstanding features
Image Quality:
• 4x wide optical zoom lens (27-108mm*) for effortless close-ups and wide-angle shots
• AVI Movie recording with sound for capturing movies effortlessly
• 12 Megapixels for high-quality full-size movies, stills and prints
• Digital Image Stabilisation for reducing blur
Usability:
• 2.7" colour LCD (230,400 dots) for easily framing, reviewing and sharing shots
• Face Detection and Shadow Adjustment Technology for capturing people's faces just as you want them
• Intelligent Auto Mode (i-Auto) and AF Tracking for easy setting and focussing
• Scene Mode for automatic settings that suit specific conditions
(e.g., Landscape, Night)
Creativity & Flexibility:
• Magic Filters for adding creative effects to still photos:
Punk, Pop Art, Pin Hole, Drawing, Fish Eye, Soft Focus, plus new Sparkle
Other key features:
• [ib] software for browsing, organising and viewing images by person, place, location or event.
• ISO 100 to 1600
• SD and SDHC memory card compatible**
• Built-in flash
• In-camera manual
• USB battery charging
* 35mm camera equivalent.
** SD is a trademark of SD Card Association.
For a full list of features, please go to www.olympus.co.uk
Your Comments