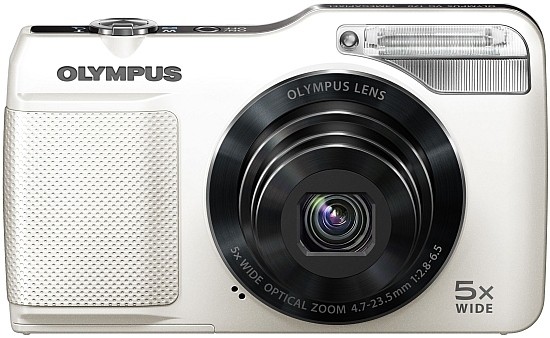 The affordable, 14-megapixel Olympus VG-170 boasts a 26-130mm equivalent lens and a powerful built-in flash. While a guide number of 8.8 (in metres at ISO 100/21°) might not strike you as particularly high, Olympus claims that "regular digital compacts" tend to have flashes with a GN of just 4 or 5.6, making the VG-170 stand out in this regard. The Olympus VG-170 even has a so-called "Long Flash Mode" in which the camera automatically trades off megapixels against ISO sensitivity for a well-exposed, low-noise image. Other highlights include a 3" rear screen with a resolution of 460,000 dots Eye-Fi card compatibility, Face Detection and "Shadow Adjustment" technologies, a range of Magic Filters, 720p video, and a 3D photo shooting mode; all for less than €100 / £100. The Olympus VG-170 will be available from mid-February in a choice of black, white and red colours.
Olympus Press Release
Olympus VG-170 puts rivals in the shade Easy-to-use VG flagship features best-in-class flash
10.01.2012
New Smart Series compact excels with fantastic flash
Hamburg, 10 January 2012 – Plenty of compact cameras promise to make your world brighter, but only the Olympus VG-170 has the best-in-class flash to back up that claim. The flash on the new VG Series flagship has nearly twice the range of a regular compact camera, which means it can light up faces and objects up to fully 15 metres away. In Long Flash Mode, it'll even automatically adjust ISO sensitivity to make sure your camera is set up just right for low light. It's this sort of practical, user-friendly feature that makes the VG Series a pleasure to use on a day-to-day basis, no matter how little you know about cameras. Compact, convenient and fantastic value for money, the top-of-the-range VG-170 is the perfect choice for anyone who just wants to point and shoot – and let their camera do the rest. With 14 Megapixels, a 5x wide optical zoom, big 3" LCD and a host of automatic features and effects, you can be sure you'll get a quality photo or movie every time. With its slim, stylish body and sturdy retro design, the VG-170 could be mistaken for a high-end camera, but there's nothing high-end about the price. It's available for a mouth-watering €99 and it'll be in the shops from the middle of February.
Matchless flash
The flash is the most commonly used function on compact cameras*, so it's surprising how little attention it gets. A great flash can make a huge difference to the quality of your photos – in low light, it's often the difference between getting the shot you want and getting no shot at all. The flash on the new Olympus VG-170 is massive, especially for an inexpensive camera. It's roughly four times more powerful than its nearest rival, which means it has twice the range (the VG-170's guide number is 8.8 compared to 4 to 5.6 for regular digital compacts). The VG-170 can light up people or buildings fully 15 metres away on the wide-angle setting. What's more, in Long Flash Mode, the camera automatically trades off Megapixels against ISO sensitivity to give you the perfect light setting. At five Megapixels instead of the usual 14, you can still blow up your photo to A4 size without losing that trademark Olympus picture quality.
Effortless imaging
The VG-170 comes with a 5x wide optical zoom lens (26mm-130mm**) that gives you the flexibility you need in a variety of everyday situations. Whether you're zooming in for a close-up or taking a wider, more expansive scene, you can frame your shot quickly and easily on the big 3" LCD. If you have wobbly hands, Digital Image Stabilisation steadies the camera while a host of automatic aids like i-Auto, Face Detection and AF Tracking make sure you have the ideal settings for the conditions. You don't have to do a thing. Your photos come out bright and sharp and your movies are recorded in High Definition, which makes for great viewing on a big HD TV. You can even display 3D photos on regular TVs, computers or digital photo frames – simply by turning on the new Red & Cyan 3D feature before you take the picture. If you want to get creative on-camera, there's a choice of nine Magic Filter effects that work at the touch of a button. And if you like sharing your images online with family and friends, that's just as easy as everything else on the VG-170. Thanks to wireless Eye-Fi card compatibility, it's also cable-free.
The VG-170 is available for €99 from mid-February in black, white or red.
Outstanding features:
Image Quality:
• 5x wide optical zoom lens (26-130mm**) for effortless close-ups and wide-angle shots
• 720p HD Movie with sound for capturing movies in excellent quality
• 14 Megapixels for high-quality full-size movies, stills and prints
• Digital Image Stabilisation for reducing blur
Usability:
• Eye-Fi Card compatibility for automatic wireless uploading of images to a website or PC
• 3" colour LCD (460,000 dots) for easily framing, reviewing and sharing shots
• Face Detection and Shadow Adjustment Technology for capturing people's faces just as you want them
• Intelligent Auto Mode (i-Auto) and AF Tracking for easy setting and focussing
• Beauty Mode for hiding unwanted blemishes
• Scene Mode for automatic settings that suit specific conditions
(e.g., Landscape, Night)
Creativity & Flexibility:
• Magic Filters for adding creative effects to HD movies and/or stills: Punk, Pop Art, Pin Hole, Drawing, Fish Eye, Soft Focus, Sparkle (photos only), Watercolour, Reflection
• 3D photo shooting mode (Red & Cyan) for striking stills you can share on 2D devices
Other key features:
• Super-slim body for an attractive, highly portable design
• [ib] software for browsing, organising and viewing images by person, place, location or event.
• ISO 80 to 1600, with automatic adjustment in Long Flash Mode
• SDHC and SDXC memory card compatible***
• Built-in smart flash
• In-camera help guide
• USB battery charging
* In Europe and the United States, according to Olympus research.
** 35mm camera equivalent.
*** SD is a trademark of SD Card Association. UHS Speed Class is not supported.
Your Comments