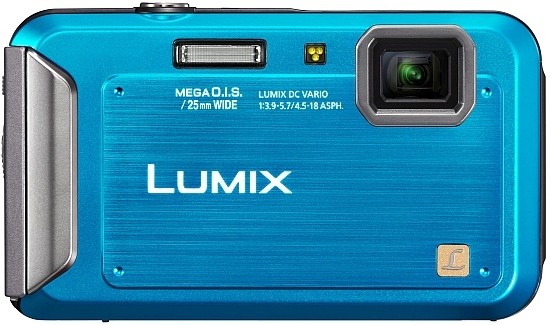 The compact, 16.1-megapixel Panasonic Lumix FT20 is dustproof, waterproof to 5m, freezeproof to -10 °C and shockproof to 1.5m. Featuring a 25-100mm equivalent internally stacked zoom lens, the Panasonic FT20 also comes with Mega O.I.S., AF Tracking, Intelligent ISO Control, Face Recognition, Intelligent Scene Selector and a variety of shooting options on board. In addition to capturing sixteen-megapixel stills, the DMC-FT20 also shoots 720p HD videos and incorporates a dedicated video button to switch between photo and video recording quickly. The Lumix FT20 will be available from March in a choice of black, blue, red or orange. Pricing to be announced.
Panasonic Press Release
Panasonic's DMC-FT20 With A Casual Stylish Rugged Design
Featuring HD Video Recording and iA (Intelligent Auto) Mode
Expanding its popular FT series of cameras designed for active outdoor use, Panasonic is pleased to introduce the new DMC-FT20. The new 16.1-megapixel DMC-FT20 further strengthens its toughness credentials, being waterproof to 5m and now freezeproof to -10 degrees C plus shockproof to 1.5m and with dustproof reliability. Stylish and rugged, with the picture quality you'd expect from Panasonic, the FT20 is ideally suited for active families and everyday use.
Built to Withstand the Pressures of Daily Active Shooting
The DMC-FT20 is waterproof1 to a depth of 5m and dustproof equivalent to the "IPX8" and "IP6X" standard – making it perfect for use at the beach, in the sea, biking, walking and even skiing and snowboarding. Waterproofing means users can shoot in the rain or snow with no worries – so now there's no reason not to record your adventures whether it's rain, snow or shine!
Thanks to rubber padding and reinforced glass and carbon resins inside the camera, the FT20 features an airtight body protected against water immersion, dust and sand. The FT20 is drop proof2 from a height up to 1.5m in accordance with the "MIL-STD 810F Method516.5-Shock" test standard. The lens unit is protected by a supplementary damper to absorb the force from shock impact. All components including the lens unit are re-examined to endure the temperature as low as -10 degrees C to make the FT20 freezeproof.
The FT20 is a camera to be enjoyed, not to fret over. Want to capture images of your little one paddling at the beach but worried about sand and water damaging the camera? Or maybe you're a keen biker who loves rough terrain but are worried about the dust and the effect of falling off your bike on the camera? Fear not, the FT20 is as happy in the water, on the beach or rough terrain as it is at home taking shots in the comfort of your lounge.
Looking at the Lens
The 16.1-megapixel DMC-FT20 features a newly developed 25mm ultra wide angle 4x optical zoom lens. The folded optics method is adopted to secure the toughness of the lens unit. Comprising 11 elements and a prism unit in 10 groups, including an ED lens and 5 aspherical lenses with 9 aspherical surfaces, this advanced lens unit renders high resolution image corner to corner even adopting the folded optics. 25mm ultra wide angle of view enables shooting dynamic landscapes or group portrait without letting them protrude out of a frame. The 4x optical zoom increases its power to 8x equivalent with the Intelligent Zoom function with minimum deterioration of image quality thanks to the Intelligent Resolution technology.
Capture 720p HD Video Recording in MP4
The DMC-FT20 records dynamic HD video3 in 1280 x 720p at a smooth 30p (NTSC) 25p (PAL) in MP4 format which has high compatibility with PCs or smartphones for editing or sharing the videos. The recorded videos can be directly uploaded to YouTube. The DMC-FT20 incorporates a dedicated video button to switch between photo and video recording quickly. The 4x optical zoom is also available in video recording as well as Active Mode that minimizes hand shake even when the video is recorded while walking.
iA Mode for Effortless Images Every Time
Panasonic incorporated the iA (Intelligent Auto) mode in pursuit of the ultimate ease of operation and the reduction of misshots. All of these useful, convenient shooting-assist functions – MEGA O.I.S., AF Tracking, Intelligent ISO Control, Face Recognition, Intelligent Scene Selector and Intelligent Exposure – are automatically activated by just activating the iA mode. Thanks to the iA mode, users can focus on having fun, rather than worrying about setting the camera.
Features to Enjoy
The DMC-FT20 comes equipped not only with strong basic performance but also with a variety of shooting options to enhance ease and fun. The Miniature Effect mode in which the edge of shot is defocused while saturation and contrast is emphasized creating a model or toy town effect. The video recorded in this mode is played back in 10x fast-forwarding making it more comical to watch4. Panorama Shot makes it is possible to shoot a horizontal / vertical panoramic image with consequent shots taken by overlaying the previous picture.
The FT20 features a 2.7inch Intelligent LCD with High Angle mode, ensuring images are easy to view outdoors. Once you've taken your shots, users can enjoy their communication with the LUMIX Image Uploader, which realizes instant image sharing via Facebook or YouTube with any PC on the spot.
Featuring a casual, stylish look with a guaranteed rugged design, the FT20 will broaden your shooting opportunity both for daily scenes in town and for outdoor leisure. The FT20 will be available from March in a choice of black, blue, red or orange.
Your Comments