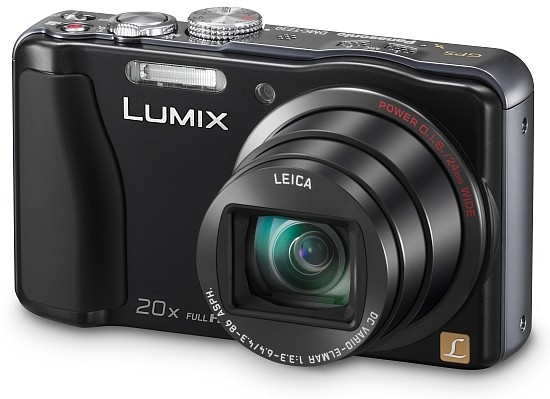 The Panasonic Lumix TZ30 is a 14-megapixel compact camera with 20x optical zoom, "light-speed" auto focus and a high resolution, touch-sensitive rear display. Featuring a Leica branded 24-480mm equivalent lens with optical image stabilisation, the Panasonic TZ30 can shoot stills at up to 10 frames per second (fps) as well as stabilised Full HD videos at 50fps. Additionally the TZ30's High Speed Video mode lets you capture super slow-motion videos where you can playback effects that cannot be seen with the naked eye. Other highlights include HDR exposure blending, a Panoramic Shot mode and a Creative Control/Creative Retouch feature that allows you to add some artistic flair to your shots. The camera's 3D mode allows you to produce high-quality 3D still images without additional accessories. The lightweight Panasonic TZ30 is available in five different colours, including black, brown, red, white and silver. Pricing to be confirmed.
Panasonic Press Release
The Panasonic LUMIX TZ30: Instinctive photography, perfected
Intuitive, versatile and with exceptional image quality, the compact LUMIX TZ30 is your perfect companion for capturing every detail of life's magical moments
Panasonic has today launched the LUMIX TZ30, its most advanced photo and video hybrid Compact Camera to date, ideal for recording those once-in-a-lifetime moments wherever you are in the world. With an outstanding range of features and stunning image quality packed into a neat and beautifully sleek design, the LUMIX TZ30 is always close at hand for capturing those special memories with absolute clarity.
The LUMIX TZ30 delivers high precision image quality to take your photography to the next level thanks to the renowned LEICA DC lens with an extended 20x Optical Zoom starting at 24mm Ultra Wide Angle and a new 14.1-megapixel high sensitivity MOS Sensor. The light-speed Auto Focus, intuitive automatic shooting modes and wide range of innovative features to boost your creativity, together with the high resolution wide-angle touch screen LCD, help you get that perfect shot every time. And for those wanting to record memories in motion, the LUMIX TZ30 offers exceptional quality video and sound recording that will never let you down.
Whether you're an intrepid explorer or an urban adventurer, the LUMIX TZ30 will always be with you to record the moments that matter.
Make every day magical
The LUMIX TZ30 is packed with features to ensure optimum quality you can always rely on. Whether you're taking shots on a walk in your local park or capturing scenes on a tropical beach overseas, you can achieve high precision results thanks to the exceptional Ultra Wide Angle LEICA DC lens and 20x Optical Zoom. You can even take stunning pictures at dusk as the TZ30's high sensitivity MOS Sensor helps you get outstanding results in dim light. And if you want to record your memories in action, the TZ30's high quality video recording will help you achieve the most impressive movies:
Quality photography within easy reach: An incredible 20x Optical Zoom lets you get up close and personal every time and achieves razor-sharp precision whether you are shooting distant wildlife or your child's smile. With the TZ30's Intelligent Zoom function, the zoom increases its power to the equivalent of 40x with minimum deterioration of image quality thanks to its Intelligent Resolution Technology
High precision detail: Featuring a 24mm Ultra Wide Angle LEICA DC lens, renowned for its exceptional quality and unique to LUMIX, every detail of those special moments will be captured to perfection.
The lens' Nano Surface Coating also ensures flaring and ghosting are minimised, boosting the camera's stunning optical performance
Crystal clarity, whatever the situation: A new 14.1-megapixel high sensitivity MOS Sensor, together with the performance of the Venus engine, gives you stunning image quality even in low light conditions. The newly-improved noise reduction functions, Intelligent NR and Multi-Process NR, also help you to achieve crisp shots in dim light
Let high quality movies tell the story of your life: Featuring 1,920x 1,080 50p Full HD AVCHD video recording and a stereo microphone, the TZ30 allows you to shoot outstanding movies. You can even get high precision results from a distance as the optical zoom innovations are also available for video shooting
High speed, high performance
Speed is of the essence for exceptional, instinctive photography and the LUMIX TZ30 is packed with features that ensure every special moment is swiftly and perfectly recorded. With an impressively high speed and extremely precise Auto Focus, the TZ30 allows you to take shots of fast moving subjects with incredible detail. Whether you're taking pictures of sprinting cheetahs on safari in Africa, or of your favourite racing driver in action in Le Mans, those once-in-a-lifetime moments can be beautifully captured:
Instinctive photography: You'll never be disappointed by seeing those special moments out of focus again thanks to the LUMIX TZ30's Light Speed Auto Focus. Achieving focus in just 0.1 seconds, you'll be able to catch even the most fleeting of photo opportunities
Breath-taking shots, at the touch of a button: The LUMIX TZ30's continuous shoot mode allows you to achieve the ultimate action photography in high resolution.  With 10 fps (Frames Per Second) continuous shooting at the touch of the button, you're sure to get that perfect shot every time - whether you're capturing a snowboarder on the slopes or your child's first sports day
Effortless Quality
The LUMIX TZ30 is intuitive and versatile meaning that you don't have to be a professional to achieve breath-taking results. Whether you're an avid photographer with years of experience on your side or someone who very rarely takes pictures, you can achieve stunning shots with ease thanks to a wide range of innovative modes:
Stunning shots on the move: An improved POWER O.I.S capability in movie mode helps to prevent the effects of handshake, even when using high-powered zoom, assisting you to achieve blur-free footage without a tripod. Whether focusing on the detail of a delicate flower in high-zoom mode, or capturing a night scene on holiday, you'll be able to take stunning shots without a tripod.  The new active mode also stabilises the image automatically while walking and shooting
Intelligent photography: The LUMIX TZ30's intuitive iA (Intelligent Auto) features make it easy to capture great shots.  Face Recognition will remember your friends and family, adjusting the camera's settings accordingly, and thanks to the Intelligent Scene Selector, the camera will automatically switch to the appropriate mode according to the subject in focus. The Auto Retouch mode meanwhile means you can optimise your shots' contrast and brightness with just the touch of a button, helping you achieve the results you want
Map out your photographic history: The LUMIX TZ30's enhanced GPS functionality allows you to automatically record your location by GPS when taking a picture and view the map and associated photos directly on your camera. The geo-tagged images are immediately sorted and can be played back along the map so you can trace the memories of your photographic journey directly on your camera, or share it with friends and family via online mapping tools
Stay in control: The TZ30's versatile controls allow you to take shots the way you want to. Shoot with the camera's button system, or by using its intuitive three inch wide angle touch screen LCD with all the touch controls you expect from your high quality photography equipment.
Express your creativity
The LUMIX TZ30 boasts a wide range of creative modes that help you introduce your own personality when capturing shots. The TZ30 is packed with impressive features that enable you to add artistic flair to how you record your memories – so whether you want to capture moments in 3D or take a stunning panoramic shot, there's something to suit every creative style.  Every moment is unique and with the TZ30, your photography can be as well:
Showcase the world as you see it: With the LUMIX TZ30's new High Dynamic Range feature, natural looking images can be captured automatically even when shooting against the light. Three images are shot consecutively at different exposure levels and overlaid to produce the image exactly as you remember it
The world in widescreen: The Panoramic Shot mode enables you to take stunning panoramic pictures simply by swivelling the camera. It works by taking pictures one after another while the camera is swivelled; when the shooting ends, consecutively shot images are joined to produce a single panoramic picture.  So whether you are shooting views of Mont Blanc from a chair lift or if you want to capture the whole of the Eiffel Tower from street level, you can achieve stunning results every time
Add your personal touch: The Creative Control/Creative Retouch feature allows you to add some artistic flair to your shots with many creative modes including soft focus, toy effect, miniature effect and retro. You can also add more personality to your movies thanks to the LUMIX TZ30's High Speed Video mode which lets you capture super slow-motion videos where you can playback effects that cannot be seen with the naked eye, while 3D mode will allow you to produce high quality 3D still images without additional accessories
Whatever style suits: Available in five different colours (black, brown, red, white and silver), there is a LUMIX TZ30 to suit every style and taste
Key features
Image Sensor: 14.1M High Sensitivity MOS Sensor
Engine: Venus Engine
Lens: LEICA DC Lens with 24mm Ultra Wide Angle
Zoom: 20x Optical Zoom / 40x intelligent zoom
AF speed: 0.1 seconds
Burst shoot: 10 FPS
Movie recording: 1,920 x 1,080 50p Full HD AVCHD video recording and a stereo microphone
LCD Screen: 3 Inch 460,000-dot Wide Viewing Angle Smart Touch Screen with AR Coating
Size: 104.9 x 58.9 x 28.2 mm
Weight: Approx. 184g without Battery and SD Memory Card / Approx. 206g with Battery and SD Memory Card
Your Comments